Special Incident Reports offer a rare glimpse into daily life inside a CCA private prison
Lake Erie reports detail makeshift weapons, contraband cell phones, and drug use ranging from marijuana to heroin
In 2011, Ohio Department of Rehabilitation and Correction, feeling financial strain, sold Conneaut's Lake Erie Correctional Institution to Corrections Corporation of America (CCA). The for-profit corporation would assume operations at the beginning of the next year, but that didn't necessarily untether the local government from all of the prison's day-to-day operations. Local emergency response, for example, would still fall to the local police departments, and the contract stipulated that there be a plan in place, an agreement between the facility and the Conneaut Police Department, in the event of a "critical incident."

The transfer of responsibility also did not exempt the private operator from the standards of reporting the DRC expects from its publicly-run facilities. Of course, calls for service from the local police department would be kept just as any other calls would be, but there are other reporting requirements, such as those set out in DRC Policy Number 11-COP-01, to which the facility is also subject. The policy notes that for "special incidents" a report must be submitted electronically within a day of the event.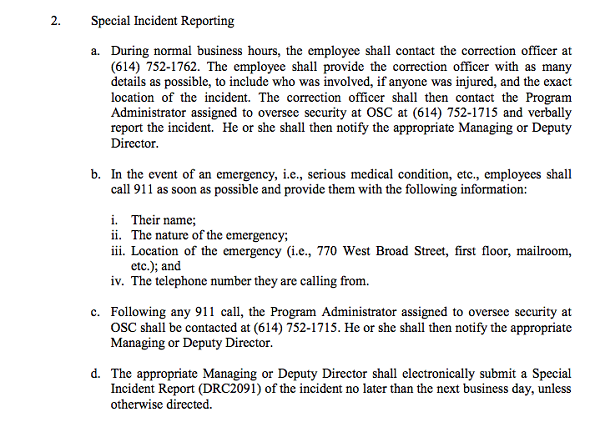 In September, MuckRock requested these Special Incident Reports (DRC Form #2091) regarding Lake Erie Correctional Institution. While we continue to await a response regarding 2010 and 2011, materials have been provided for the years 2012 - 2014, the years that the facility has been under CCA's watch. What we received were fascinating snapshots of days rife with makeshift weapons, contraband cell phones, and drug use ranging from marijuana to heroin.




On the days that the American Correctional Association was conducting its inspection of the facility — December 4-6, 2012 — at least three cell phones were confiscated and a random search turned up a toothbrush that had been sharpened to a point.

The prevalence of in-custody drug use and cell phone availability raises serious concerns about the implementation of security. It's a problem certainly not isolated to Lake Erie, but it's unusual to have this sort of insight into the problems being handled on the inside of a private facility.

Previous MuckRock requests for inmate grievances at private facilities, a potential window inside, have effectively hit dead ends in the face of filing procedures - grievances are often kept in inmate folders, requiring thousands of dollars worth of search time, or are kept solely by the facility itself, requiring coordination with the for-profit company itself. These documents don't give us a full picture, of course, but it's a start, and we encourage you to read through them.
Find something interesting in these reports? Have you or someone you know been held in Lake Erie in the last few years? Know of similar reporting requirements in your state? Please reach out at info@muckrock.com and let us know.
---
Image via CCA press release