In terms of those who like to lock up their own, Louisiana is the America of America, the forerunner in the country with the highest incarceration rate in the world.
It's a devastating victory for a state with a $1.6 billion gap in its budget, and it shares the mantle with another bitter honor: the first privately-operated medium-security prison in the United States.
Winn Correctional Center, a Corrections Corporation of America facility, houses about 1,500 prisoners. Coincidentally, that's also about as many grievances it gets each year.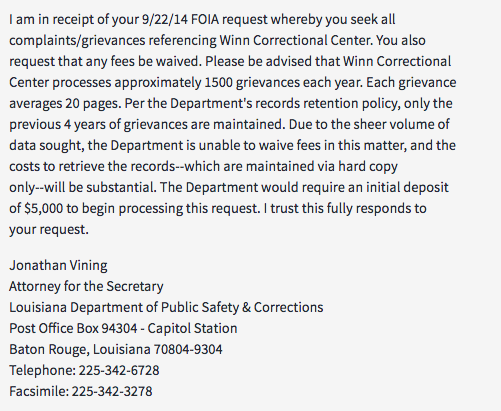 MuckRock submitted a request for all of the facility's formal and informal grievances in September, and it promptly received notice that initiation of the search would require a $5,000 deposit.
Just as in Vermont — which quoted us $148,500 for a similar request — grievances are kept in individual inmate files, making retrieval a time-consuming business, for sure. But there are so many complaints, and, at least in Louisiana, the Department of Corrections doesn't seem to have a more efficient system for looking at what those are.
At the time the response was received, we allowed the request to be satisfied with a few examples that the representative said had been involved in recent lawsuits. Each official response closed with the same sentiment: "Your request for relief is denied."
Mr. Vining, at the Louisiana Department of Public Safety and Corrections, estimated that the majority of grievances concerned time computation. However, that doesn't come across in the DPSC's Administrative Remedy Report, which in turn doesn't seem to reflect the same information provided to them by Winn Correctional itself. MuckRock is awaiting further clarification.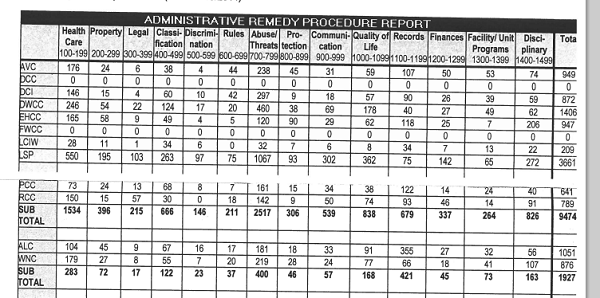 The fact that there's no particularly easy way to quickly and easily access this information is concerning, regardless of how many are the result of perceived administrative errors or are instigated by medical and safety concerns. Of course, the latter are an obvious cause for worry, but the former also point to administrative failings that likely have some merit at least some of the time; it's just hard to know definitively, because it's so difficult to access the data that would allow trends to be identified.
While Winn Correctional Center may be one of just two private facilities owned by a major nationwide for-profit prison corporation in the state — the other being Allen Correctional owned by the GEO Group — many of its parish jails are privately-owned, creating dozens of mini-financial ecosystems in communities and incentivizing dependence on a prison population. In Winnfield (pop. 4840) and Kinder (pop. 2477), Winn Correctional and Allen Correctional are major employment sources.
MuckRock is continuing to follow up on this facility. Beyond grievances, we've also asked the local police department for all of the calls of service they've received, a response which should include an incident this month in which a Mother Jones reporter was found on the prison grounds at night. A few days later, another reporter for the outlet resigned from his position as a correctional officer at the facility.
Would you like to join the conversation? We've received the procedures for the inmate grievances from nearly all fifty states, so email us at info@muckrock.com, and let us know which states and facilities you would like to hear from.
Another grievance is embedded below, and you can read the rest on the request page.
---
Image by Bart Everson via Wikimedia Commons and is licensed under CC BY-SA 2.0