The Federal Communications Commission insists that it does not require police departments to sign a nondisclosure agreement with the FBI before acquiring or deploying cell phone trackers. The FCC's response contradicts wording found in one such FBI nondisclosure agreement released last month by Tacoma police.
The FBI and FCC have both declined to comment on the discrepancy, and the FBI has rejected another FOIA request for a log of agencies that have signed such nondisclosure agreements.
Known as "cell site simulators," the StingRay family of trackers are manufactured by the Harris Corporation, a company with $5 billion in annual revenue and headquarters in Melbourne, Florida. The trackers trick mobile phones into connecting to a StingRay as if it were a cell tower. This allows police to determine the phone's location, and thus its owner's.
On Monday the FCC responded to a Freedom of Information Act request submitted by MuckRock user Phil Mocek.
"We do not require that state and local law enforcement agencies have to complete one or more non-disclosure agreements with the Federal Bureau of Investigation prior to acquisition and/or use of the authorized equipment," wrote Julius Knapp, the chief of the FCC's Office of Engineering and Technology.
But a letter sent by the FBI to police in Tacoma, Washington in December 2012 contains language at odds with the FCC's answer.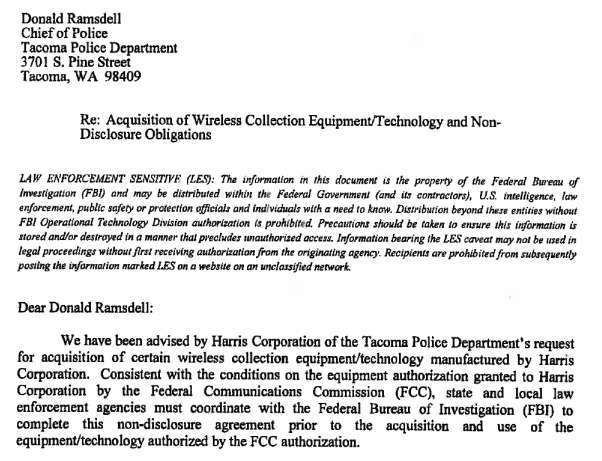 "Consistent with the conditions on the equipment authorization granted to Harris Corporation by the Federal Communications Commission (FCC)," wrote special agent Laura Laughlin of the FBI's Seattle field office in the December 2012 letter, "state and local law enforcement agencies must coordinate with the Federal Bureau of Investigation (FBI) to complete this non-disclosure agreement prior to the acquisition and use of the equipment/technology authorized by the FCC authorization."
As early as May 2010, Harris Corporation asked that the FCC put restrictions on law enforcement acquisition of its StingRay trackers, documents released by the FCC in response to another FOIA request show. Emails obtained by the ACLU of Northern California, indicate that Harris made its request for licensing restrictions based on concerns from the FBI "over the proliferation of surreptitious law enforcement surveillance equipment."
In March 2012, the FCC granted Harris Corporation's request verbatim: "State and local law enforcement agencies must advance coordinate with the FBI the acquisition and use of the equipment authorized under this authorization."
The FCC did not respond to several requests to clarify the extent of the requirement to "advance coordinate" with the FBI. In any case, Mr. Knepp's response suggests that the agency does not consider an NDA with the FBI to be compulsory for state and local law enforcement seeking to use a StingRay tracker.
The FBI similarly declined to comment on the apparent discrepancy over FCC authorization requirements for StingRay deployment.
"Per policy I am not able to comment or provide additional information on documents provided via FOIA," replied Christopher Allen of the FBI's Office of Public Affairs. "Additionally, we would have no comment on a statement provided by another agency."
---
Image via Wikimedia Commons