Several federal offices are still closed 15 days into the government shutdown, but the good news for open government advocates is that some agencies have continued processing FOIA requests.
MuckRock is still receiving responses and letters from the FBI almost every day, and just this morning there were letters in our mailbox from the U.S. Mint, the State Department, the U.S. Postal Service, the U.S. Northern Command, and U.S. Citizenship and Immigration Services.
The NSA's FOIA website says that, "Due to the government shutdown, FOIA/PA requests or inquiries submitted to the FOIA/PA Office will not be addressed until the office reopens," but we've still received processing letters in the last couple of weeks.
The upshot is that though the government may be shutdown for the foreseeable future, that doesn't mean you can't ask for its records. State and local agencies are still operating, too.
There are several other offices, however, that have been forced to put all FOIA requests on hold until Congress ends the impasse. MuckRock has already posted a couple shutdown updates for requesters.
The CIA turned off its fax machine. The United States Marine Corps has closed its FOIA office. Public document requests to the National Labor Relations Board are stalled, and requesters cannot access the Department of Defense's online FOIA portal.
The Department of the Navy advised that furloughs have forced its FOIA office to focus all its remaining workers on requests in the backlog.
"This has diverted resources from the processing of your request," the department said. "As a result, the anticipated date of completion of your request will be later than our initial estimate."
Daniel Wright reported that some Department of Defense offices, however, are still operating:
And all FOIA personnel at the Broadcasting Board of Governors are out of the office because of furloughs.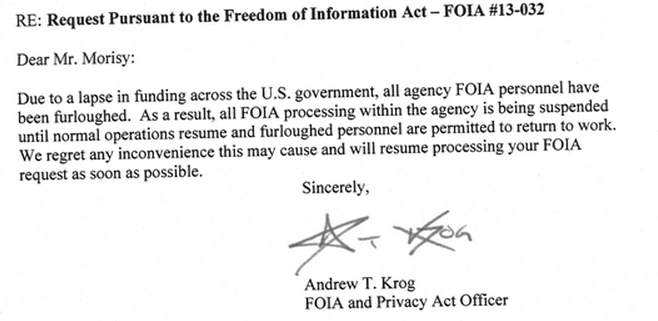 Here's a list of FOIA offices that MuckRock has confirmed are shutdown:
Broadcasting Board of Governors
Bureau of Reclamation
Central Intelligence Agency
Environmental Protection Agency
Food and Drug Administration
National Labor Relations Board
United States Marine Corps
---
Image via Wikimedia Commons and is licensed under CC BY-SA 4.0