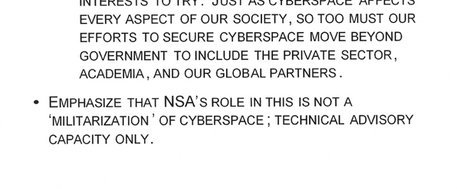 At NSA's Utah data center ribbon cutting, an emphasis on private partnerships
"100% COMMITTED TO PROTECTING THE CIVIL LIBERTIES AND PRIVACY RIGHTS OF THE AMERICAN PEOPLE"
A Freedom of Information Act request for documents from the May 30 ribbon cutting ceremony at the NSA's new Utah data center has returned talking points emphasizing the agency's commitment to civil liberties, private industry partnerships, and collaboration across the intelligence community.
The request generated 11 pages of talking points, delivered months before recent leaks by former NSA contractor Edward Snowden showed a PowerPoint document detailing an NSA program, dubbed PRISM, that collected, analyzed and stored data from a number of private Internet companies.
The individual's name who gave the ribbon cutting presentation was not included in the released documents.
The documents answer a small part of my original request: The NSA denied my request to be considered a news media requester, and has asked for $968.00 for the release of other documents related to the ceremony including the guest list, PowerPoints, invitations, and post-mortem.
I plan to appeal that decision.
File, track, and share your own request through MuckRock: Register an account today.