Six days before The Guardian broke its first story on the NSA's data collection programs, the spy agency welcomed around 100 guests to Camp Williams in Bluffdale, Utah for the ribbon cutting ceremony atits new $1.5 billion data center.
A series of documents from the May 30 event, disclosed to MuckRock in response to a Freedom of Information Act request, describe the purpose of the facility, billed as a boon for the country's cyber security and Utah's economy.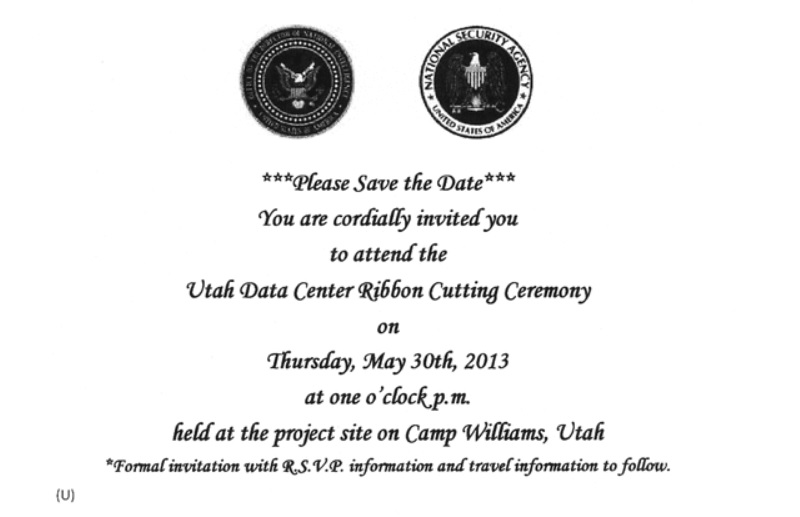 The documents include:
Detailed directions from Salt Lake City International Airport to the data center ("You will be required to walk up a gradual slope, approximately 1600 ft…").
A heavily redacted guest list, in which event staff are listed with the job title "worker bee."
A roster of speakers.
And an invitation indicative of the NSA's pre-Edward Snowden sensitivity to the legality of its data collection programs.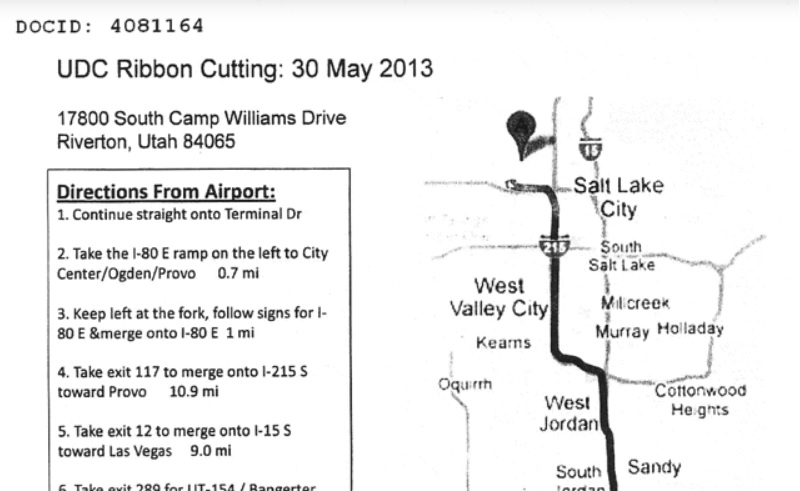 "This new data center will add important capabilities to the Intelligence Community so that agencies can exercise their lawful authorities, subject to the appropriate oversight, to protect national security networks," the invitation reads. The emphasis on legality and oversight is echoed throughout the documents.
Most of Utah's congressional delegation, several key state legislators and security officials accepted invitations to the ceremony, according to the guest list. Then NSA Deputy Director John C. Inglis, U.S. Sen. Orrin Hatch and Gov. Gary Herbert all delivered speeches.
Hatch spoke about the "importance of this project from a national level, [its] relation to Cybersecurity and the impact of the NSA job," based on "the senator's experience as a member of the Senate Select Committee on Intelligence," according to the event program.
Herbert and U.S. Army Corps of Engineers Major General Kendall Cox both praised the facility's economic benefits.
The agency redacted the identities of legislative staffers, as well as the names and job titles of nearly every other guest, citing a portion of the 1959 National Security Act that provides no law shall require the disclosure of the functions or activities of the NSA.
The list does show, however, that several employees of the University of Utah attended the event, as did a local FBI employee and half a dozen guests whose affiliations are listed only as "JV," a common abbreviation for joint venture.
Read the complete ribbon cutting ceremony program embedded below, or on the request page.
---
Image by Parker Higgins via Wikimedia Commons