On May 3, 2011, Aaron Swartz filed a request for "photos or videos from the 2011 operation to capture or kill Osama bin Laden in Abbottabad, Pakistan". On Jan. 9, his request was denied.
A rejection was expected because the White House had indicated it would fight disclosure, citing the safety of American troops. Instead, the Defense Department replied stating not that the documents were exempt, but that they could not be found.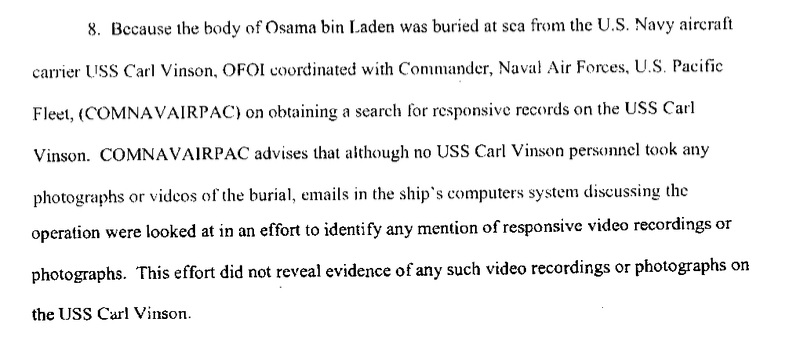 The response sidesteps the thorny legal, ethical and security issues in the aftermath of the raid by stating that the photos and videos millions of Americans were reading about - which the White House itself had published photos of the President watching in a live feed - simply do not exist. The letter marks a close to a strange chapter in the transparency of President Barack Obama's administration.
The rejection itself is not surprising: The White House had indicated nearly from the beginning it would not release images of the raid or Bin Laden's body. What was surprising, however, were the legal contortions the Department of Defense went through to reject the request.
To recap:
Aaron filed the request on May 3, 2011 with the United States Navy.
The request was acknowledged by the Navy on May 5.
Between May 6 and 17, a flurry of documents redirecting the request and stating the agency is not the custodian of the records arrive at MuckRock.
On June 1, 2011, a letter from the Office of the Secretary of Defense/Joint Staff (OSD/JS) FOIA Office stated that they are responding on behalf of the entire Department of Defense.
On January 9, 2012, OSD/JS sent "a no responsive documents" letter.
Interestingly, this response narrowly specifies where FOIA officers searched:
The physical files and standalone computer of "a single action officer" in the Directorate of Global operations.
Email files of the Chairman of the Joint Chiefs of Staff originating between May 1 and May 31.
Email of USSOCOM and USSOCOM components.
Email sent aboard the USS Carl Vinson discussing the operation.
And OSD/JS stated responsive documents were not found in any of these searches.
And so the back and forth continues: The Atlantic Wire noted positive signs regarding the potential release of some raid photos, only to later report White House press secretary Jay Carney's insistence that the photographs and videos from the raid would not be released.
Read the full letter embedded below, or on the request page.
---
Image by Hamid Mir via Wikmedia Commons and is licensed under CC BY-SA 3.0