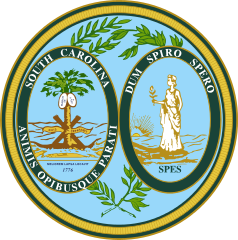 South Carolina, USA
South Carolina Public Records Guide
South Carolina Public Records Law
Enacted in 1974
Table of Contents
Overview
The South Carolina Public Records Law gives agencies a 15 day time limit for requests, before having to submit in writing an extension if they are unable to produce records in the 15 day allotment. Any person can file a request here, it is not subject to a citizens only rule. One can submit records requests in person, by mail, on the phone, or by email. The executive branch and court proceedings are covered by the law, although working papers of the legislature are exempted. A requester can still get minutes and reports created by the legislature though. Exemptions in the state deal with topics covered by many other state records laws, and have been whittle at by private interests through the years. We recommend looking over them in more detail if you have concerns about a request draft or have been rejected and feel that it was unjust.
Enforcement for records law violations in South Carolina sounds strong, but in reality has never been actually enforced. If someone willfully violates the law, it results in escalating fines based on offense, and possible jail time. All defendants have successfully been able to win off the argument that they didn't understand their records law violation when they handed down their determination or redactions. Due to no administrative appeals, one must wage records battles in court and hope an attorney will take your case provisionally or pro bono. You have one year to file your case after the decision has been given to you, before it times out. There is no records ombudsman provided for in the law to help with records disputes, although the Attorney General can provide opinions for use in court cases. Fees may not exceed actual costs for search time and duplications.
The Law
15-day response time
Residents and non-residents may submit requests.
A failure to respond with the time period constitutes a grant of the request.
Supplemental
Definition of public records - S.C. Code Ann. § 30-1-10
Open meetings law - S.C. Code Ann. § 30-4-60
State and local record retention schedules
The Details
Can you submit a request if you're not a resident?
Yes. South Carolina law currently has no provision dictating a residency requirement.
To whom does this apply?
Executive?
Yes.
Judicial?
Yes, the administration of the courts is subject to the Act. Court proceedings are covered by constitutional provisions.
Legislative?
Though records of legislators and their staff, their "working papers," are not subject, other factuals papers—reports, minutes, etc.—are not included in this exemption. - S.C. Code Ann. § 30-1-40(8)
Is there a designated records custodian?
Though the law doesn't necessitate the appointment of a records custodian for each agency, it is standard practice to request materials from the individual that holds the records or the head of the division.
Who is exempted?
The records of the General Assembly (legislature) are specifically exempted.
How can requests be submitted?
In-person?
Three categories of requests can be made in-person with the expectation of immediate provision without a written request: recent meeting minutes, crime reports (as specified by S.C. Code Ann. § 30-1-50(A)(8)), and logs detailing those who have been detained in any jail or prison.
Verbally?
Besides the three categories eligible for in-person oral requests, requests should be made in writing.
By mail?
Yes, written requests are accepted.
By email?
Yes.
How long do they have to respond?
15 business days. By the end of the fifteenth business day, the agency must notify the requester with its determination and its reasons. If written notification is not mailed or delivered within the allotted time frame, the request must be considered approved. - S.C. Code Ann. § 30-1-30(c)
Are there provisions regarding the extension of response times?
Though there is no direct mention of an agency's right to an extension, presumably they are entitled to one and should inform you of such within the 15-day window dictated by law.
Does the agency have to give you a tracking number or estimated date of completion?
No and no. There is no specific mention of either.
Can they ask why you ask?
No, the purpose of the request doesn't typically matter when a request is made. However, those requesting certain records related to the registration and licensing of motor vehicles must state the reason for the request. - S.C. Code Ann. § 56-3-510
What enforcement?
There are no administrative appeals options. However, you can take the matter court. Those with prevailing challenges may be awarded attorney fees. In addition, willful violators are subject to escalating fines and potential jail time as a result of its misdemeanor status. However, there is no historical precedent for this, and to date there have only been not guilty verdicts rendered for those who claimed they had no knowledge of how they were breaking the law.
Fees?
Agencies can charge fees, but they must not exceed the actual costs to provide the record. - S.C. Code Ann. § 30-4-30
"The public body may establish and collect fees not to exceed the actual cost of searching for or making copies of records. Fees charged by a public body must be uniform for copies of the same record or document. However, members of the General Assembly may receive copies of records or documents at no charge from public bodies when their request relates to their legislative duties. The records must be furnished at the lowest possible cost to the person requesting the records. Records must be provided in a form that is both convenient and practical for use by the person requesting copies of the records concerned, if it is equally convenient for the public body to provide the records in this form. Documents may be furnished when appropriate without charge or at a reduced charge where the agency determines that waiver or reduction of the fee is in the public interest because furnishing the information can be considered as primarily benefiting the general public. Fees may not be charged for examination and review to determine if the documents are subject to disclosure. Nothing in this chapter prevents the custodian of the public records from charging a reasonable hourly rate for making records available to the public nor requiring a reasonable deposit of these costs before searching for or making copies of the records."
Are there fee waivers for media requests or those made in the public interest?
No, though a government agency reserves the right to waive fees if it determines that the request and materials are in the public interest. - S.C. Code Ann. § 30-4-30
Attorney's fees - Can you win them?
Yes, you may.
"If a person or entity seeking such relief prevails, he or it may be awarded reasonable attorney fees and other costs of litigation. If such person or entity prevails in part, the court may in its discretion award him or it reasonable attorney fees or an appropriate portion thereof." - S.C. Code Ann. § 30-4-100
Exemptions and Appeals
What exemptions exist?
There is a presumption that all records are public, though there are certain materials exempted by the law. Given the discretionary nature of exemptions, an agency may decide to release materials that are subject to an exemption.
"Records such as income tax returns, medical records, hospital medical staff reports, scholastic records, adoption records, records related to registration, and circulation of library materials which contain names or other personally identifying details regarding the users of public, private, school, college, technical college, university, and state institutional libraries and library systems, supported in whole or in part by public funds or expending public funds, or records which reveal the identity of the library patron checking out or requesting an item from the library or using other library services, except nonidentifying administrative and statistical reports of registration and circulation, and other records which by law are required to be closed to the public are not considered to be made open to the public under the provisions of this act; nothing herein authorizes or requires the disclosure of those records where the public body, prior to January 20, 1987, by a favorable vote of three-fourths of the membership, taken after receipt of a written request, concluded that the public interest was best served by not disclosing them. Nothing herein authorizes or requires the disclosure of records of the Board of Financial Institutions pertaining to applications and surveys for charters and branches of banks and savings and loan associations or surveys and examinations of the institutions required to be made by law. Information relating to security plans and devices proposed, adopted, installed, or utilized by a public body, other than amounts expended for adoption, implementation, or installation of these plans and devices, is required to be closed to the public and is not considered to be made open to the public under the provisions of this act."
Do they have to tell you why a portion or pages were redacted or withheld?
Yes. And if elements are exempt, nonexempt parts must be provided. - S.C. Code Ann. § 30-4-40(19)(b)
How much time do you have to appeal?
Appeals in court must be made within a year of the date of the alleged violation. S.C. Code Ann. § 30-4-100(a)
To whom does the appeal go?
There is no administrative appeal option provided. Court action may be taken at the circuit court.
Can you appeal a delay?
Yes. The law states that a failure to respond within 15 days constitutes a grant of the request.
Do agencies have to tell you where to send your appeal?
There is no administrative appeal option.
What if your appeal is denied?
There is no administrative appeal option provided. Court action may be taken within a year.
Where else can you turn?
One might try turning to the South Carolina Office of the Ombudsman.
Are all appeals kept officially?
Court records cannot be destroyed out of keeping with the retention schedule. There is no administrative appeal option, so there are no official appeals of that sort to keep.
Resources
Organizations
The following organizations offer resources for those seeking public records in South Carolina.
Attorneys and Law Firms
The following attorneys and law firms have practiced public records law. Names marked with an asterisk have indicated a willingness to offer pro bono services on a case by case basis.
Successful appeals
*
News Stories on Public Records Laws in the State
Blogs and feeds primarily focused on public records in South Carolina
*
Public Records Guide and Advice
Newsletters
Big FOIA wins
Have a public records success story? Let us know!
Stats
| | |
| --- | --- |
| Filed | 749 |
| Completed | 237 |
| Rejected | 50 |
| No Responsive Documents | 171 |
| Awaiting Acknowledgement | 78 |
| Awaiting Response | 30 |
| Requiring Action | 86 |
| Overdue | 103 |
Allowed Response Time

15 days

Average Response Time

90 days

Success Rate

27.24%

Average Fee

$234.95
11.75% of requests have a fee
Top Localities See All
| Jurisdiction | Requests | Pages Released |
| --- | --- | --- |
| Charleston, SC | 54 | 428 |
| Columbia, SC | 41 | 423 |
| North Charleston, SC | 34 | 2,573 |
| Greenville County, SC | 22 | 99 |
| Greenville, SC | 19 | 255 |
| Clemson, SC | 15 | 532 |
| Richland County, SC | 15 | 32 |
| Charleston County, SC | 13 | 27 |
| Horry County, SC | 8 | 205 |
| Spartanburg, SC | 8 | 136 |