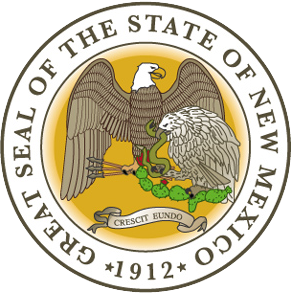 New Mexico, USA
New Mexico Public Records Guide
New Mexico Inspection of Public Records Act
(IPRA)
Enacted in 1947
Overview
New Mexico has no mandatory response times, no fee waivers, no administrative appeals process, and no requirement of citizenship to request. Search fees are not permitted in New Mexico, and the Attorney General has ruled that fees must be kept to actual cost of copying. There is also no public records custodian or ombudsman at the state level. Enforcement is weak here, with small amounts of damages recoverable if an agency violated IPRA, most of the time though this doesn't even seem to come from the agencies funds but is paid for on behalf of the state.
There are 12 exemptions in New Mexico, with most being pretty standard and seen in many state FOIA laws. Medical records however are entirely off limits in New Mexico, and any letter which includes a personal opinion also can be exempted.
The Law
No citizenship requirement
No administrative appeals
No search fees. Custodians can charge for copies, but cannot charge for inspection.
No fee waiver
Supplemental
The Details
Can you submit a request if you're not a resident?
Yes.
To whom does this apply?
Executive?
Yes.
Legislative?
Yes.
Judicial?
Yes.
Who is exempted?
Is there a designated records custodian?
Each organization is required to assign someone the title of records custodian. Requesters and local district attorneys can file suit in district court to force an organization to hand over records. The Attorney General presides over complaints, but does no more than issue an advisory opinion.
How long do they have to respond?
Unless asking for more time in writing, agencies are given no more than 15 days to comply with a request or deny it.
Does the agency have to give you a tracking number or estimated date of completion?
Custodians are required to give an estimated time of completion if a request will take longer than 15 days.
Can they ask why you ask?
No.
What enforcement?
Those filing suit against an agency can be awarded up to $100 a day in damages, if a request was illegally denied. Requesters can also recoup "reasonable" attorney's fees for litigation.
Fees?
The AG has stated that fees must be kept to actual cost of copying. Search fees are not permitted in New Mexico.
Are there fee waivers for media requests or those made in the public interest?
No fee waivers available in New Mexico.
Attorney's fees - Can you win them?
Yes.
Exemptions and Appeals
What exemptions exist?
There are about 12 specific exemptions in New Mexico. Medical records in New Mexico are exempted, and unlike in most states, the New Mexico Supreme Court has found that this not only applies to personally identifying information, but all medical records (Newsome v. Alarid, 90 N.M. 790, 568 P.2d 1236 (1977)). Another unique exemption in New Mexico is the exempting of not only all letters of reference or memoranda, but all letters that include matters of opinion in personnel files. Other than this, exemptions tend to be fairly standard with law enforcement methods and confidential sources, trade secrets, discharge papers for veterans, and tactical response threats to terrorist attacks are all exempted. For a more detailed look at New Mexico's exemptions, see the resource section.
Do they have to tell you why a portion or pages were redacted or withheld?
Yes.
How much time do you have to appeal?
Not specifically stated in the law, but two years is a good bet.
Can you appeal the courts?
Yes. Likely your most effective, but potentially expensive, avenue to appeal a decision.
Resources
Organizations
New Mexico Foundation for Open Government
Attorneys and Law Firms
The following attorneys and law firms have practiced public records law. Names marked with an asterisk have indicated a willingness to offer pro bono services on a case by case basis.
There are currently no experienced public records law attorneys that we know of in New Mexico. Write to us at info@MuckRock.com if you know of any and want to help us out!
Successful appeals
News Stories on Public Records Laws in the State
NM public records requests are answered slowly or not at all
Blogs and feeds primarily focused on public records in New Mexico
Public Records Guide and Advice
New Mexico Foundation for Open Government's Guide on How to submit a records request
Newsletters
Big FOIA wins
Have a public records success story? Let us know!
Stats
| | |
| --- | --- |
| Filed | 646 |
| Completed | 267 |
| Rejected | 48 |
| No Responsive Documents | 144 |
| Awaiting Acknowledgement | 32 |
| Awaiting Response | 28 |
| Requiring Action | 55 |
| Overdue | 48 |
Allowed Response Time

15 days

Average Response Time

122 days

Success Rate

37.93%

Average Fee

$116.50
8.05% of requests have a fee
Top Localities See All
| Jurisdiction | Requests | Pages Released |
| --- | --- | --- |
| Albuquerque, NM | 133 | 8,450 |
| Santa Fe, NM | 39 | 2,013 |
| Las Cruces, NM | 22 | 587 |
| Bernalillo County, NM | 16 | 184 |
| Torrance County, NM | 8 | 185 |
| Sunland Park, NM | 8 | 2 |
| Santa Fe County, NM | 5 | 28 |
| Rio Rancho, NM | 5 | 16 |
| Cibola County, NM | 5 | 113 |
| Farmington, NM | 5 | 64 |