Last week, we pushed some major changes to how we handle payments, now letting you see when a particular check is cashed. We also made a number of improvements to Assignments, including more design flexibility and the ability to make user submissions public.
For previous site improvements, check out all of MuckRock's release notes, and if you'd like to get a list of site improvements every Tuesday - along with ways to help contribute to the site's development yourself - subscribe to our developer newsletter here.
Site Updates
Check to see if your payment has been cashed
We've updated how we handle checks to improve the speed at which they're mailed out to agencies and to provide automatically-updated information on if and when a check has been cashed (check-cashing status is updated overnight). We're working on implementing delivery confirmation to these notes as well, which should start appearing this week.
All of this information is available in the "Notes" section on your request page: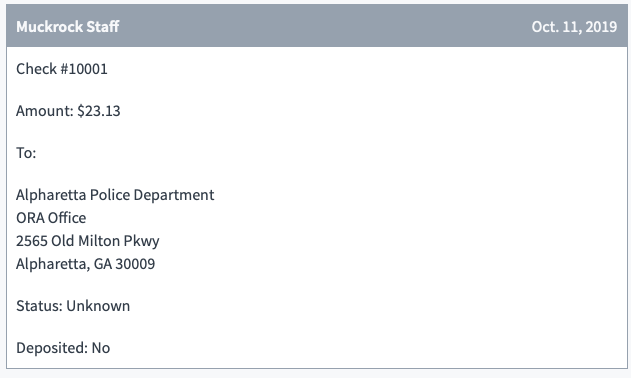 Highlight crowdsourced Assignments submissions publicly
It's now possible to share crowdsourced Assignments submissions publicly! We've been thinking about and working on this one for a long time, so we're excited to roll it out.
In building out this feature, we wanted to provide transparency around what data is shared and put as much control as possible in the hands of the user in terms of how and when their name is displayed.
You can see an example on Rate We Rate Dogs' Ratings Assignment page: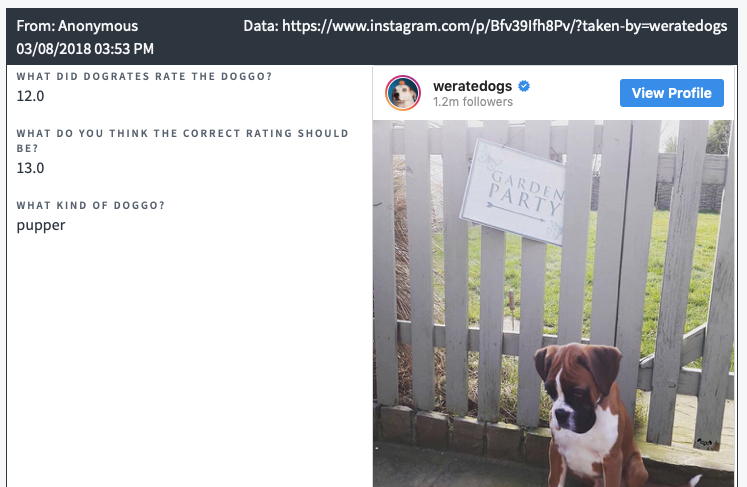 To create an Assignment with a publicly-viewable gallery, first create an Assignment, and then, in the portions of the submission you want to make public, click the tick box next to "Gallery".

Then, launch your Assignment as usual. When a user submits something you'd like to highlight publicly, click the tick next to Gallery on their individual submission:

For Assignments that have fields that may be made public, the user will be given a chance to opt into having their name shared alongside the submission: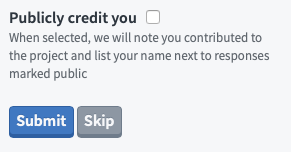 This ensures it's easy to make things public while respecting a user's privacy concerns on each individual submission. We hope to continue tweaking the flow for both users and editors, so feedback is welcome.
Come hack transparency with us
Every Tuesday night, we gather in Cambridge with a group of coders, designers, and others who want to see more open government. Over the past few months, we've been mixing MuckRock's agency database with a set of scanners and scrapers to help gauge the accessibility, mobile-friendliness, and security of America's digital infrastructure.
You can find out more and join us by checking out Code for Boston's website.
Reporting bugs and submitting fixes
There are a number of other ways to help us continue to improve the core MuckRock site experience. We have a project and a weekly newsletter, "Release Notes," that highlights everything we're working on. Register to get a summary of site updates each week and details on open issues that need your help.
Check out some of our issues labeled "help wanted" for ideas on good places to start or just pop into our Slack's #Developers channel.
Subscribers to the weekly newsletter get exclusive data sets, FOIA-related scripts, and other transparency hacker tidbits only available for subscribers. You can subscribe to the newsletter at the top or bottom of this page.
If you spot a bug or have a feature request, you can also help by opening an issue on GitHub.
If you do, please search open issues first to make sure it hasn't already been reported. If it has been reported previously, please leave an additional comment letting us know it's an issue for you, particularly if you can provide more details about when it crops up or what you think is causing the problem.
In addition to the new newsletter, we have a developer channel on the MuckRock Slack.
---
Image via Wikimedia Commons