Each year, every federal agency releases a report to the Attorney General and to the public on various factors involved in their compliance with the Freedom of Information Act. The Electronic Freedom of Information Act Amendments of 1996 mandated these annual FOIA reports be made available online, and today reports dating back to 1998 can be found on the Department of Justice's website.
The DOJ itself is a complex organization containing 37 distinct components subject to FOIA. Some of these departments suffer a far heavier workload than others. MuckRock took a look at some of the numbers behind the big processors.
Processing
Components in the DOJ processed more than 91,000 requests altogether during 2018, but they still did not break even, receiving 5,000 more requests than they were able to address.
Over the previous five years, the DOJ consistently added to the number of pending requests still in its backlog. That count has grown from 6,990 at the end of 2013 to 17,411 overall at the end of 2018. The departments which contributed most to this change also had particularly high numbers of requests in 2018. The most popular destinations for FOIA requests to the DOJ? The Office of Information Police, the Executive Office for U.S. Attorneys, the Bureau of Prisons, the Federal Bureau of Investigation, and the Executive Office for Immigration Review.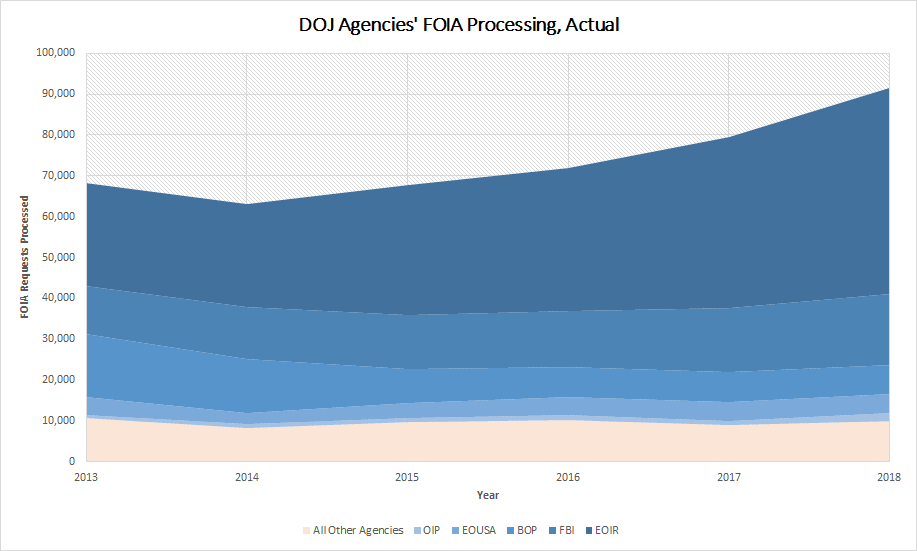 Costs
In 2017, the DOJ spent $83,970,186.03 on FOIA-related costs: $69,380,355.12 on FOIA processing and $14,589,830.91 on litigation.
Litigation costs have risen by about $1 million each year since 2013; processing costs have increased more erratically. Of particular note is an $18 million spike in costs in 2017, almost entirely accounted for by FBI spending.
Overall, the DOJ collected $78,027.50 in fees, accounting for only 0.11% of processing costs that year.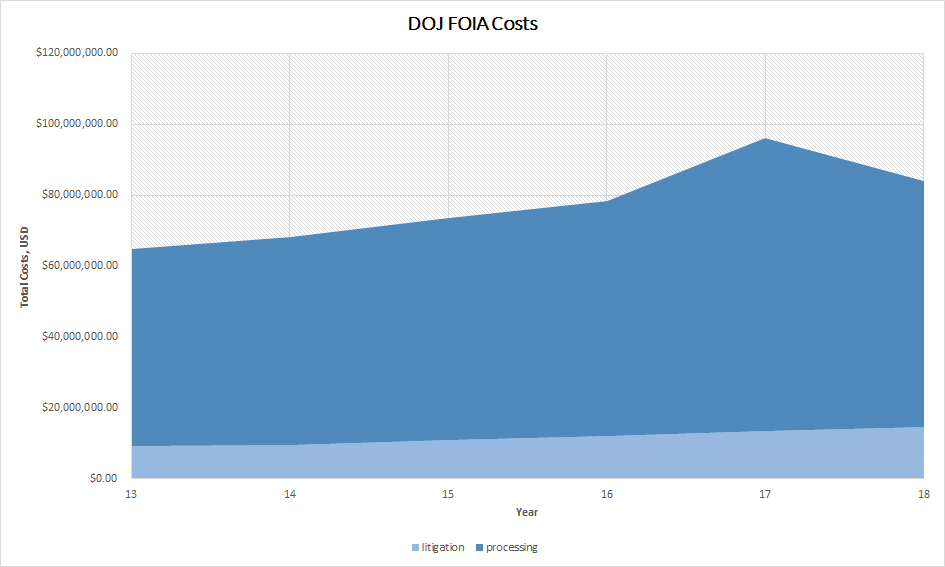 Top 5 Highest-Processing Agencies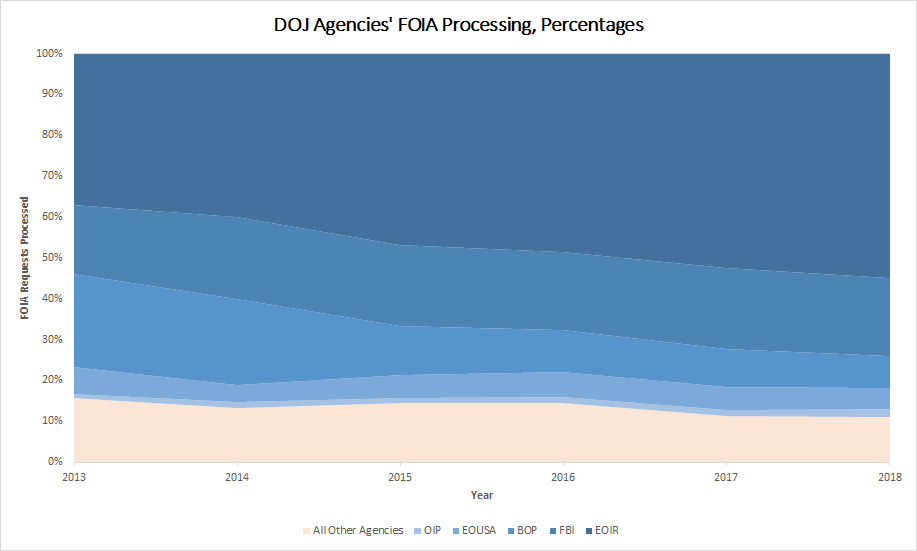 #5: Office of Information Policy (1,836 requests processed in 2018)
The Office of Information Policy's mission is to "encourage and oversee agency compliance with the Freedom of Information Act." As such, OIP handles all FOIA and Privacy Act appeals for the DOJ, as well as all initial requests for "the Offices of the Attorney General, Deputy Attorney General and Associate Attorney General, as well as other Senior Management Offices."
Thus, while the OIP's processing levels are much lower than the other top five agencies, its unique position within the DOJ makes it particularly important.
The OIP received and processed more FOIA requests each year from 2013-2018 but saw a dramatic increase of about 800 requests from 2017 to 2018, concurrent with a similarly large spike in FOIA appeals which, as previously mentioned, are all handled by the OIP.
The OIP's total costs have remained the same between 2013 and 2018, hovering around $4.5 million.
#4: Executive Office for United States Attorneys (4,678 requests processed)
The EOUSA provides, among other things, "general executive assistance and supervision to the Offices of the U.S. Attorneys," who represent the federal government. As the connection between U.S. Attorneys and the DOJ, the EOUSA is an important source of FOIA documents.
In 2018, the EOUSA processed 783 fewer FOIA requests than it received, increasing its number of backlogged requests by 678. The agency had not had that large a processing gap since 2014.
The agency that deals with attorneys has the highest FOIA litigation costs of all DOJ agencies: $4,147,092 in 2018. More surprising is that the EOUSA's litigation costs were much lower in 2013, at only $452,215. These costs shot up from 2014 to 2015, and again from 2017 to 2018.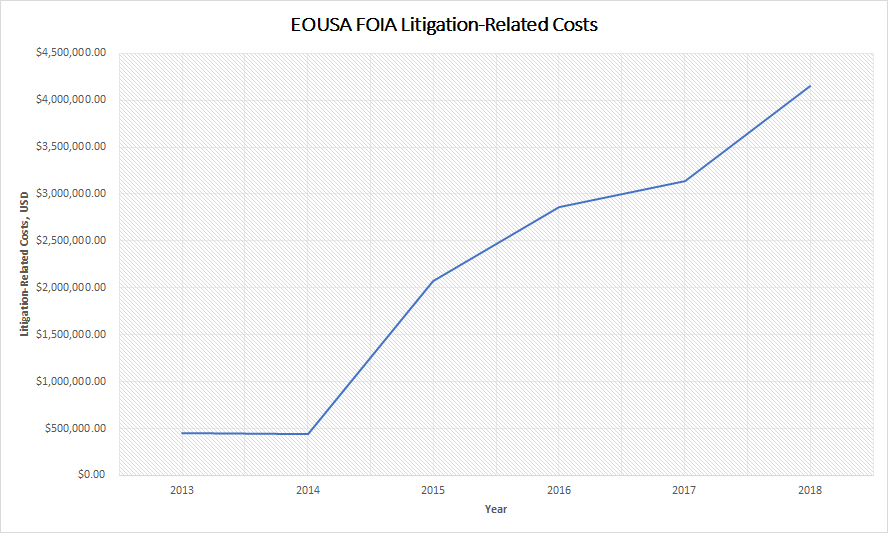 #3: Bureau of Prisons (7,092 requests processed in 2018)
The BOP is responsible for 177,300 federal inmates. Through the FOIA, these inmates can request their entire institutional files and medical files from the BOP. Recently, the BOP has seen an increase in FOIA requests for a variety of other records, according to its annual report.
The BOP processed 615 fewer FOIA requests than it received in 2018, adding 576 more backlogged requests than it had at the end of 2017.
The BOP's received and processed numbers dropped from about 15,500 in 2013 to about 8,000 in 2015, where they remained through 2018. This change moved the BOP from the second highest processing agency to the third, making the BOP the only agency out of the top five to have its FOIA processing numbers decrease during this time period.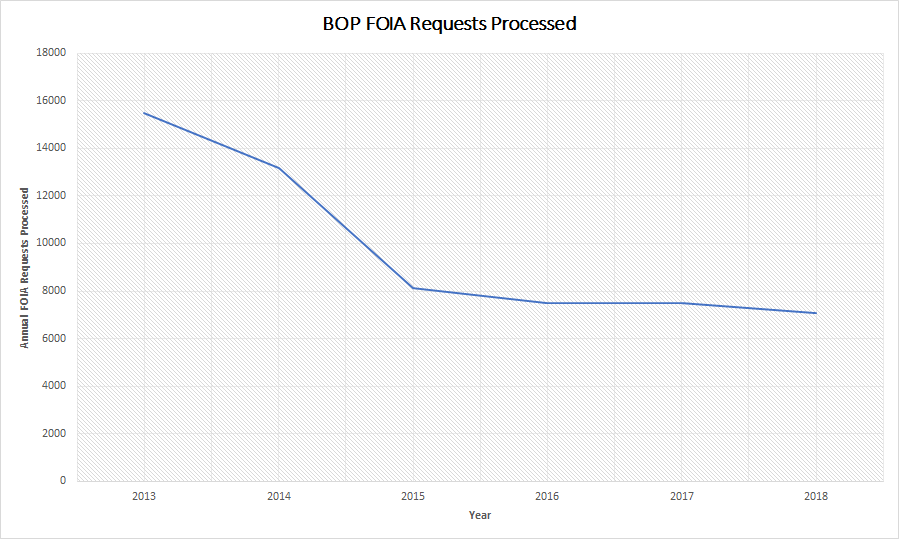 #2:Federal Bureau of Investigation (17,440 requests processed in 2018)
The FBI investigates a wide variety of threats, from terrorism and counterintelligence to corruption and other federal crimes. When dealing with FOIA requests, it cites more exemptions, boasts more FOIA personnel, and has the largest processing budget of any DOJ agency.
The Bureau, in 2018, cited Exemptions 6 (personal privacy), 7c (personal privacy/law enforcement), and 7e (techniques and procedures for law enforcement investigations or prosecutions) more than 3,000 times each. It also often cites FOIA Exemption 3, claiming to withhold records to protect intelligence sources and methods.
Last year, the FBI processed about 400 fewer FOIA requests than it received. Its processing deficit (processed minus received) has switched from positive to negative and back almost every year. The number of backlogged FBI requests has risen steadily but almost doubled from 2015 to 2016.
The FBI had 247 full time FOIA staff in 2018, more than any other DOJ agency. It also had the highest processing costs of any agency: $37,710,676.00, contributing to a total cost of $38,925,398.00 in 2018.
In 2017, the FBI had a $17.8 million processing costs spike, almost entirely accounting for a spike in costs for the DOJ overall. The spike is not correlated with staff numbers, and while there was a processing increase in 2017, there was also an equally large increase in 2018, with no correlated costs increase.
One possible explanation for the spending spike is the 2017 launch of the FBI's controversial eFOIPA portal.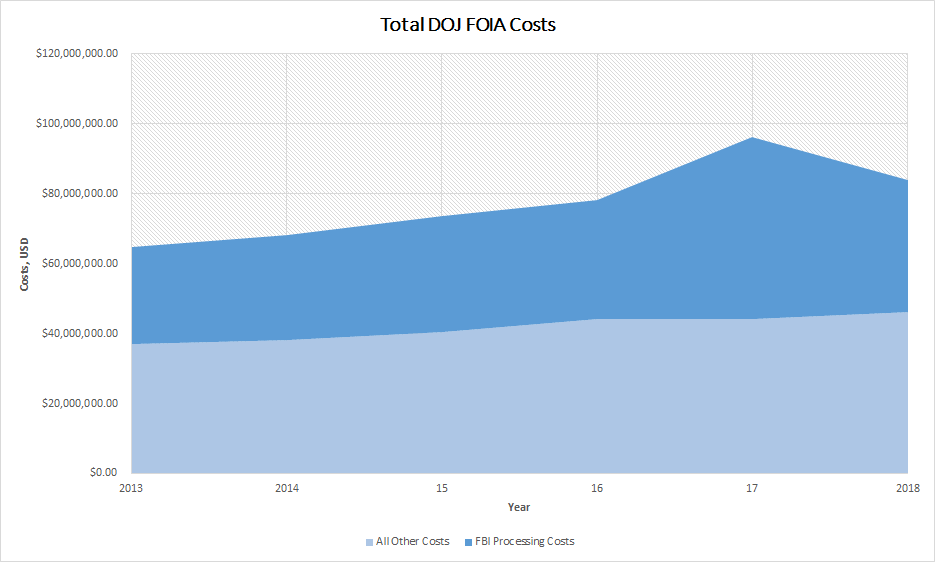 #1: Executive Office of Immigration Review (50,271 requests processed in 2018)
The EOIR is responsible for adjudicating immigration cases by conducting immigration court proceedings, appellate reviews, and administrative hearings. This includes cases involving "detained aliens, criminal aliens, and aliens seeking asylum as a form of relief from removal." Some of these responsibilities are shared with US Citizenship and Immigration Services (USCIS), an agency in the Department of Homeland Security. Some documents commonly requested from the EOIR include copies of immigration court records and personal immigration files.
In 2018, the EOIR processed more FOIA requests than all other DOJ departments combined. Furthermore, the volume of EOIR requests has been rapidly rising since 2013, helping account for most of the increase in overall department processing volume in the last five years. The increase also helps to account for the fact that half of the DOJ's 2018 processing deficit came from the EOIR.
The EOIR has 42 people on full-time FOIA staff, more than most agencies but still seemingly low compared to the agency's volume of requests. In 2018, the EOIR's processing and litigation costs amounted to $4,779,650.00, or 5.7% of total DOJ FOIA costs.
A variety of immigration-related trends contribute to the pattern in EOIR FOIA requests. For instance, there was a sharp rise in asylum applications beginning in 2014, the same year that the EOIR began accounting for almost all growth in DOJ FOIA processing. Additionally, immigration law experts recommend that people facing potential deportation (or "removal") submit a FOIA request to the EOIR before going to immigration court. From 2013-2018, the number of "removal, deportation, exclusions, asylum-only, and withholding only" cases per year increased by about 100,000 while annual deportations decreased by about 100,000.
You can access more the Department of Justice's annual FOIA reports below or skim through the reports from other agencies via our 2018 Annual FOIA report Assignment here.
Image via Department of Justice