Shortly after publication, the FBI reached out to Dell Cameron and clarified that they would be dropping the one request a day restriction and open it to 24/7 use. Our other concerns - and any future arbitrary restrictions the FBI decides to add - still stand.
Yesterday, when Emma Best broke the news that the FBI would be shutting down its FOIA email address and directing all online submissions through its online portal, a few people sensibly asked just how bad that portal could be. We're here to tell you how bad.
Full disclosure: Some of MuckRock's best friends have worked on building FOIA portals (hey, 18F!). We think that there's room for well-designed government software to make life easier for requesters AND agencies. But the FBI's eFOIA system appears to be designed explicitly not to be used.
The problems start with the site's terms of service: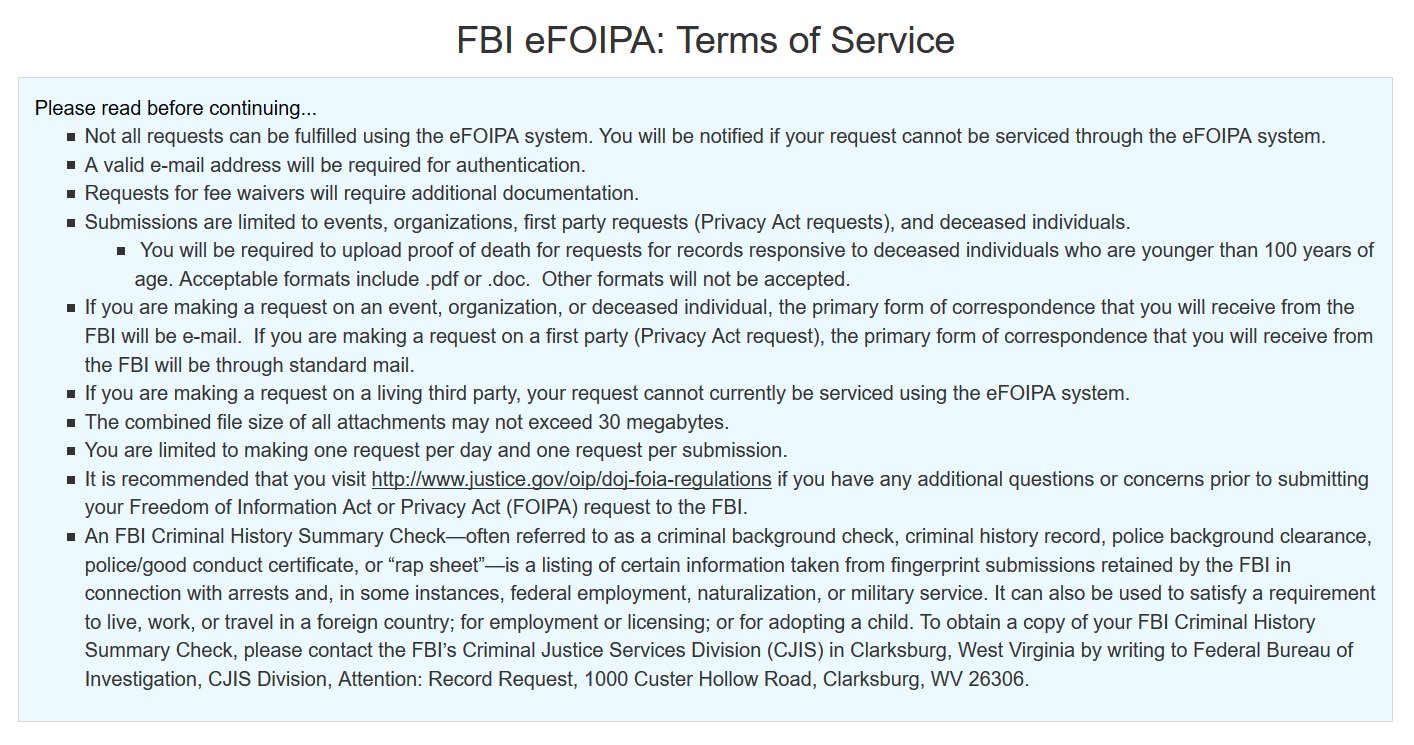 As Emma Best pointed out, the language for what types of requests are accepted doesn't include internal communications, such as memos, emails, guidance, or a wide range of other important records.
You have to tell the FBI if you're filing from inside or outside the US, which is just a tad creepy and again, under the law, should not matter.
Requests can't be longer than 3,000 characters - yet another arbitrary restriction not justified by law, and which means that it's harder to push back when the agency plays games with exemptions and search practices.
Individuals can't apply for Media fee status, only organizations - so freelancer journalists, hate to break it to you, but don't count.
Again and again, we've seen agencies invest hundreds of thousands of dollars in proprietary FOIA portals that ultimately make things more difficult and challenging for requesters rather than actually improving the process. In the worst-case scenarios, such as this one, those portals severely restrict the rights of requesters in ways that have no basis in law.
Instead, agencies should be looking to meet requesters where they are, using free, standard, open protocols like, for example, email - just like the FBI used for years before investing in this mess.
---
Image via FBI.gov