Last week, we pushed a new feature that lets you see the number of Assignment submissions per day. We also added improved logging on our end to help identify and correct bugs more quickly.
For previous site improvements, check out all of MuckRock's release notes, and if you'd like to get a list of site improvements every Tuesday - along with ways to help contribute to the site's development yourself - subscribe to our developer newsletter here.
Site Updates
See the number of Assignment submissions by day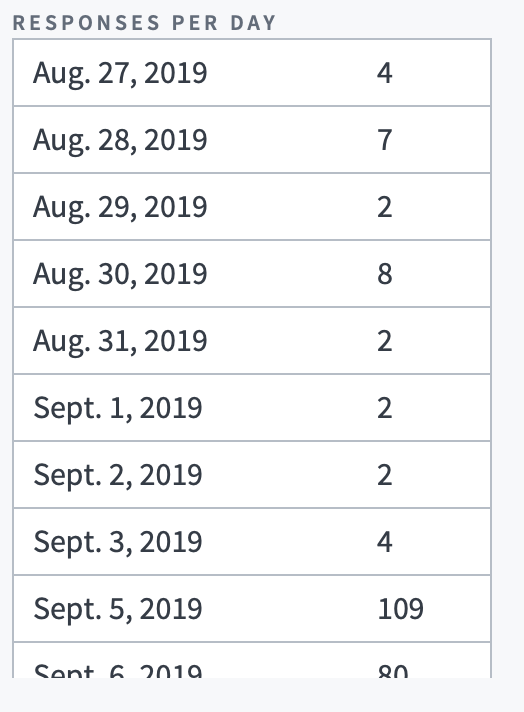 Sometimes, when you're promoting a crowdsourced Assignment, you want to know what's working and when people are most excited about helping out. We've updated the Assignment tool to show the number of submissions per day from the admin page. Let us know if you find this helpful.
Improved logging
We've added improved logging and tracking of multi-requests so that we can better identify and correct the rare errors that occur.
Come hack transparency with us
Every Tuesday night, we gather in Cambridge with a group of coders, designers, and others who want to see more open government. Over the past few months, we've been mixing MuckRock's agency database with a set of scanners and scrapers to help gauge the accessibility, mobile-friendliness, and security of America's digital infrastructure.
On Dec. 17, we're joining other Code for Boston projects to demo our project, GovLens. Registration is free, so if you're in the Boston area, we'd love to see you!
You can find out more and join us by checking out Code for Boston's website.
Give feedback, get updates
There are a number of other ways to help us continue to improve the core MuckRock site experience.
Newsletter: We have a project and a weekly newsletter, "Release Notes," that highlights everything we're working on. Register to get a summary of site updates each week and details on open issues that need your help.
Subscribers to the weekly newsletter get exclusive data sets, FOIA-related scripts, and other transparency hacker tidbits only available for subscribers. You can subscribe to the newsletter at the top or bottom of this page.
Slack: In addition to the newsletter, we have a developer channel on the MuckRock Slack.
Github: Check out some of our issues labeled "help wanted" for ideas on good places to start or just pop into our Slack's #Developers channel.
If you spot a bug or have a feature request, you can also help by opening an issue on GitHub.
If you do, please search open issues first to make sure it hasn't already been reported. If it has been reported previously, please leave an additional comment letting us know it's an issue for you, particularly if you can provide more details about when it crops up or what you think is causing the problem.
---
Image via Wikimedia Commons