Ever get the feeling that your local government agency is hoping you just go away?
That certainly seems to be the case with the Richmond Redevelopment and Housing Authority in Virginia. Over the last six months, prying event basic information about plans to demolish its existing public housing in favor of an entirely voucher-based system has been an exercise in futility. By the time you get the document, you're too late.
The agency began the year by quietly announcing its plans to demolish the very thing they're supposed to provide - housing.
RRHA held meetings that went unnoticed. Anyone lucky enough to show up didn't get much in the way of answers: A request for a presentation shown at one of these meetings revealed that the slide justifying the decision consisted of a photo of a printout, and was therefore rendered illegible.
A request for an upcoming schedule of RRHA meetings first saw the agency make the bizarre argument that any meetings not available on its website were closed by default.
RRHA also requires clarification on what is meant by "all scheduled hearings, or meetings open to the public," including "any meeting notice issued to residents." The only "meetings" which are open to the general public are meetings of the Board and its Committees, which are required to be open to all members of the public pursuant to FOIA. All other meetings held by or involving RRHA staff are "closed," in the sense that any or all members of the general public can be excluded in accordance with applicable law.
When asked to provide justification for why the requests were exempt under state public records law, the RRHA backed away from that stance quickly. However, by the time they issued a schedule, clearly compiled only for the requester's benefit, all of the meetings about redevelopment had already taken place save for one, to be held the next day.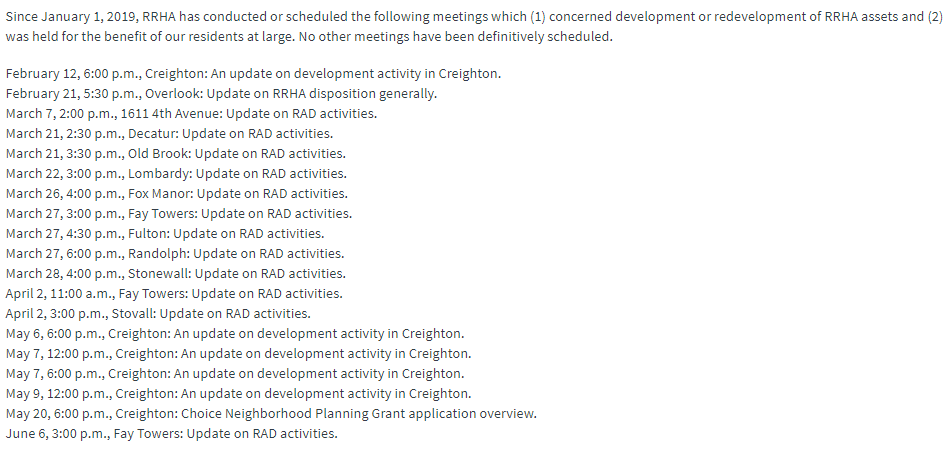 Shortly after these meetings, RRHA somehow, possibly, alerted someone that it had opened a public comment period on one-year and five-year plans that detail some of their designs on demolishing housing and handing former residents vouchers. However, that notice is not in the agency's "news" section or listed anywhere relating to its public meetings. Likewise, RRHA's social media page has spent the intervening weeks following around new CEO Damon Duncan, even posting a photo of him smiling with children in Gilpin Court, but little on the public comment period.
The notice also states comments would only be accepted by handing them over at their headquarters or by mail (though RRHA apparently accepted email submissions).
We requested those comments, and they are available here. Based on what RRHA supplied, they were solicited entirely through the efforts of local advocacy and legal justice groups.
How many more comments would RRHA have received had it alerted the public to its public comment period? Does RRHA have any kind of public engagement strategy that it's not following?
We've asked - stay tuned.
---
Image by Taber Andrew Bain via Flickr and is licensed under CC BY 2.0