At 1:43 a.m. on cold night in January of 2000, two police officers in Providence, Rhode Island responded to a 911 call about a fight at a restaurant off Atwells Avenue. They arrived on the scene, only to witness a man outside the diner draw a gun. A split-second later, Sgt. Cornel Young Jr., an off-duty black officer also on the force, emerged from the building with his own sidearm drawn. The responding officers pulled their weapons. They fired three shots, killing Young.
The Providence community's response was immediate and overwhelming. Hundreds demonstrated outside City Hall, decrying a history of police brutality in the city and the role many believed race played in Young's murder. Local activists and community organizations, such as Direct Action for Rights and Equality, threw themselves into enacting institutional change. After more than a year of advocacy, they succeeded in passing an ordinance creating Providence's first-ever civilian oversight board of the Providence Police Department in November of 2002.
The Providence External Review Authority, or PERA, like oversight agencies in cities across the U.S., was born in response to tragedy, carried by the momentum of a movement for racial justice. But PERA came of age under fire. Its already-limited authority weathered a police union lawsuit and non-cooperation by public safety officials before its eventual defunding and collapse in 2008. Re-established by another wave of community activism for police accountability this year, PERA remains caught in the double bind of modern police oversight: emblematic of the activist demands for accountable public safety that brought it into existence but also of the barriers that stymie similar bodies across the nation.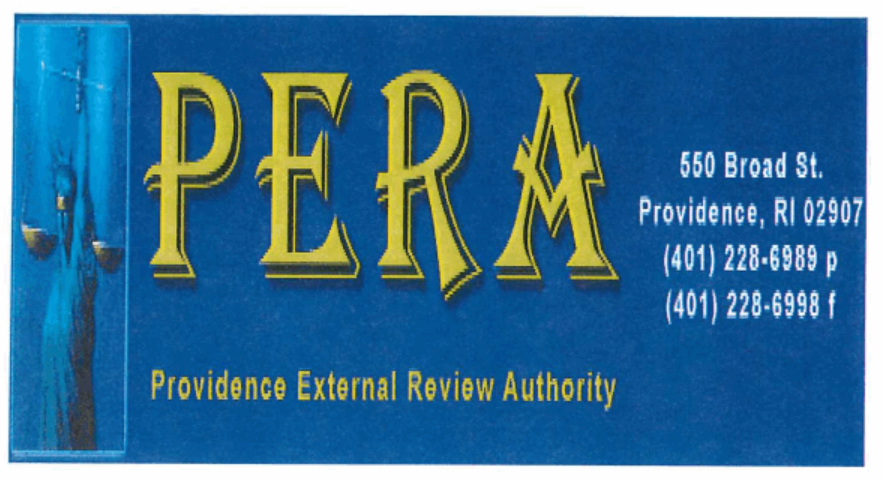 A radical idea, ineffective in practice
Community oversight of law enforcement, in the eyes of activists, has always been about accountability - documenting and reigning in abuses of power. Progressive Era reformers in the '20s first attempted to break the grip of local political machines on policing institutions by establishing volunteer commissions to hear civilian complaints against officers. But these bodies were weak and ineffectual, until citizen oversight was taken up by civil rights movement activists challenging police misconduct in the '60s. The movement for oversight has grown from there. Now, almost 150 such agencies operate at the local level in the U.S., according to a 2016 report by the National Association for Civilian Oversight of Law Enforcement - nearly every major city has an independent review agency.
These bodies are structured differently. Some conduct their own investigations of misconduct complaints; others monitor internal police department investigations. Oversight agencies usually exist apart from these internal complaint processes, and for good reason. A 2015 study by criminal justice scholars William Terrill and Jason Ingram found that external investigations are 78% more likely to sustain misconduct allegations than internal ones (nationally, only one in every 12 internal complaints results in disciplinary action, according to the Bureau of Justice Statistics).
Civilian review agencies are united, with some exceptions, by a lack of political clout. "It's clear that there are very few civilian oversight structures that really have substantial power to enforce the recommendations of their investigations," said Samuel Sinyangwe, co-founder of Campaign Zero, a police reform movement associated with Black Lives Matter. Using public records request filed through MuckRock, Campaign Zero has surveyed the landscape of police oversight. Only a handful of agencies have the power to subpoena testimony from officers and police records, the lack of which hinders oversight groups' abilities to independently investigate allegations of police abuse from community members. "Very few have the ability to actually impose discipline on officers," according to Sinyangwe.
Also frustrating advocates' attempts to increase police transparency and accountability through civilian oversight is the political opposition these bodies face. "Police unions are almost always the primary barrier or reason why these structures do not have more powers or that these structures are not established [in the first place]" said Sinyangwe, citing vocal resistance to efforts by the Fraternal Order of Police in Nashville, Tennessee against a decades-long struggle to establish a review board in the city. A ballot measure to establish the board finally passed during the 2018 midterm elections, but the FOP spent nearly half a million trying to defeat it.
Legal challenges by police unions and underfunding by city governments also plague review boards. These combined factors prevent civilian oversight agencies from fulfilling they are tasked with: increasing "transparency" and "the level of accountability for police violence," says Sinyangwe. Without adequate independence, resources, and power they cannot function as an independent and meaningful check on the powers of public safety institutions.
The trials and tribulations of PERA
The story of PERA mirrors the struggles of civilian oversight agencies elsewhere in the US. It is a story in two acts, separated by a ten year period where the board was inactive, between 2008 and 2018.
The original PERA, charged by the ordinance that created it with investigating civilian allegations of police abuse and submitting recommendations for disciplinary action to the Chief of Police, opened its doors to the public on June 24th, 2005. According to PERA's bi-annual reports, obtained via public records request, the board opened 50 cases between this date and November 2006 (for comparison, in 2005 the PPD's internal review office held 73 complaint hearings and rendered 1 guilty verdict).
Data on the results of these PERA cases and any disciplinary actions it recommended are not presented in the public reports—in part because the agency's ability to carry out these functions suffered a major setback in September 2006. Then, the local chapter of the FOP and two Providence police officers under investigation by PERA sued the oversight board, alleging violations to the state Law Enforcement Officer's Bill of Rights and asking the courts to declare the agency unconstitutional.
The December 2006 PERA report notes that "the cases before PERA are in various stages mostly due to lapses in information from the PPD," which stopped providing information to the board while the legal challenges to its constitutionality were ongoing. Eventually, the case reached the Rhode Island Supreme Court, which ruled to preserve PERA. The agency renewed its activities and held its first evidentiary hearing (the last stage of the PERA investigation process of a substantiated complaint) involving a Providence police officer on December 10th, 2007. Its twice-yearly recommendations to the Mayor and City Council remained almost unchanged across the three years it operated.
Despite the restrictions PERA faced and its inability to enforce the recommendations it produced, PERA curbed police misconduct, said Providence City Councilwoman Mary Kay Harris, a member of the original PERA board and longtime advocate for police accountability, in a public presentation to the current (reconstituted) PERA board in June 2018. "I believe that during the time of PERA … the Providence Police Department definitely started to change some of the behavior," she said.
But, ultimately, the agency was doomed from the beginning. "Politically, it was supposed to fail," Harris told the board; its members "were politically put there, deliberately, to destroy PERA." The original PERA ordinance allowed each member of the City Council, as well as the Mayor, to appoint a board member, which resulted in a 21-person body that experienced rapid turnover in membership.
To make matters worse, the first executive director hired by the PERA, Leon Drezek, resigned a year into his tenure and was replaced with his chief investigator Kevin Dreary, a retired agent of the Federal Bureau of Investigation. Harris said that the PERA board at that time disapproved of how Dreary was conducting his work, and the agency lost credibility in the eyes of the community. These issues compounded and, sometime in 2008, the agency collapsed.
After, "it didn't take long for the city to defund it," Harris said. By 2014, the agency's budget had dipped to one third of its allocation in 2008, when it ceased operating, according to yearly financial reports issued by the City of Providence. PERA had gone dormant.
The Community Safety Act and the rebirth of PERA
PERA was reborn thanks to community efforts that began just as it faded away. In 2009, a coalition of advocacy organizations proposed a bill restricting racial profiling by law enforcement in the Rhode Island state legislature. Some Providence-based groups, including Providence Youth Student Movement, became frustrated when provisions of this bill were negotiated away in order to secure its passage. Conversations towards turned towards drafting a city ordinance to ensure the safety of youth, immigrants, people of color, and trans people in their interactions with police where the state bill fell short. A coalition of activist groups drafted the Community Safety Act, modeled on similar ordinances passed in other cities and including provisions restricting police use of gang databases and racial profiling, as well as the creation of a new, more powerful civilian review body.
This planning oversight agency, defined in the first draft of the CSA ordinance submitted to the Providence City Council in 2014, "had a lot of power," said Vanessa Flores-Maldonado, Campaign Coordinator for the Providence Community Safety Act, in an interview with MuckRock. "It had the power to terminate contracts; it had the power to reallocate police funds. We dreamt big." But City Council members rejected this portion of the legislation, and the coalition compromised. Instead, the final version of the CSA mandated the reconstitution of PERA, with slight expansions of its mandate. The CSA, overcoming vocal opposition from the police union, eventually passed in 2017 as the "Providence Community-Police Relations Act."
The current incarnation of the PERA board, which will complete one year of existence with the new year, has taken an intentional approach to avoiding the pitfalls of its predecessor, according to Alison Eichler, current chair of the PERA board. "Nine volunteers have been working together to try to understand our role, to try to hear from all constituencies that will be touched by this," she told MuckRock.
Eight of these nine PERA board members were selected by the City Council. Flores-Maldonado expressed frustration at what she and the CSA coalition saw as a lack of transparency in this process. "We had submitted a bunch of community-based applications for the board that ended up getting thrown out," she said, "because the leadership that was in place on the City Council wasn't here for us." When the Council's picks were announced, Flores-Maldonado's coalition issued a statement criticizing perceived bias in the process, as well as the fact that some of the selected members did not reside in Providence, information borne out by a public records request for their resumes.
Eichler says she has worked directly with the CSA activists; in June, the PERA board heard a presentation from members of the Providence Youth Student Movement, including Flores-Moldando and Justice Gaines, another community organizer. "Really what the CSA is doing is trying to make sure people's rights are reaffirmed and making sure they have recourse for when their rights are not respected," said Gaines at the meeting. The CSA ordinance charges the PERA board with reviewing police department policies and acting as an appeal agency for citizens who believe they have been wrongly placed in police department gang databases, lists heavily regulated by the Act. PERA's power remains limited to issuing recommendations, but it may now, under the CSA, review police department funding allocation and labor contracts.
Eichler says the agency will commence these duties once it hires an executive director. The search is underway, and she expects this individual will begin early next year. Only at this point will PERA be able to begin investigating complaints and carrying out its other duties.
Asked about the framing of civilian review as 'policing the police,' Eichler responded: "We're not an advocacy group." She said, as an independent volunteer board established by ordinance, "our job is to give citizens a place to be heard."
But for Flores-Maldonado, given the Community Safety Act's mandate, "PERA's existence is not neutral." She takes issue with presentations by police leadership and the Fraternal Order of Police to PERA that took place over the past year, as the board worked to educate itself. "This is about the community's needs above all … this is about us needing safety in general from this government system that seems to be designed to fail people who look a certain way," she said.
Her organization, Providence Youth Student Movement, operates a program called the Community Defense Project, which conducts community outreach around the CSA, helps people file complaints, and monitors police activity. In January, the organization immediately called out gang database criteria released by the Providence Police Department as illegal, in violation of sections of the CSA. While she recognizes the need for PERA to proceed carefully, right now "we're basically doing PERA's job," said Flores-Maldonado.
If the past is any indication of the future, PERA will not immediately begin fulfilling its duties: publicizing its operations to the community, investigating complaints, and reviewing police policy. "We're heading in the right direction," said Eichler. Time will tell if the new PERA can succeed where its predecessor failed.
The power of PERA?
Where does PERA stand in the landscape of local police oversight organizations? Even when PERA is fully operational, it won't check all the boxes of effective police oversight - independence, resources, and power. Its budget remains in the control of the City Council and, while its eventual Executive Director will have subpoena power under certain circumstances, PERA will ultimately only be able to issue recommendations to the Police Chief and to the City.
In other parts of the US, police reformers are fighting to remedy these structural deficiencies in their own accountability agencies. In 2016 with the passage of Measure LL, activists in Oakland, California, won a years-long battle to create an oversight agency with teeth. The legislation replaced Oakland's citizen review board with a police commission with the power to impose officer discipline, fire the police chief, and recommend law enforcement policy (although some criticized compromise provisions allowing police unions to appeal disciplinary decisions and the mayor to appoint three out of the commission's seven members).
And even "the most radical police commission in the country" has suffered roadblocks. 2018 saw a protracted fight over the its status as an independent body. In early November, the commission abruptly fired the executive director of its sub-agency tasked with investigating allegations of police misconduct. Then, of its members resigned on November 29th, calling the body a "squandered opportunity," marred by administrative delays and political roadblocks. Most recently, on December 12th, the Oakland City Council appeared for a moment to disregard the Commission's authority by moving to vote on law enforcement policy without considering the commission's alternative.
In Oakland, Providence, and cities across the country, powerful obstacles continue to stand in the way of activists' aspirations to hold police forces directly accountable to the communities through oversight agencies. Advocates' fight to establish - and strengthen - these bodies is, time and again, no guarantee of their success.
The 2016 NACOLE report is embedded below.
---
Image via ProvidenceRI.gov