Since the 2016 General Election, Florida-based for-profit prison operator GEO Group has donated over a million dollars to Political Action Committees and political candidates throughout the State of Florida, supporting Republican PACs and gubernatorial candidate Ron DeSantis, as well as a number of elections for representation in both houses of the Florida Congress.
In addition to the explicit company support, executives for prison-related industries have leaned heavily toward DeSantis as their pick for the Chief Executive of the Sunshine State. CEO George Zoley, earlier this month, made a $53,400 contribution to the DeSantis election bid; a number of $3,000 donations also came from other members of the company's management team and operational administration.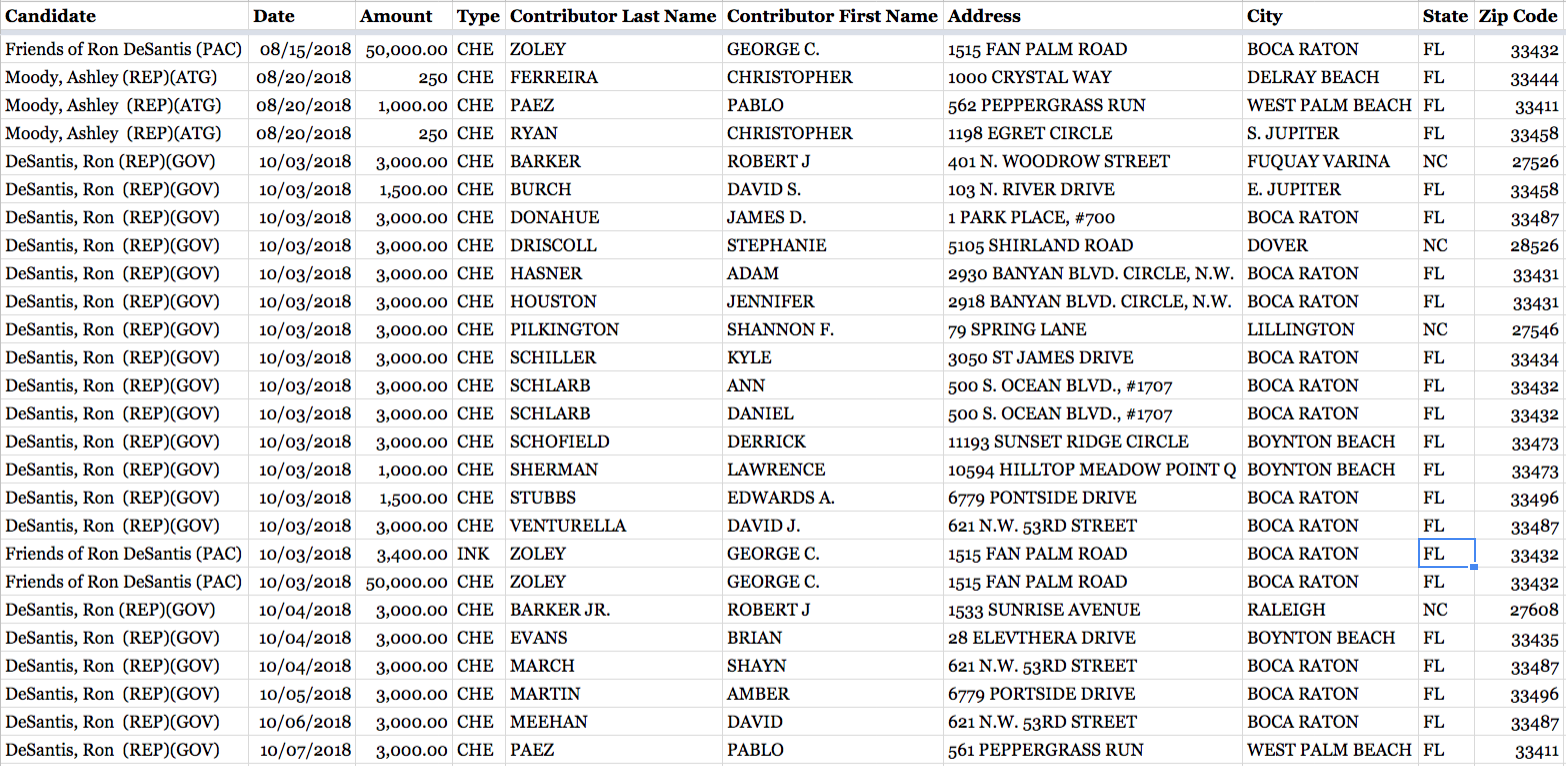 Among the other beneficiaries of GEO Group donations were Dana Young in District 18, Representative MaryLynn Magar in District 82, Chip LaMarca in District 4, and Ray Pilon House District 72.
Every state requires some level of disclosure around donations to campaigns and PACs, and it's apparent that GEO Group and its employees continue to actively contribute in local elections across the U.S, including in California …
and Texas.
GEO Group and its primary competitor, CoreCivic, have expected growth to continue under the current presidential administration and its no-tolerance approach to immigration. However, local efforts to highlight the companies' shortcomings and prevent expansion have had some targeted effect; in Washington, the expansion of Northwest Detention Center was stymied by local regulations, and the Florida activist group Dream Defenders elicited a cease-and-desist letter from GEO Group after staging a day of action against the corporation.
Dream Defenders also made an appearance in last night's Florida gubernatorial debate, when DeSantis brought up the group and a letter of theirs signed by his opponent, Democratic candidate and Mayor of Tallahassee Andrew Gillum, denouncing Gillum's support of a group that is critical of Israel.
He failed to mention that the group has also been actively critical of his campaign donor, GEO Group.
MuckRock is continuing to cover the privatization of the prison system. Know something we should hear about? Let us know via the form below.
---
Image by Gage Skidmore via Wikimedia Commons and is licensed under CC BY-SA 2.0