Many analysts and researchers have pegged the Washington, D.C. region as a top choice for Amazon's second headquarters.
Amazon says its HQ2 project will bring billions in capital expenditures to the selected cities (just this week is was announced that two cities would "split" the headquarters), as well as thousands of new full-time jobs over the next 10 to 15 years. It is also expected to prompt the "Amazon effect" wherever it lands: rising costs, housing strains, worsening traffic, and rapid city-wide changes.
D.C. has a lot of the leading qualities Amazon wants in its HQ2 - a large and diverse population, a central location, a tech concentration. But what sets it - and its proposal - apart from other finalists?
Amazon's request for proposal asks municipalities to provide information on its key decision drivers: potential buildings/sites, capital and operating costs, incentives, labor force, logistics, time to operations, cultural community fit, and community/quality of life. Each is explained in more detail here:
D.C.'s proposal hits on all these points.
In terms of alignment with Amazon's RFP, here's what D.C. says it has to offer:
Hover over elements of charts to see more detailed breakdowns.
In terms of tax incentives, specifically, the city is offering abatements, exemptions, credits, and reductions.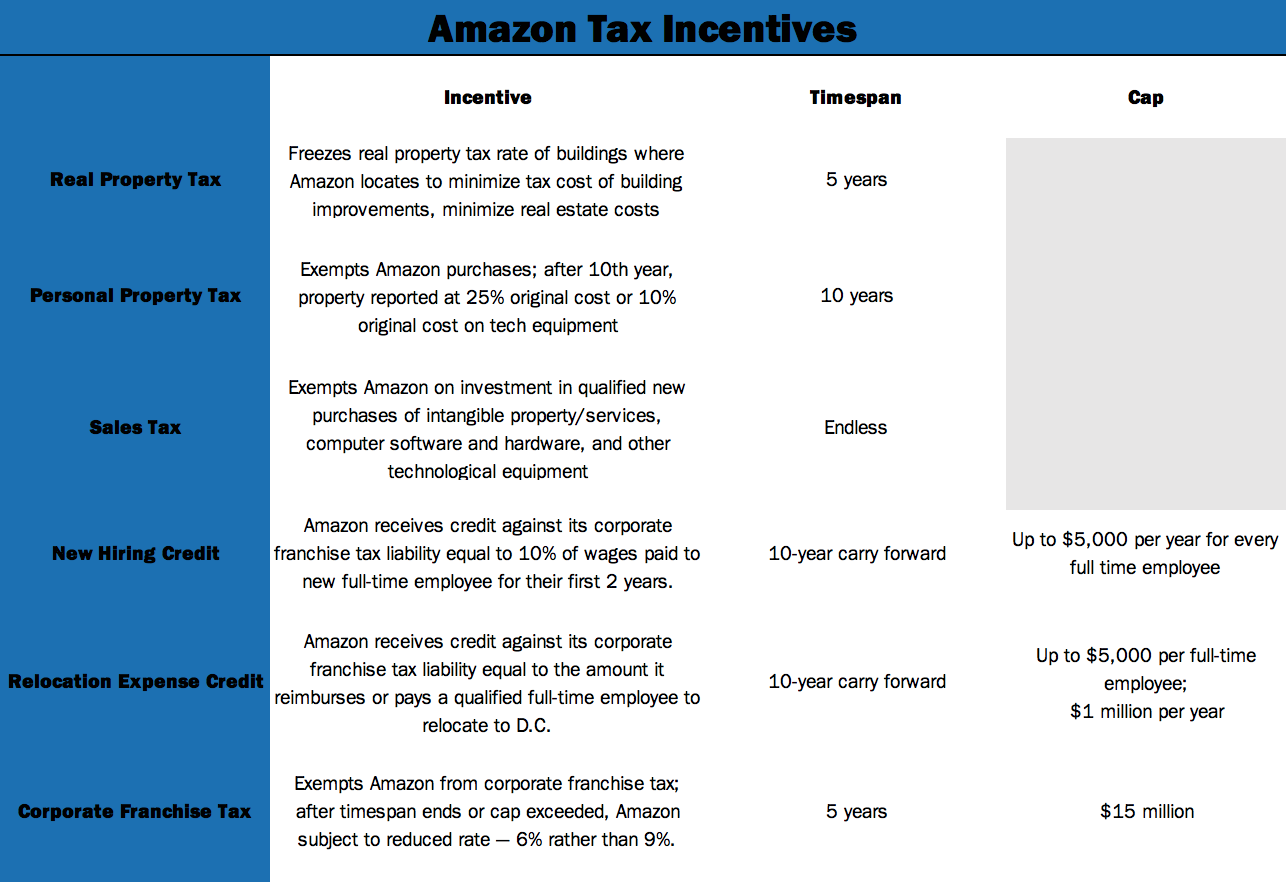 (D.C. submitted a similar chart in their incentives section. It included the estimated values of the incentives, which were redacted in the version released to the public.)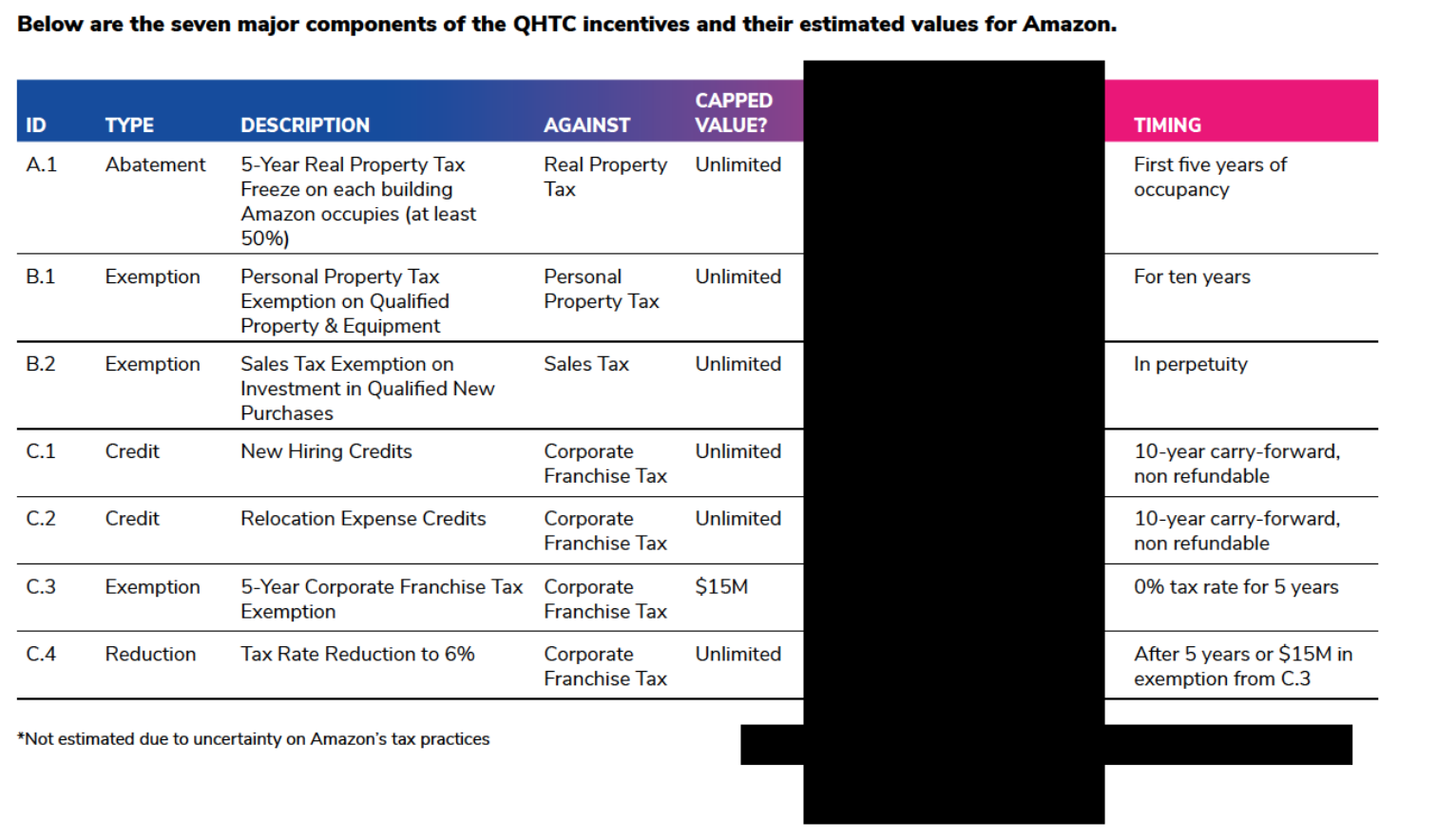 And to address community and quality of life in D.C., here's a proposal page that highlights a few perks: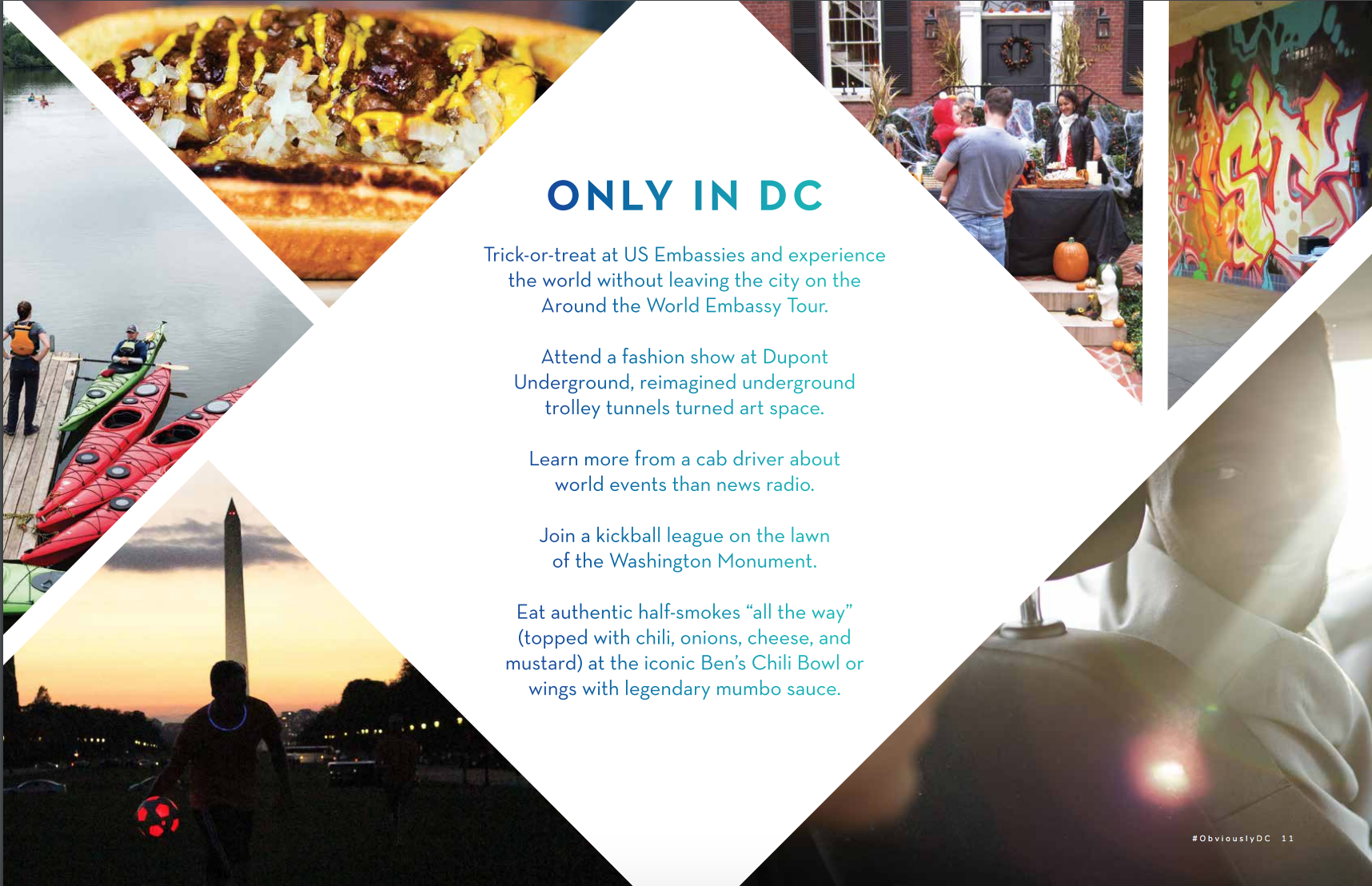 One unique bid item is the promised Amazon University, a D.C. government-funded education and training center customized for Amazon recruits. The proposal says Amazon University will consist of "customized educational curriculum for bachelors, masters, and executive education" and workforce development programs created in partnership with Amazon and D.C.'s universities, based on Amazon's particular needs.
The rest of the Amazon University page is redacted, as are a great deal of the "incentives" pages in general, which were provided separately from the rest of D.C.'s bid.
The city's proposed Amazon campus on the Anacostia waterfront is 16.9 million square feet and features bridges and waterfront parks. And although the federal government is the largest job provider in the nation's capital, the proposal says the city's share of tech jobs is growing at a faster rate than all other tech hubs but one: the company's current headquarters.
Amazon's "cultural community fit" RFP bullet partially references a diverse population, but largely refers to government-business relations. The company emphasizes that its second headquarters should have a "local government structure and elected officials eager and willing to work with the company."
D.C.'s proposal pushes the fact that it has a unitary government, so the Mayor is the only executive and the District of Columbia Council is the only legislative body; both work out of the same governmental building. D.C. says this will expedite Amazon's HQ2 launch.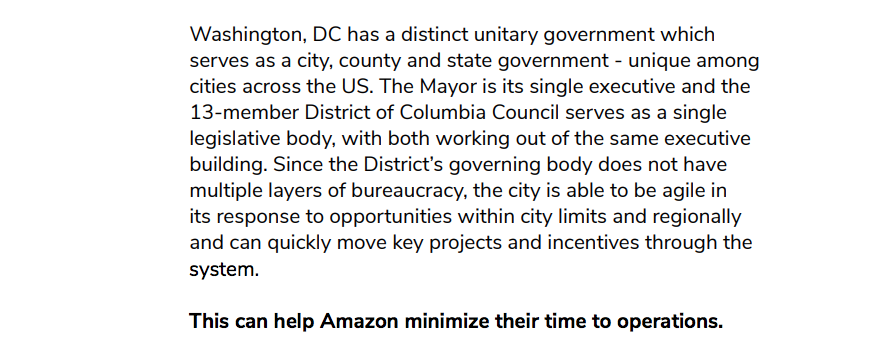 The proposal also shows tremendous support from the government and business community, including endorsements and encouragements from the mayor, district council, chairs and executives of nearby cities and counties, business owners, and a regional business alliance.
Finally, here's a list of those who contributed to the D.C. proposal, many of whom are public officials whose correspondences may be subject FOIA. If you have any unique ideas about documents to request that could shed light on the proposal's redacted materials or how the proposal was conceived, submit a request through our service or send us ideas via email, on Twitter, or on Facebook.

---