A 1975 memo from Henry Kissinger uncovered in the Central Intelligence Agency archives details the then-Secretary of State's talking points for an upcoming Oval Office meeting with Edson Arantes do Nascimento, the Brazilian soccer phenom better known as Pelé.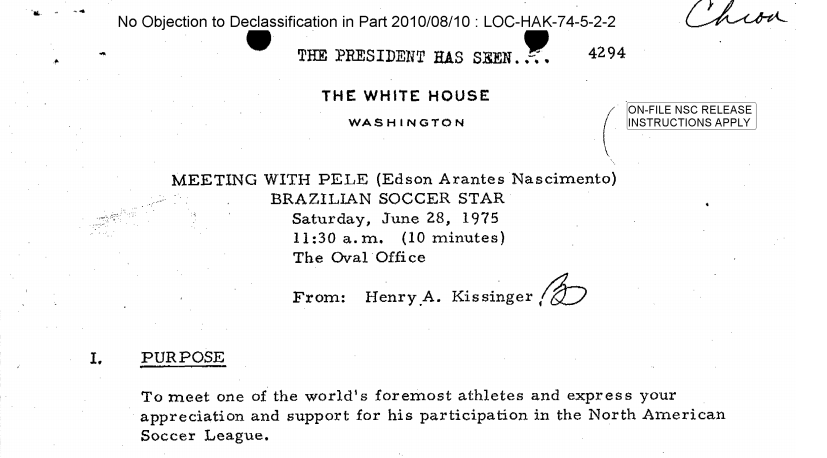 The visit was actually Pelé's second trip to the White House. He had previously met with Richard Nixon in 1973 (and politely corrected the president when he asked if he spoke Spanish). However, Pelé had just signed with the North American Soccer League's New York Cosmos, and it was Kissinger's hope that the visit would help stimulate American interest in the sport.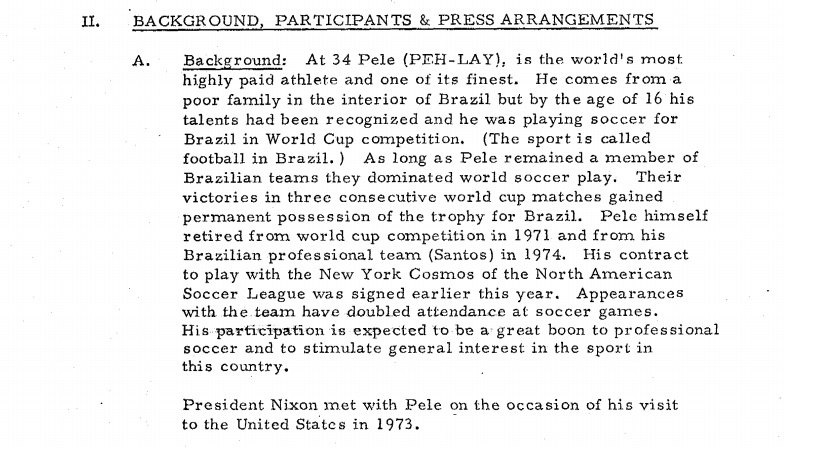 Although Kissinger himself was unable to attend, the inclusion of the memo in the CIA archives was likely the result of the apparently last-minute inclusion of national security adviser, Brent Scowcroft. (Maybe he was a closet Peixe fan?)

For his part, it doesn't look like Kissinger missed out on much. If the talking points provided are anything to go off of, the meeting wasn't exactly riveting.

But if nothing else, thanks to an earlier draft of the memo included in the archives, we have Kissinger's guide to pronouncing futebol.

Read the full memo embedded below:
---
Image via National Archives