We are no longer accepting applications. Thanks to everyone who applied!
Want to explore the cutting edge of public records, while helping reporters, researchers, and others get more out of these critical laws? Apply to be MuckRock's Sam Whitmore Media Survey Fellow and spend eight months with transparency as your beat, tracking changing laws, developing new FOIA strategies, and working on reporting and resources that will help all requesters.
The Sam Whitmore Media Survey Fellowship will give an early-career reporter a chance to master the tools of transparency while providing the public an in-depth look at the state of government accountability across America.
You'll be tackling projects like what incentives cities are offering corporations to come to town, uncovering hidden dangers in cities across America, and digging into local privacy and surveillance issues.
You'll also help us build out and expand our interactive database exemptions and access laws across the country, helping highlight legislative rollbacks of our right to know.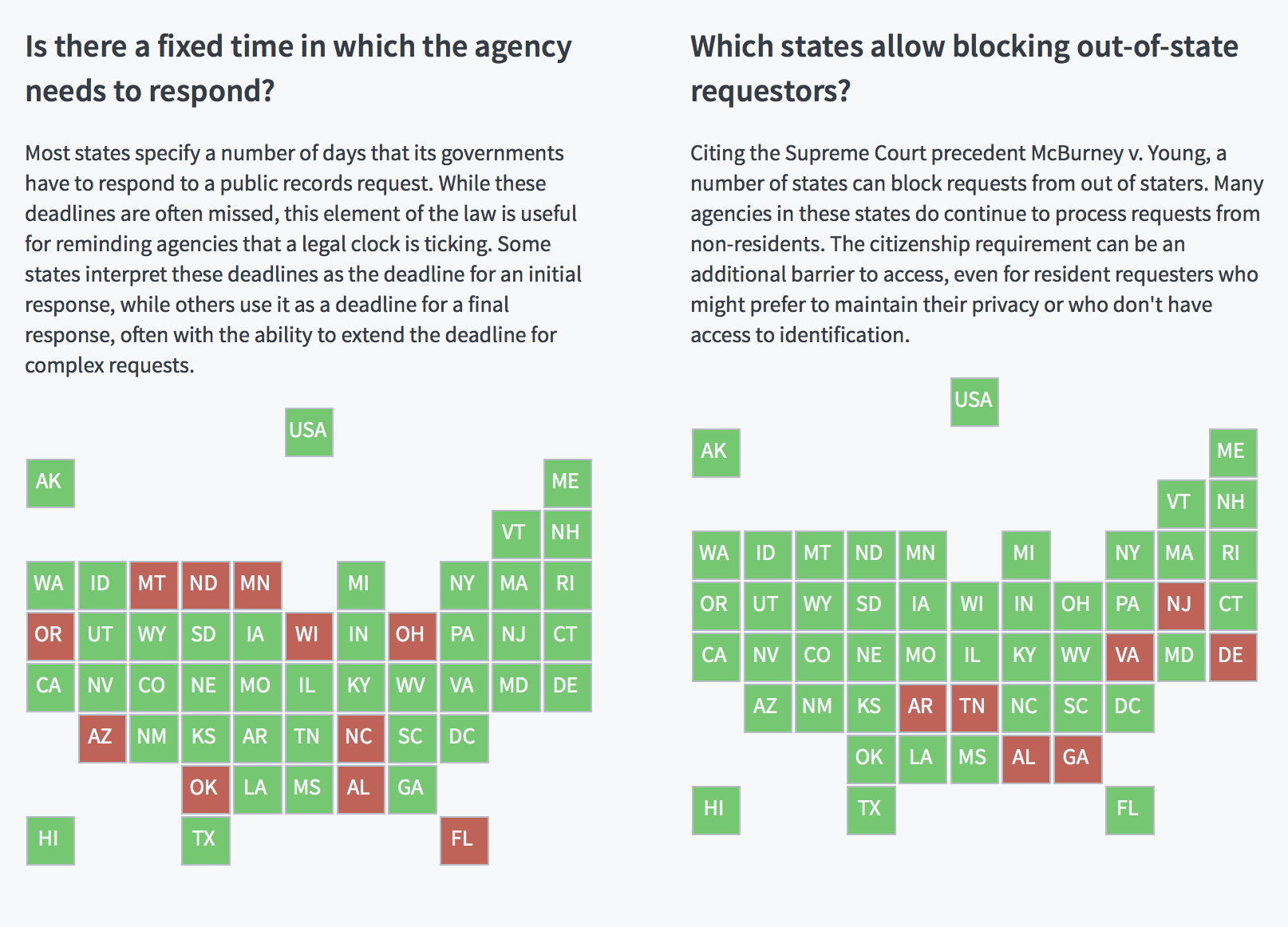 Coached by MuckRock's veteran reporters and provided dedicated access to our cutting-edge public records platform, the selected fellow will be given the mandate of tracking threats to open and accessible government, including dubious denials, increasing secrecy for public officials, and other barriers to an informed democracy.
The fellows will work with dozens of newsrooms through MuckRock's reporting network, connecting with journalists, researchers, and citizens in all 50 states to hold government accountable to the people.
The fellow will also work on reporting that will help expose trends in secrecy and highlight the true cost of opacity.
At the end of the fellowship, you'll have a strong portfolio, a deep understanding of how state public records laws work, and have helped build out key resources used by journalists, researchers, and ordinary citizens all around the country who want to better understand how government works.
The fellowship is made possible through a generous gift from Sam Whitmore Media Survey, which is marking its 20th anniversary. Whitmore interviewed me to discuss our work at MuckRock, which is available here, and has been a follower and supporter of the site since some of its earliest days. You can read more about Sam Whitmore Media Survey here.
Apply
The fellowship is a paid, full-time, eight-month position working out of our office in Cambridge, Massachusetts.
We're looking for applicants with a demonstrated interest and passion for transparency, whether through prior public records work or through other creative efforts. Prior experience or training in data analysis is also a plus. This fellowship is ideal for early-career journalists and those looking to use public records to have a positive impact on society.
Our goal is for the Sam Whitmore Media Survey Fellowship to serve as a launchpad for tomorrow's investigative journalists while being an important catalyst for transparency today. If you have questions about the fellowship, please email us.
---
Image by Derek Kouyoumjian