Yesterday, the GEO Group, one of the world's largest for-profit prison companies, decided to push back against attempts in the the American Northwest to limit their immigrant detention operations, filing suit in U.S. District Court for the Western District of Washington against the City of Tacoma, Washington.
Tacoma is home to the only detention facility in the state dedicated exclusively to holding violators of immigration and entry laws, the Northwest Detention Center.
Washington is just one of the West Coast states actively challenging the immigration policies of the current Presidential administration. It became one of the first to oppose President Trump's stance on entries from particular countries. In September, the Attorney General announced that it would be cracking down on private prison use of inmate labor; they've sued the GEO Group for failure to abide by the state's minimum wage laws, arguing that, despite the detainees' positions under federal jurisdiction, the $1-a-day compensation their detainees are currently receiving is in violation of the state's $11 minimum wage rate.
And last year, the City of Tacoma adopted an Interim Emergency Ordinance, placing restrictions on zoning that would hinge on the difference between a correctional facility and a detention facility, rendering the use of NWDC for immigration-related holdings a violation of City regulations.

The current contract between GEO Group and Immigration and Customs Enforcement for the Tacoma facility is set to expire on September 27, 2018; the agency has "the option to extend the contract for seven additional one-year periods through September 27, 2025."
In response to what they're calling the City's "about-face" - reaffirmed most recently with February's Ordinance No. 28491 - GEO Group is leveling a series of claims against the Tacoma, insisting that the City's previous statements of support and "animosity towards current federal immigration policy" should prevent the City Council from making any such changes to their zoning restrictions.
As part of their "factual allegations," GEO Group notes that once-upon-a-time the City had supported the facility's previous owner, Correctional Services Corporation, and its "excellent reputation" when it first discussed opening the detention center in 2000. However, this was before that company won the distinction of "largest fine levied for violation of lobbying laws" when it was penalized for inappropriately-reporting gifts to New York State legislators in 2003; it was also beforee CSC was acquired by GEO Group, which has a reputation of its own.

Tacoma has about three weeks to provide a response to the latest legal challenge to the evolving relationship between public and private interests in the Evergreen State.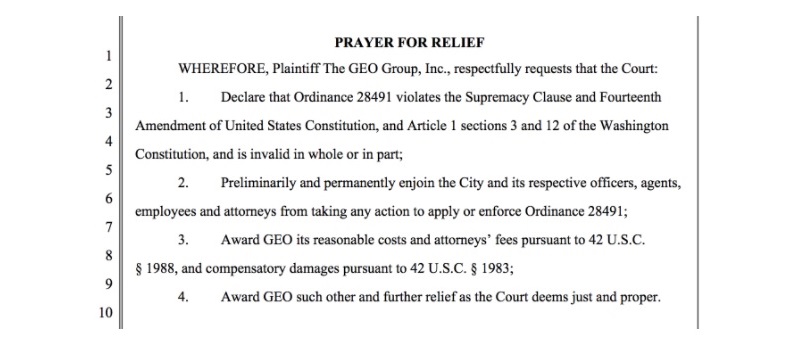 We'll keep you updated as the situation develops. Ordinance No. 28491is embedded below.
Red = CoreCivic
Blue = GEO Group
See a spot in red or blue on the map near you, and want to help others learn more? Reach out via the form below.
---
Image by Seattle Globalist via Flickr and is licensed under CC BY-SA 2.0