Homeland Security-run fusion centers are often criticized for keeping tabs on activist groups, particularly those that are demonstrably non-violent. That criticism is reinforced by a series of public records requests sent by the author to each of the 70 plus fusion centers in the country, asking for any reports regarding both Antifa and other leftist-alligned groups, as well as "alt-right" and outright white supremacist organizations.
Only a handful of fusion centers have so far actually provided records to MuckRock, and of those, produced reports overwhelmingly focused on the left. Take this email from the Nevada Threat Analysis Center, for example.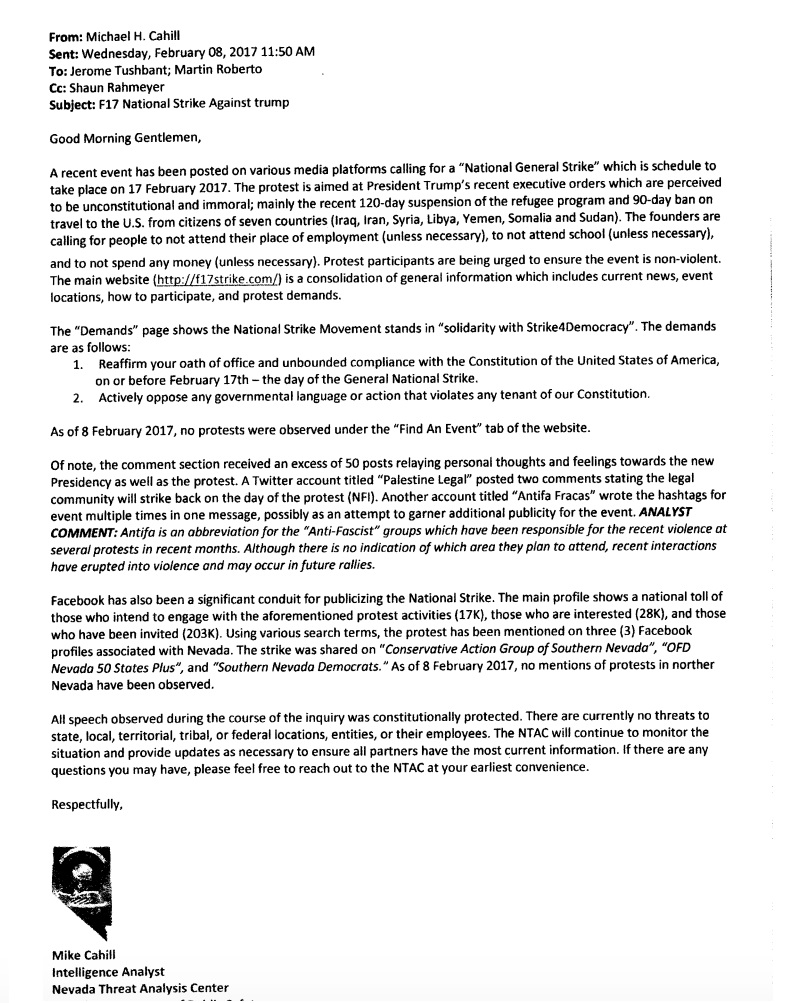 This shows that agency keeping detailed tabs on the proposed National Strike in protest against President Donald Trump's Muslim Ban last year. Note the analyst comment blaming Antifa for "recent violence," and the attention given to Palestine Legal. Despite being as non-violent as protests get, it's quite clear that the agency was monitoring the event closely.
In the ensuing pages, there are several questions about Antifa, people protesting ICE vans, anarchist groups, and several requests to monitor May Day.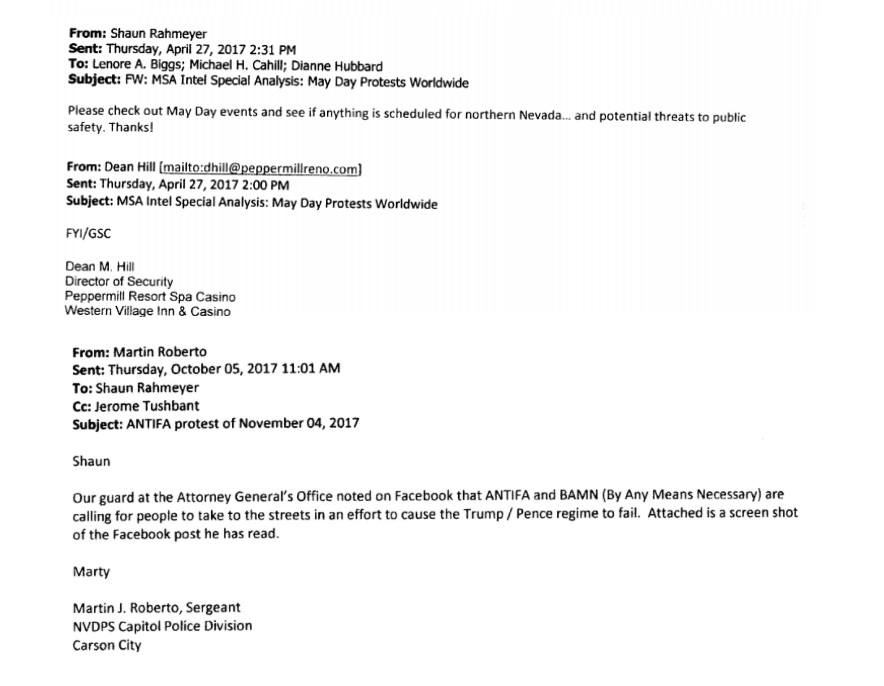 Most alarming is this email concerning the National Alliance Reform and Restoration Group, an inconspicuously named white supremacist group headquartered in Carson City.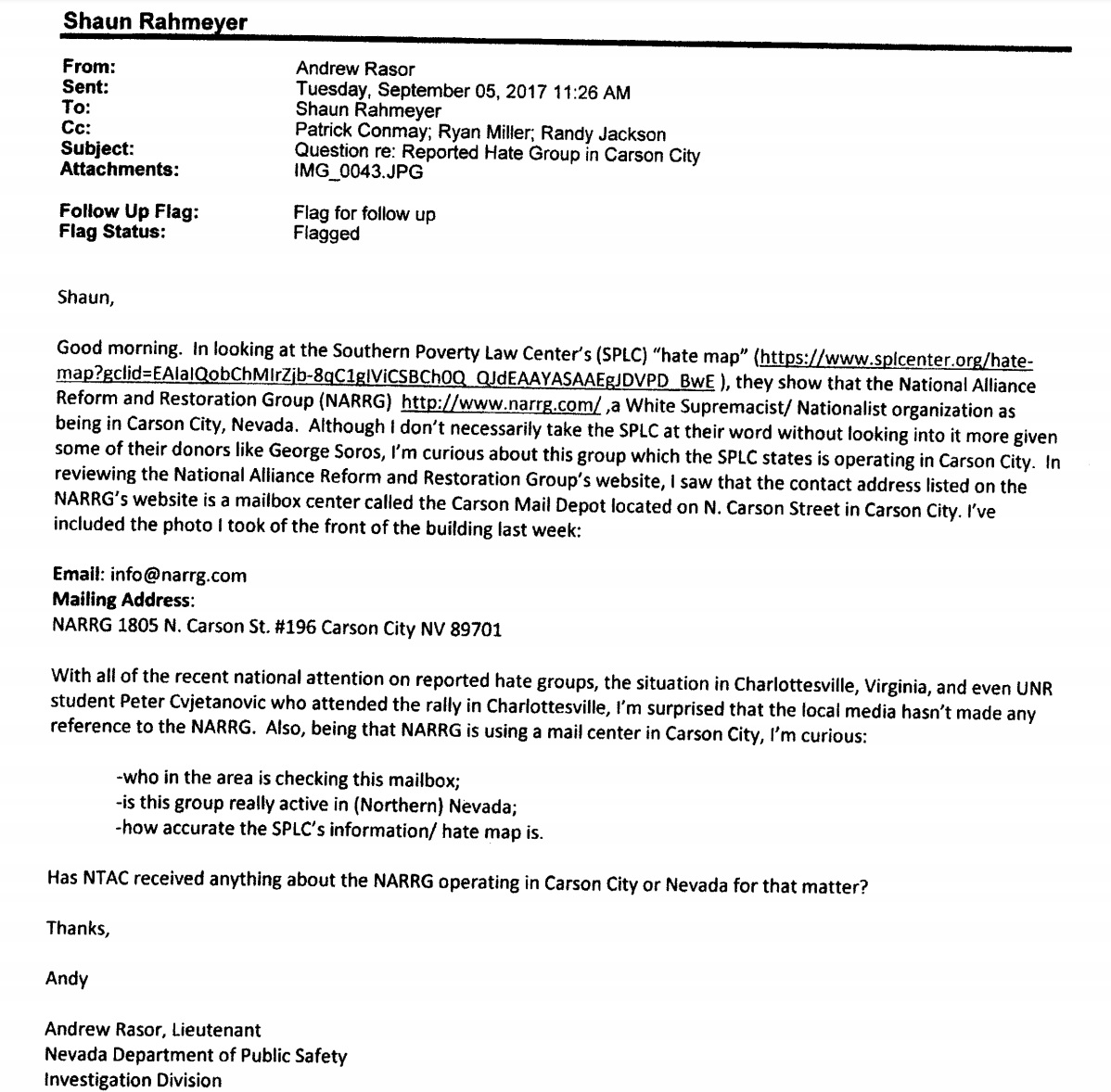 For starters, it is shocking that the NTAC had not been paying attention to a white supremacist group operating within their state - but what's really incredible is the dig at the Southern Poverty Law Center's crediblity because of some of their donors, namely one George Soros.
Kentucky Fusion Center, however, had no records regarding white supremacist groups, and instead released a single report on Antifa, which categorized the group's activities as organized crime. This is despite the SPLC identifying 17 hate groups operating within the state.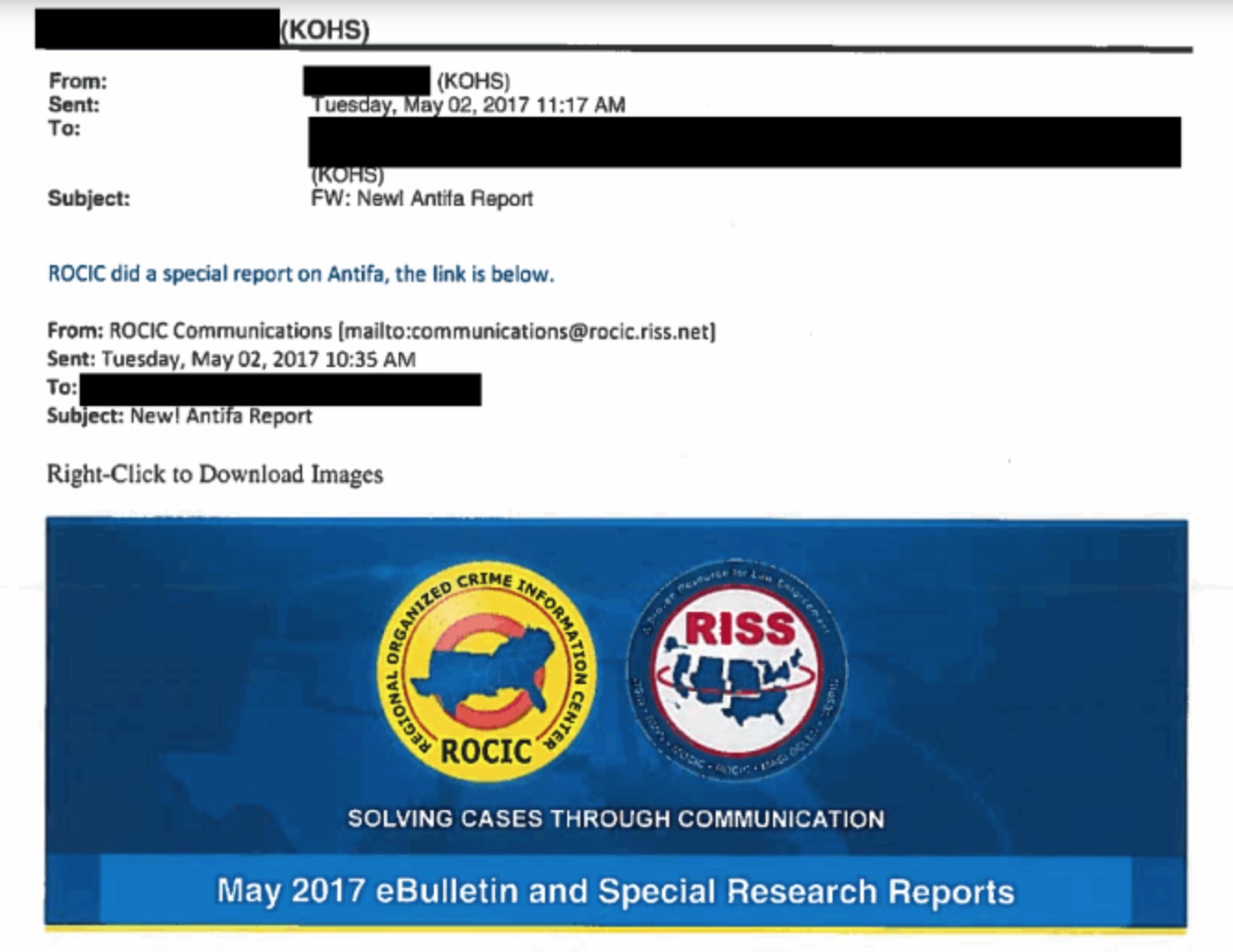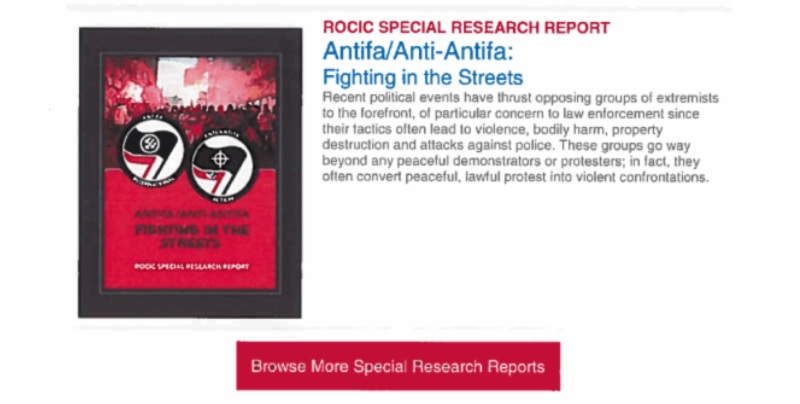 This is despite the SPLC identifying 17 hate groups operating within the state.
Are things better in Liberal bastion California? Not really. Continuing the trend, the Central California Intelligence Center was largely focused on the threat from "anarchist extremists" …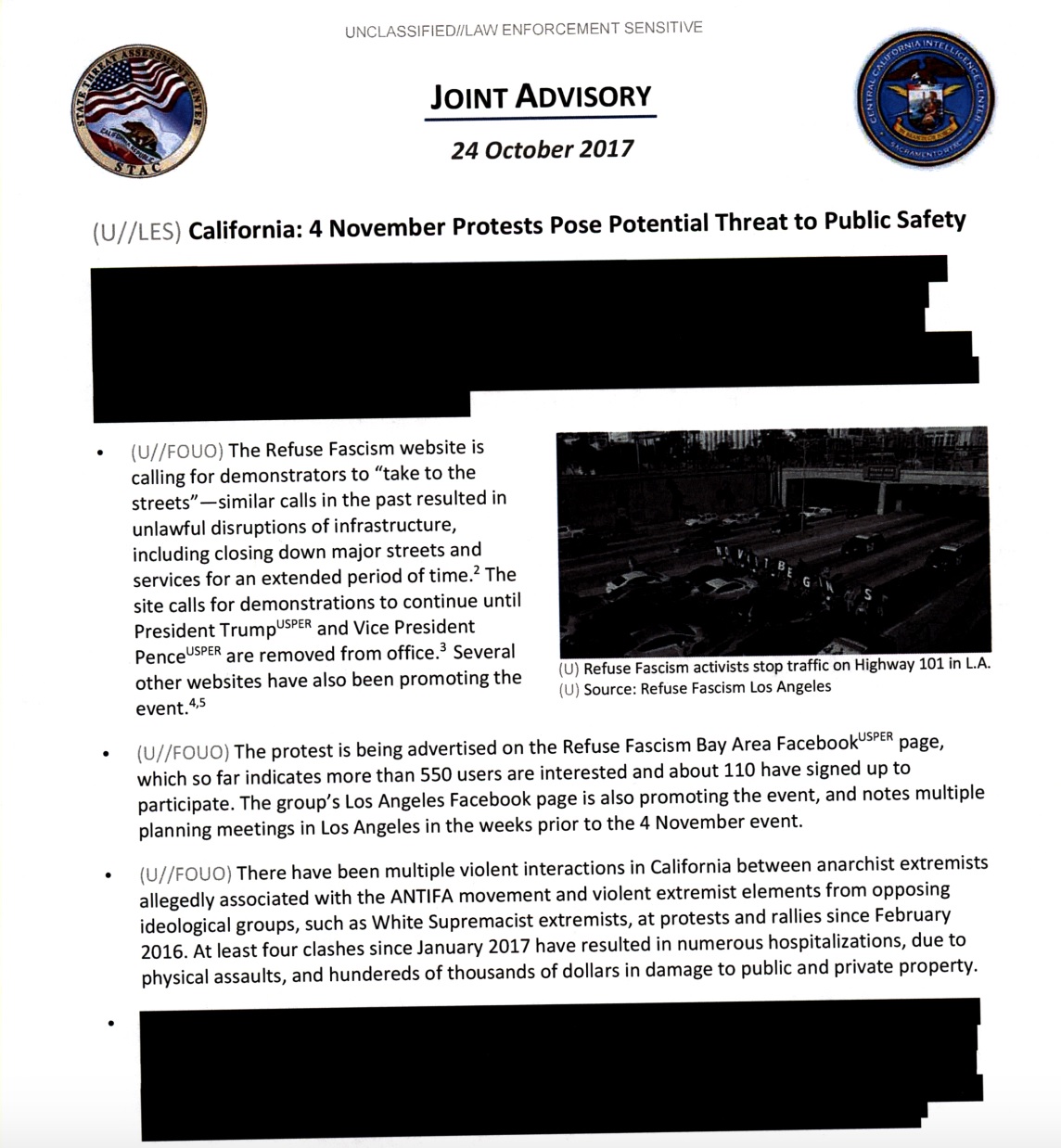 with one CCIC report calling Antifa "the greatest threat to public safety," despite the presence of actual Neo-Nazis at these events.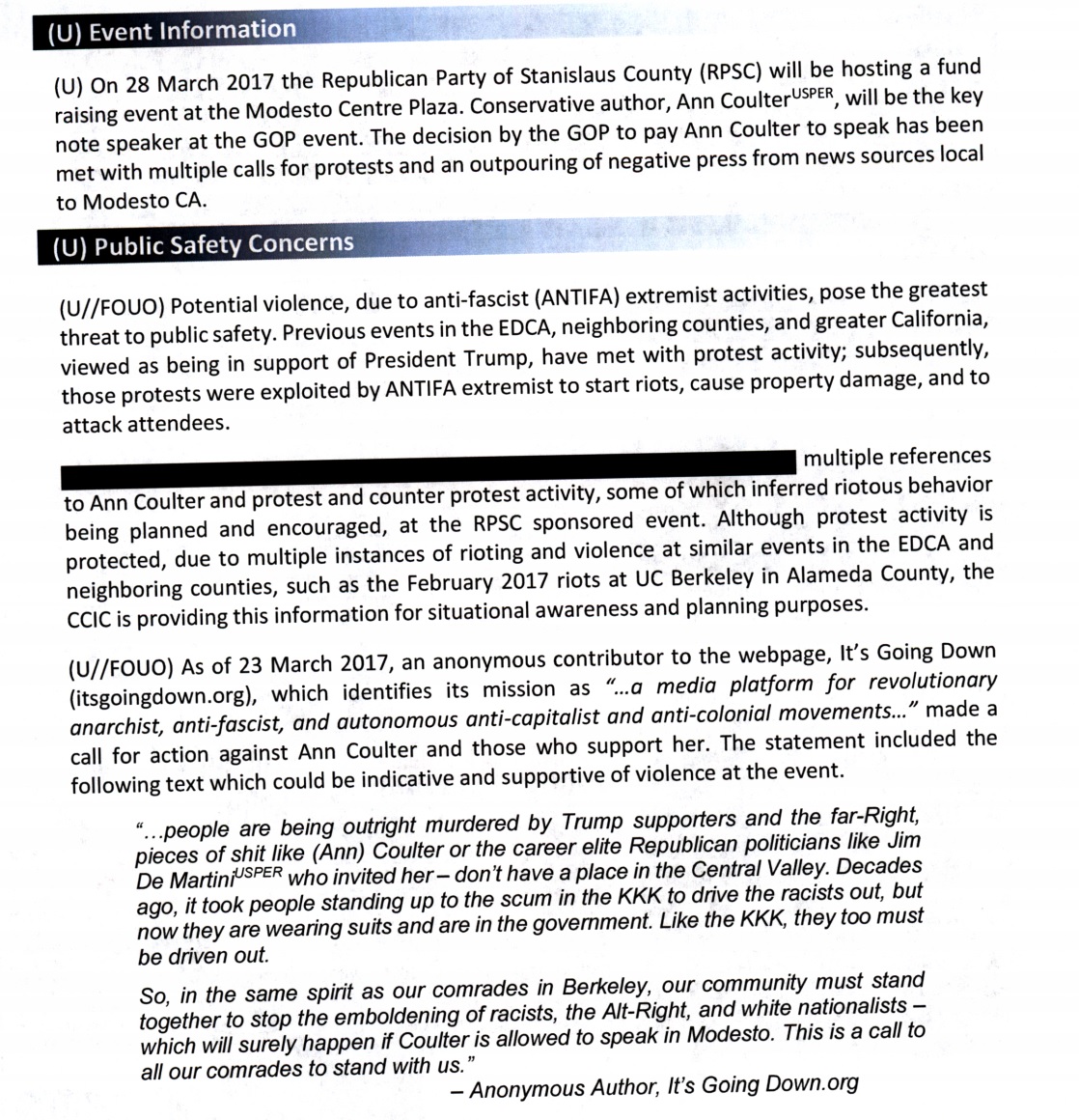 While another 17 fusion centers just outright rejected our request, and many others still haven't responded, just from these three examples we can clearly see a pattern forming. Despite this being an era of rising hate crime, fusion centers spend a lot of time tracking activist groups and protesters, while not seeming to spend much time monitoring white supremacist groups.
And as last year's events in Portland, Oregon, Charlottesville, Virginia, and the University of Maryland have shown, downplaying that threat can have deadly consequences.
Read the CCIC's release embedded below, and the rest on the competed requests here.
---
Image by Pax Ahimsa Gethen via Wikimedia Commons and is licensed under CC BY-SA 4.0