If you're looking for FOIA Friday inspiration, you've come to the right place. See how others are using public records to open up government and keep our democracy informed. And if you want to take it a step forward, join us today at noon Eastern for our next FOIA Chat: A conversation with the Reporters Committee for the Freedom of the Press' Adam Marshall.
See a great use of public records we missed? Send over your favorite FOIA stories via email, on Twitter, or on Facebook, and maybe we'll include them in the next roundup. And if you'd like even more inspiration, read past round ups.
After billion-dollar Superfund cleanup, FOIA'd documents show questionable data
In what's been dubbed the "biggest case of eco-fraud in U.S. history," a contractor paid over $300 million to help clean a Cold War nuclear laboratory appears to have falsified soil samples and other data, as Chris Roberts reports for Curbed San Francisco:
But according to a "technical team including national experts in health physics, geology, and statistics" assembled by the EPA, 90 percent of the data on Parcel B is untrustworthy. On Parcel G, 97 percent of the data is "suspect," according to the EPA.

Tetra Tech workers falsified data in a variety of ways. These include pulling soil samples from an area known to be clean - the site of a former movie theater - and passing them off as soil from areas known to be dirty; running scanners too quickly to detect contamination; faking chain-of-custody records; and faking results at on-site testing laboratories.

Together, those two parcels comprise about 40 percent of the base's land area. According to plans filed by FivePoint, the developer of the SF Shipyard, those parcels are the planned future homes for the area's densest residential development and the core of a retail area.
Documents that show the concerns about falsified data were released after a Freedom of Information Act request by Public Employees for Environmental Responsibility:
"The data revealed not only potential purposeful falsification and fraud in terms of sample and/or data manipulation, they also reveal the potential failure to conduct adequate scans, a lack of proper chain of custody for ensuring samples were not tampered with, extensive data quality issues (including off-site laboratory data) and general mis-management of the entire characterization and cleanup project."

"Hunters Point is unfolding into the biggest case of eco-fraud in U.S. history," stated PEER Executive Director Jeff Ruch, who obtained the EPA review under the Freedom of Information Act. "What makes these findings so remarkable is that the Navy was on notice for years that it had a major data meltdown on its hands yet is still trying to cook the books."
Roberts' prior reporting on the issue in January also relied heavily on documents received through public records requests.
Using public records to remove the redactions
It's always interesting to compare responses when two different entities have a copy of a set of documents, and that's exactly what WBEZ's Dave McKinney and Tony Arnold did to highlight high levels of secrecy by Illinois Gov. Bruce Rauner, whose office had a heavy hand when withholding information about a fatal Legionnaires' disease outbreak in 2015.
The reporters compared what the Raunder administration released to legislators who had questions about the handling of the case with the documents as provided by agencies to the governor's office in the first place. The differences were often startling and inexplicable: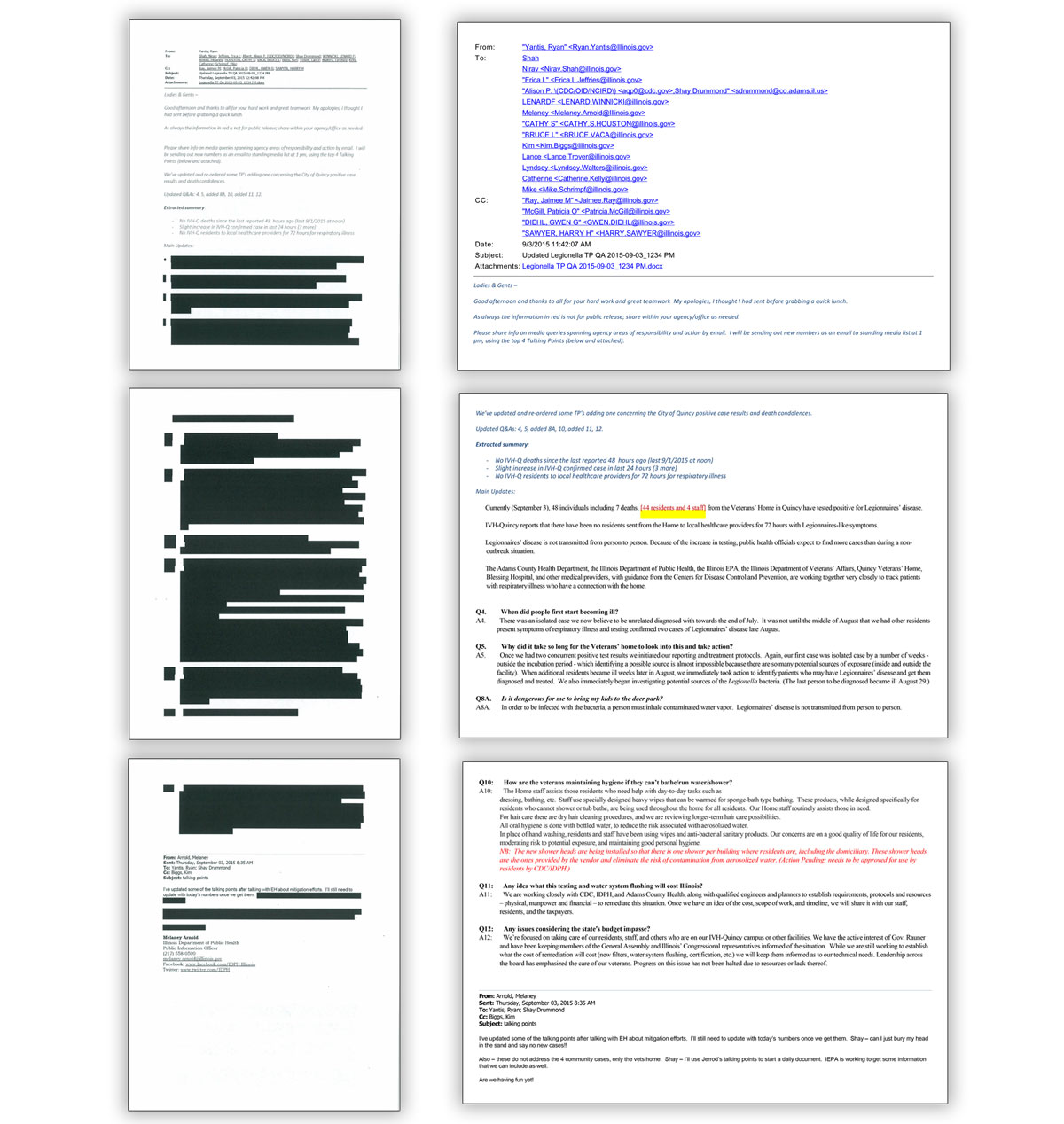 Shown the level of secrecy, legislators from both parties were not happy.
A ranking Republican on the Senate-House committee, state Sen. Paul Schimpf, of downstate Waterloo, described the Rauner administration's approach to blacking out documents as an "expansive interpretation" of state open-record laws.

"I am disappointed the administration was unable to make more information available for two reasons," Schimpf told WBEZ. "First, the unredacted information that you have given to me shows an administration that was taking positive, proactive steps to deal with a challenging situation. Second, some of the redacted information is of critical importance right now as the General Assembly decides what to do with the facility, specifically the question of whether legionella is present in the water in Adams County."

When WBEZ showed the discrepancies to State Sen. Tom Cullerton, a Democrat from west-suburban Villa Park and co-chair of the joint committee investigating the outbreaks, he said they demonstrate the Rauner administration's intent "to keep the General Assembly in the dark."

"It's truly pitiful. It's absolutely pitiful," Cullerton said.
EPA staffers' favorite contraband apps
Cause of Action Institute filed a FOIA request seeking details on an investigation into Environmental Protection Agency staffers using Signal to circumvent records retention laws.
They got what they asked for, but the investigation was not particularly conclusive:

Two employees had downloaded Signal; one said he was experimenting with it for law-enforcement purposes, and the other denied downloading it. Investigators ultimately believed it might have been accidentally installed. But Cause of Action did get a list of all the illicit apps the EPA Inspector General found while investigating the issue, which the organization posted in full.
A sample compiled by Cause of Action:
Web-Based Email
AOL (16 phones)
Gmail (129 phones)
Yahoo Mail (56 phones)
Social Media
Facebook (466 phones)
Instagram (162 phones)
LinkedIn (117 phones)
Pinterest (75 phones)
Reddit (20 phones)
Twitter (310 phones)
Dating
Coffee Meets Bagel (1 phone)
OK Cupid (1 phone)
Personal Banking and Finance
AmEx (11 phones)
Barclaycard (6 phones)
Bank of America (29 phones)
CitiMobile (10 phones)
Wells Fargo (24 phones)
Navy Federal (11 phones)
PayPal (10 phones)
Entertainment and Sports Betting
Angry Birds (14 phones)
Blackjack (5 phones)
Candy Crush (32 phones)
Draft Kings (1 phone)
Duolingo (10 phones)
ESPN (60 phones)
Fandango (15 phones)
HBO (15 phones)
Netflix (73 phones)
Pokémon GO (7 phones)
Shazam (22 phones)
SiriusXM (19 phones)
Spotify (71 phones)
YouTube (237 phones)
Shopping
Amazon (56 phones)
eBay (16 phones)
Religious
Bible apps (22 phones)
Catholic TV (1 phone)
Political
Send us your favorite FOIA stories - and chat public records today at noon!
Our next FOIA Chat is today at noon, with special guest Adam Marshall from the Reporters Committee for the Freedom of the Press. Join MuckRock's FOIA Slack to take part, and read up on what you missed in our discussion with Matt Topic.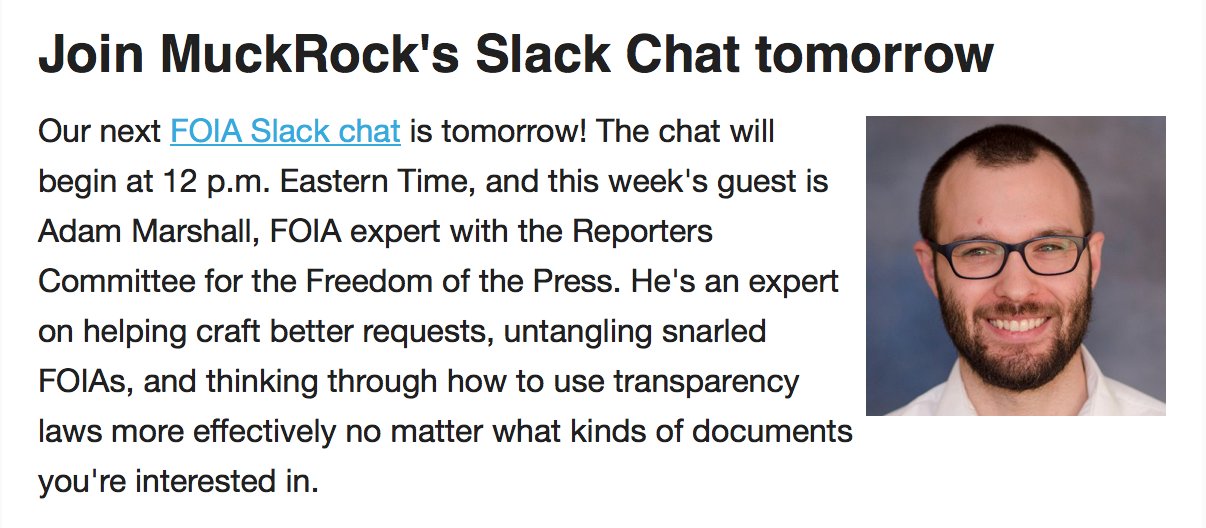 Seen a great FOIA-based news story we should highlight? Let us know and maybe we can include it in our next roundup! Send it over via email, on Twitter, or on Facebook.
---
Image by markzvo via Wikimedia Commons