Before President Donald J. Trump even took office, the Department of Energy (DoE) found itself rattled by the questions the administration was posing. In a survey that was widely reported on, the administration demanded to know everything from highest paid employees to who was involved in climate research.
After fierce public blowback, then then-Trump spokesman and later White House Press Secretary Sean Spicer disavowed the demands.
"The questionnaire was not authorized or part of our standard protocol," Trump spokesman Sean Spicer told Reuters. "The person who sent it has been properly counseled."
The agency itself indicated that it would not comply with parts of the survey it said were too intrusive, as Reuters also reported:
Energy Department spokesman Eben Burnham-Snyder said Tuesday the department will not comply.

"Our career workforce, including our contractors and employees at our labs, comprise the backbone of (the Energy Department) and the important work our department does to benefit the American people," Burnham-Snyder said.

"We are going to respect the professional and scientific integrity and independence of our employees at our labs and across our department," he added. "We will be forthcoming with all publicly available information with the transition team. We will not be providing any individual names to the transition team."
As recently release survey results show, in many cases, the responses were often left generic, such as these for question 71, which asked for the professional society memberships of lab staff: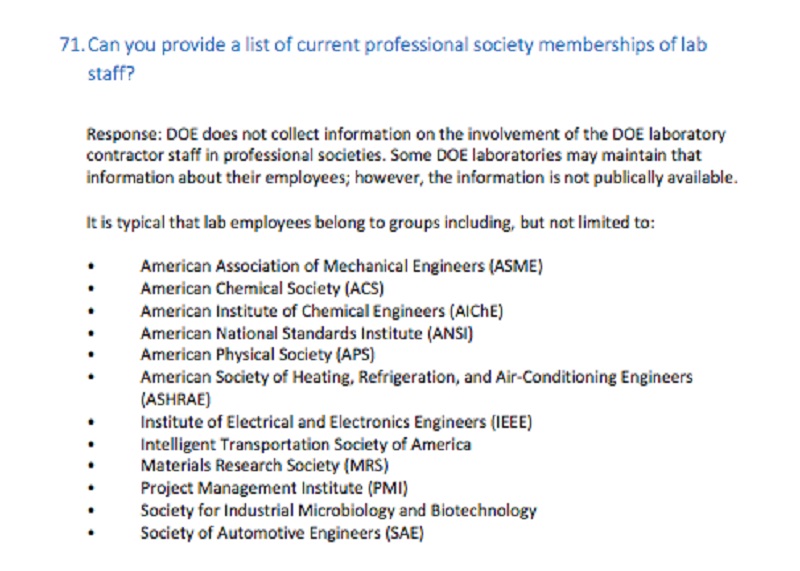 There were similarly generic responses for requisitions regarding the highest-paid lab employees, for a list of websites maintained during work hours by lab employees, and other questions the DoE said that it either did not have information readily available for or for information that the DoE said was not public: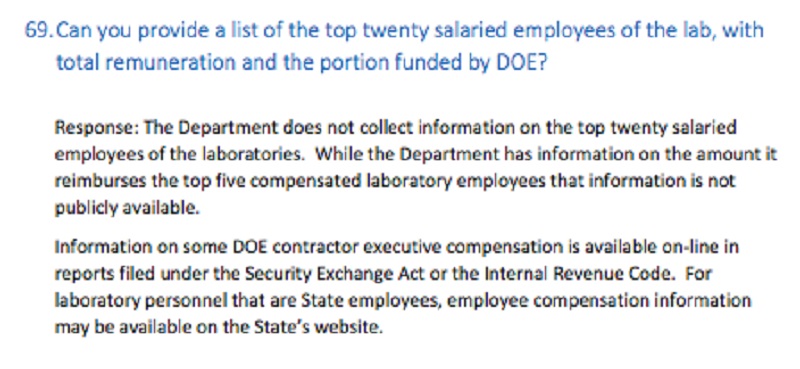 But ultimately the DoE responded with copious amounts of material: The main survey response totaled 747 pages, with another 265 pages detailing the peer-reviewed publications authored by DoE laboratory staff between 2013 and 2016 (the DoE also provided that part of the response as a spreadsheet).
The answers covered materials such as the DoE's involvement in the Joint Comprehensive Plan of Action (JCPOA) agreement covering Iran's nuclear development: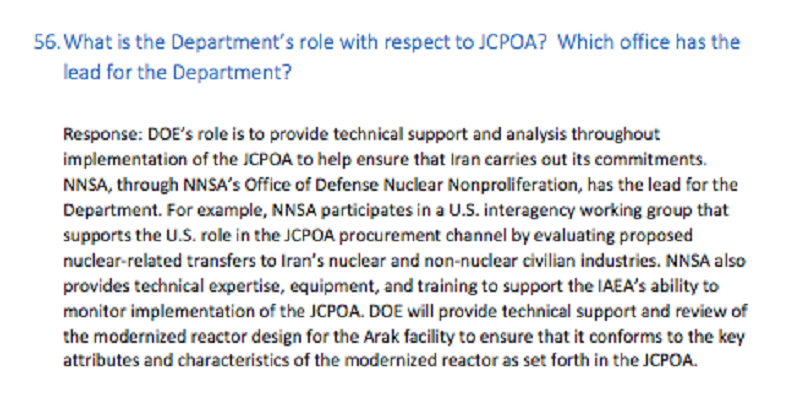 Climate change is referenced on 66 pages. That topic was of particularly fierce speculation: The president has declared climate change a "hoax," and ultimately Rick Perry, who has stated humans do not play a primary role in climate change, was selected as the head of the agency.
Read the DoE's full response to the questionnaire embedded below or on the request page:
---
Image by Andrea Hanks via WhiteHouse.gov