After filing near 50 public records requests tracking regulations that may or may not exist on bail enforcement agents (also commonly called bail recovery agents or bounty hunters), is that the industry is almost entirely devoid of any meaningful oversight. A perfect illustration of this comes to us from North Dakota's Insurance Department, which helpfully provided a lone audio file concerning a violent struggle by an unlicensed bounty hunter team, and a single complaint written by a woman whose brother had experienced the wrath of an abusive bail agent.
The audio file is 12 minutes long and centers on unlicensed, and for all intents and purposes rogue bounty hunters John Clark, Tiffany Norton, and Tyler Schnase. Mike Nason, then a captain for the Ward County Sheriff's Office in north-central North Dakota, had called an investigator on October 10th 2013 to check up on Clark, who had transported Nicholas Condos from Minot, North Dakota in Ward County. Condos had been released on a $1,000 bond after being charged with felonious restraint and aggravated assault. He had been issued a warrant for his arrest due to failure to appear - more typically known as bail jumping.
It is unclear from the audio whether the incident occurred in Minot or Bismarck, but Bismarck Police Department could not locate any records for the incident, and neither could Minot Police for that matter. It is worrying in and of itself that no law enforcement agency we contacted had any files on the incident.
The three unlicensed bounty hunters, not members of any bail bond company, had taken to combing through local law enforcement's web pages and filing open records requests to learn about incidents of bail jumping in order to make some extra cash. This led them to the apartment of Condos and his girlfriend on October 9th 2013. They did not announce themselves, instead breaking down the door, entering the apartment, and taking in Condos. As Captain Nason laughed during the call, "they're lucky they didn't get shot."
It was certainly not over for the three bounty hunters - Schnase suffered a broken leg during an altercation which broke out after one of the three punched Condos so hard in the stomach he vomited. The lawmen discussing the incident repeatedly referred to a Facebook video that had been posted by Clark which showed what they termed an assault. The post was deleted a few days after the incident took place. They also several times asked each other if the three bounty hunters had to be licensed to be doing this with one saying, "you would think so," and the other man saying "unless they are just going around doing citizen's arrests," followed by laughter.
Clark had been doing this long before the incident - months prior, he had paid a woman $100 for information on the location of a bail jumper and successfully took the person into the Ward County Jail. "Do you need a private investigator license to do that?" asks Captain Nason, to which investigator Pittman replies with "I don't know where they would be getting the authority to do what they were doing. And furthermore not being under the umbrella of a bail bondsman company, I don't know what gives them the authorization to be doing this."
Then they have a laugh about the absurdity of a citizen's arrest, saying "but that doesn't give them the authority to break and enter and commit burglary!" "This is scary stuff," says Nason.
Most would probably agree with that statement - we shouldn't have bail recovery agents running around with absolutely no licensing or government authority getting into fights, hitting people so hard they vomit, or breaking and entering without announcing. In fact, nothing in proper bail recovery procedure mentions just entering the house without letting the bounty know - most agents usually call before they show up and consider dialogue to be a vital part of their job.
In the letter also released by North Dakota, a woman named Tara Ivanovitch wrote four pages in an official complaint against Seneca Insurance and their bail bond company Bakken Bail Bonds earlier this month - May 2017. Her story began when a bounty hunter whose identity was unknown began calling her multiple times throughout her work day.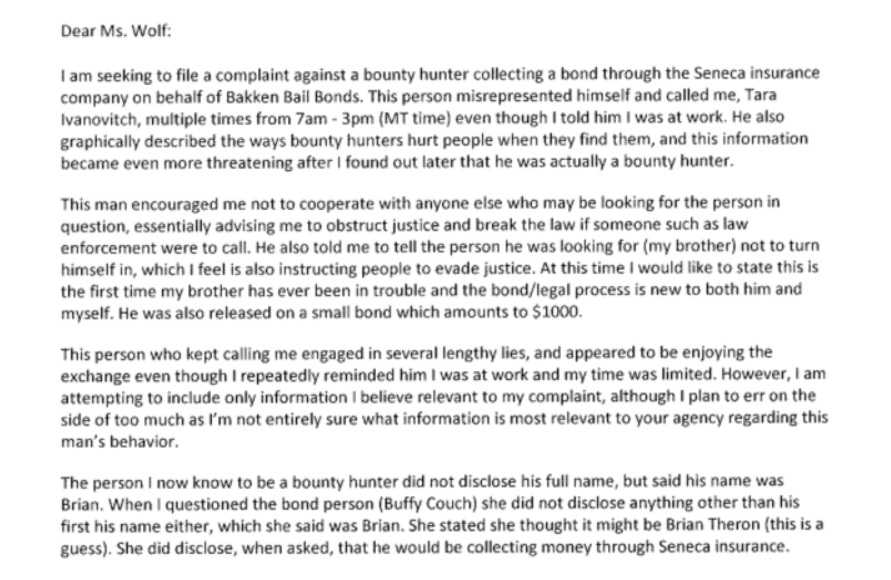 The recovery agent, who turned out to be Chris Anderson, a security director for an oil field in the Bakken region of the state, apparently made several very threatening insinuations about the violent acts her brother would face upon bounty hunters finding him (Ivanovitch's brother, who had been charged with a drug offense, appeared to have jumped bail).

After the recovery agent was successful in tracking down her brother, he went on to lie to the brother, saying that Ms. Ivanovitch was "in on it" and had used her to set a trap for him.
The story only gets darker, with the agent informing her that she should not contact any law enforcement entity about what he was telling her and that if her brother was still positive from drugs he would hide him out until he was negative. This of course prompted her to ask why the hell he would want to risk his professional life over one bounty.

On May 2nd 2017 Ivanovitch had her last correspondence with the company. While reading Ivanovitch's account of Seneca Insurance's response, it's hard not to wonder why this bounty hunter apparently answered to no one, with no system to hold him accountable for how he handles his operations.

After this, the company broke off all contact with Ivanovitch, which she feels was a result of her asking how to file a formal complaint against the bounty hunter. "I am very concerned an agency would potentially refuse to follow through with continuity of services and publicly posted promises/contracts due to concerns voiced to them regarding the treatment of their clients by people acting on their behalf in the community," she wrote, while also saying "I would appreciate knowing and would accept any answer [about her brother's bond process]. No communication whatsoever, and receiving no answers about any part of either situation, has added an overwhelming amount of anxiety and stress to this already extremely difficult and upsetting situation for me."

As is clear from these incidents, the bail bond industry can be a fraught environment for those caught in its grasp. Violence, intimidation, and refusal to explain anything when asked not to be harassed and threatened are just a few of the potential outcomes if you are unlucky enough to not have a bail enforcement agent who is professional, well trained, and empathetic. The need for oversight, regulation, and enforcement against this industry is obvious - poorly trained agents can get themselves, or their bounties, killed. We will be continuing to monitor bail enforcement in America, hopefully receiving more complaints and more information on the state of oversight and regulation.
Read the full complaint embedded below, or on the request page.
---
Image by Rex Venator via Vimeo