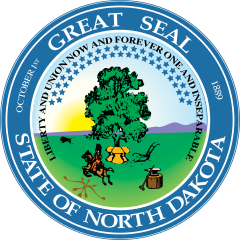 North Dakota, USA
North Dakota Public Records Guide
North Dakota Open Records Law
N.D.C.C. § 44-04-18 et seq, North Dakota Constitution, Article XI, Section 6
Enacted in 1957, Updated in 1977, Updated in 1993, Updated in 1997, Updated in 1999, Updated in 2001, Updated in 2005, Updated in 2007, Updated in 2009, Updated in 2011, Updated in 2016
Table of Contents
Overview
If nothing else, North Dakota can be praised for its approach to Open Government, which is right there in its state constitution - the public has the right to inspect any record, by any public agency, unless explicitly exempted by law. If that sounds comprehensive, that's because it is - North Dakota is one of the few states that not only has no carve-outs for the Executive, Legislative, and Judicial branches (though the latter is covered by a separate law), but also extends the law towards any entity which receives any form of public funding.
Now comes the bad news - since exemptions require specific exemptions, there's a whole comprehensive list of them, and one of them, concerning privacy, is so ill-defined as to undercut the entire presumption towards disclosure. Privacy is the matter of the records officer's personal discretion, so even a fairly routine request could lead to an appeal if the officers is so inclined. And while there is an appeal process through the Attorney General's office, it's rather narrowly limited to evaluating specific release, rather fees or delays, which can only be handled by civil court.
Which brings us to the biggest problem - North Dakota doesn't have any proscribed time-frame for which an agency has to produce records, so an agency could stall indefinitely, giving the requester no choice but to sue. And while the state does offer the chance to get back attorney's fees - and even damages up to $1000 - that's still another hurdle for what is, on paper, one of the broadest, most comprehensive laws on the books.
The Law
All records of public bodies are open for inspection by anyone, unless specifically prohibited
No time limit
Can appeal denials to Attorney General
Supplemental
Definition of public records - [N.D.C.C. § 44-04-18]
Specific exemption - [N.D.C.C. § 44-04-18.1.1]
The Details
Can you submit a request if you're not a resident?
Yes.
To whom does this apply?
Executive?
Yes.
Judicial?
Yes.
Legislative?
Yes.
Is there a designated records custodian?
No.
Who is exempted?
Nobody, including any agencies that receive public funding.
How can requests be submitted?
In-person?
Not clear.
Verbally?
Not clear.
By mail?
Yes.
By email?
Yes.
How long do they have to respond?
No statutory limit.
Are there provisions regarding the extension of response times?
No.
Does the agency have to give you a tracking number or estimated date of completion?
No.
Can they ask why you ask?
No.
What enforcement?
Damages up to $1,000 can be awarded in civil court.
Fees?
Yes.
Are there fee waivers for media requests or those made in the public interest?
No.
Attorney's fees - Can you win them?
Yes, along with damages.
Exemptions and Appeals
What exemptions exist?
Since records are considered public unless specifically exempted, the list is expansive - a complete list can be read here.
Do they have to tell you why a portion or pages were redacted or withheld?
No.
How much time do you have to appeal?
30 days for an Attorney General's ruling, 60 days for a lawsuit.
To whom does the appeal go?
Attorney General.
Can you appeal a delay?
No, except through civil court.
Do agencies have to tell you where to send your appeal?
Yes.
What if your appeal is denied?
Civil Court.
Where else can you turn?
Nowhere.
Are all appeals kept officially?
No.
Resources
Organizations
Attorneys and Law Firms
The following attorneys and law firms have practiced public records law. Names marked with an asterisk have indicated a willingness to offer pro bono services on a case by case basis.
Successful appeals
News Stories on Public Records Laws in the State
Blogs and feeds
Public Records Guide and Advice
Newsletters
Big FOIA wins
Have a public records success story? Let us know!
Stats
| | |
| --- | --- |
| Filed | 465 |
| Completed | 181 |
| Rejected | 44 |
| No Responsive Documents | 134 |
| Awaiting Acknowledgement | 12 |
| Awaiting Response | 5 |
| Requiring Action | 44 |
Allowed Response Time

No limit

Average Response Time

50 days

Success Rate

32.26%

Average Fee

$2356.82
9.68% of requests have a fee
Top Localities See All
| Jurisdiction | Requests | Pages Released |
| --- | --- | --- |
| Morton County, ND | 35 | 949 |
| Fargo, ND | 31 | 131 |
| Bismarck, ND | 26 | 138 |
| Cass County, ND | 8 | 117 |
| Grand Forks, ND | 8 | 1,063 |
| West Fargo, ND | 7 | 6 |
| Mandan, ND | 7 | 100 |
| Grand Forks County, ND | 6 | 14 |
| Minot, ND | 5 | 22 |
| Burleigh County, ND | 4 | 1 |