On June 4th, in the wake of a widely reported hate crime in which two light-rail passengers were killed by a man hurling Islamophobic slurs, a pro-Trump demonstration and opposing Portland Stands Against Hate Rally took place in downtown Portland, Oregon.
According to a press release by the Portland Police Bureau (PPB), a barrage of local, state, and federal law enforcement agencies were also in attendance, including Oregon State Police, Multnomah County Sheriff's Office, Federal Protective Services, the FBI, Homeland Security, as well as the United States Attorney's Office. The orchestra of local and federal agencies involved indicate a collaborative approach on part of the government to contain and control civil protests.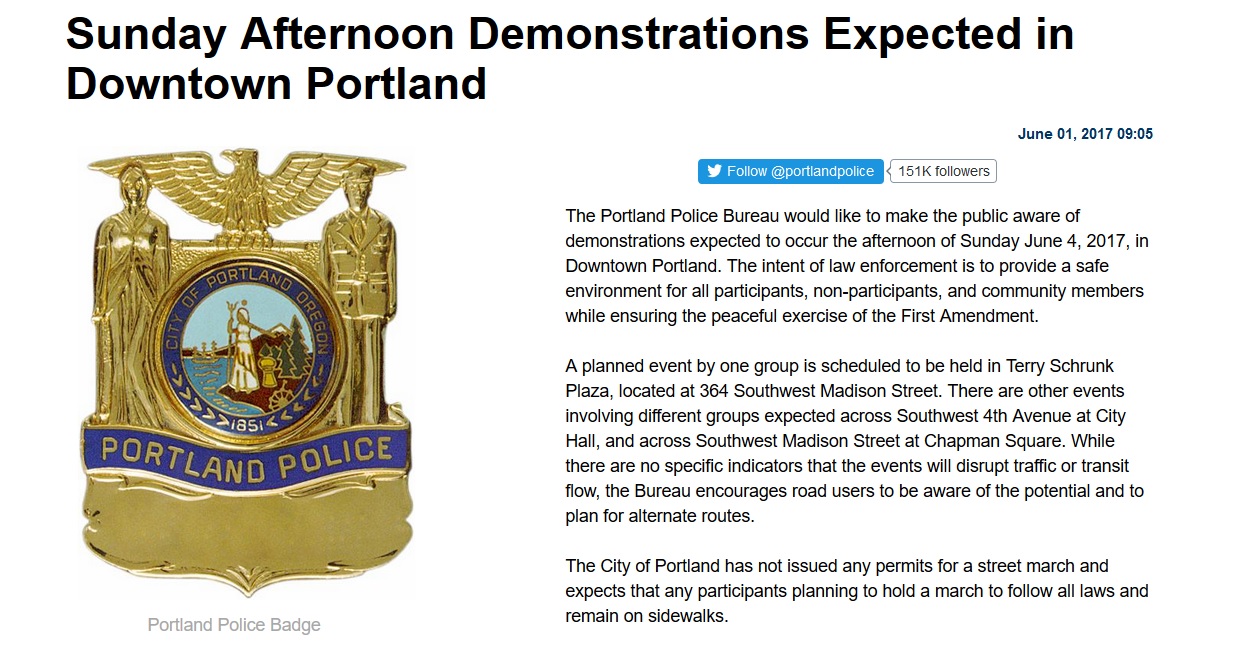 A request for communications between the DHS and Portland PD produced a 13-page thread of emails comprised of brief updates tallying weapons confiscated, arrests made as well as crowd estimates. The documents were generated by Federal Protective Services (FPS), a group maintained under the DHS National Protection and Programs Directorate. FPS reports members of both the protest and counter protest groups were seen brandishing hand weapons including clubs, bats and bricks. FPS then categorizes crowd location by their "potential for violence".

The scheduled Trump event and Portland Stands against Hate rally were not involved in police standoffs.
The subject line of many of the emails read, "Operation Columbia Crest SITREP", signaling heightened planning conducted by DHS for this particular protest. On the day of the demonstrations FPS explicitly reported, "significant media and NGO presence on scene, both local and national, includes CNN, NBC, Southern Poverty Law Center and many others".
In a letter to the Chief of police, Mayor Ted Wheeler questioned the excessive methods of Portland PD and Homeland Security. Counter protesters assembled in Chapman Park were eventually pushed out by through the use of flashbangs and pepper balls, not mentioned in FPS communications.

The letter also reports that PPB photographed detainees' ID cards. The final email released by DHS stated PPB is, "making mass arrests".
Notwithstanding the heightened potential for violence, tactical efforts used in war should not have a place in civilian protests. If NoDALP was a training ground for law enforcement immobilization of large scale protests, the events in Portland show how even small scale demonstrations can attract an extensive police presence. Last week Portland's Mayor announced the Independent Police Review Division will investigate police response to the June 4th protests.
Read the full release embedded below or on the request page:
---
Correction: An earlier version of this piece incorrectly identified COIN as a reference to military slang for "counterinsurgency" - according to local journalist Bill Lascher, it's a misspelling of local news station KOIN.
Image by Doug Brown via Vimeo