Marijuana legalization, recreational and medicinal, will be back on nine state ballots this November, and hot on the tails of one of the most absurd elections in living memory, it seems as though a whole lot more people will soon be able to legally self-medicate the symptoms of life in America.
But even as states continue to confront the federal government's strictly illegal, Schedule 1 stance on cannabis, the Drug Enforcement Administration (DEA) maintains that its Cannabis Eradication and Suppression Program is worth its over $14 million budget. The program, which has been effect since the 1979, provides local and state law enforcement with extra funds intended for hometown, on-the-ground search and destroy missions targeting outdoor grow sites.
Departments' approaches to weeding have been raising eyebrows, though. From the supposed zombie bunnies in Utah to the Great Georgian Okra Raid to this month's Amherst, MA confiscation of an 81-year-old lady's solitary plant, the appropriateness of the program is just one of multiple open questions still surrounding the nation's favorite smoked herb.
Last year, a group of lawmakers attempted an answer by introducing an ultimately unsuccessful bill aimed at cutting the program's funding. Leading the bill was Representative Ted Lieu, a Democrat from California, whose state is poised to legalize recreational use of marijuana and still receives millions of dollars a year in Cannabis Eradication funding.
According to numbers released by the DEA, Alaska and Colorado, where recreational marijuana use has been legal since 2015 and 2012, respectively, haven't received any funding under the program this year. But two other states where legalization recently passed, continue to receive funds, $760,000 to Washington and $200,000 in Oregon this year.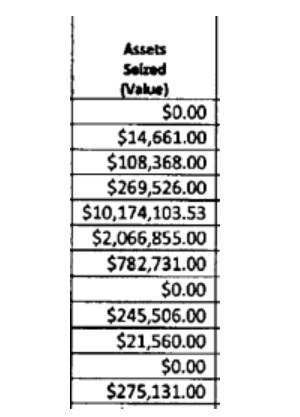 While $14 million is only a fraction of the DEA's total $2 billion budget, the practice of marijuana confiscation treads on some very important constitutional rights. With seizures allowed without a warrant, there are clear violations of Fourth Amendment rights. And, in turn, these seizures can contribute to the civil liberties threats posed by civil asset forfeiture, which allows officers to confiscate goods that may be used in connection with a drug crime - and then keep the valuables for themselves.
With such sticky incentives and shifting attitudes, the DEA's Cannabis Eradication Program will like see its own end before its stated mission is completed.
Curious about how much your state got to weed out weed this year? Click on the map below to find out.
---
Image via Indiana.gov