The best estimate we have right now for how much debt our inmates, past and present, carry is something like $50 billion.
That's a huge number, but it's probably not quite accurate.
In addition to victim restitution ordered - compensation that often doesn't make it to the victims - there are other mounting debts, from booking, room and board, and other financial penalties.
To gather and analyze all of the policies, all of the fees and fines, all of the circumstances across the thousands of counties and millions of people directly indebted to their local criminal justice systems would be a huge undertaking. But it's one that will be necessary if we're going to tackle the study of poverty and how our state keeps people there in this country.
So MuckRock is asking for your help.
Completed - blue
Rejected - dark red
No Responsive Documents - black
Awaiting Response - gray
Payment Required - dark green
Fix Required - light red
Awaiting Acknowledgement - white
State level polices can be found via the map above. All you need to do is enter your local county or sheriff's department into the form below, and MuckRock will start investigating how costs are being recouped in your hometown.
Last year, the ACLU of Ohio released a report analyzing policies and fees for every county in the Buckeye State and found that most charged some sort of fee booking, for daily incarceration costs, or for both.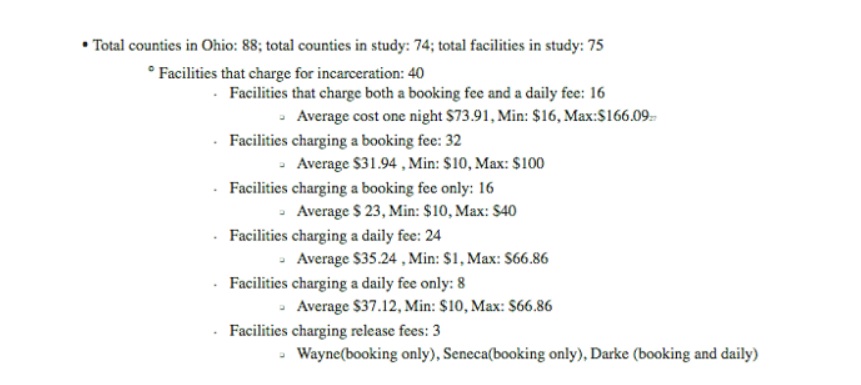 But such a report only covers one corner of the problem.
Victims want restitution.
Jails want to make back their expenses.
Inmates want not the "albatross" of debt.
When setting sentencing, lawmakers rarely consider such added cost of being in prison. And though state lawmakers have authorized such money-grabbing moves, the burden of debt is perhaps an unduly unusual punishment. Help us start a massive study of how these policies affect your community.
---
Image via Utah Department of Corrections