Beacon Hill has taken up the cause of public records reform for the first time in forty years. However, after the Massachusetts House passed a subdued version of the bill in November, initial hopes have given way to fear that this once-in-a-very-long-time opportunity for meaningful reform will be squandered. Until the Senate hears and votes on the bill early next month, it will be unclear how hard the Bay State will actually tackle opening the government this year.
To recap, the law as it currently stands in Massachusetts has a number of problems - Between outdated recordkeeping technology, unwilling officials, and a nonexistent mechanism by which to enforce disclosures, anyone looking to get a public record in the Bay State should be prepared for a long wait, a wallop of a fee, or both.
There are few who wouldn't say that something should be done. As Senator Stan Rosenberg (D-Amherst) wrote in an email: "A public records law is meaningless if people can't get a timely response."
Despite work on the original language with groups like the ACLU, the version of the bill unanimously ushered through the House omitted elements that some see as essential. In particular, there remains no guarantee for attorneys' fees after records are unlawfully denied and then released after a played-out lawsuit. The period of time in which an agency can respond has theoretically increased and there's no clear way that electronic access will be encouraged.
So now the fate of change lies with the Senate. That version, which is still with the Senate Ways and Means Committee, will be up for debate and a vote during the first week of February. After that, the Joint Committee on State Administration and Regulatory Oversight will need to reconcile the House and Senate bills, should they differ. It seems likely they will.
"The intention of the Senate recommendations is to strengthen the public records laws," wrote Senator Joan Lovely (D-Salem) in an email, referencing the laundry list of common asks: designated records officers, electronic records, lower fees, and a guaranteed chance to recoup attorneys' fees. "And I'm looking forward to considering these commonsense reforms during formal debate."
The issue of fees in a technologically-challenged environment remains an important point of contention for opponents of a complete overhaul, such as the Massachusetts Municipal Association, which represents town and cities in the Commonwealth - they've repeatedly pointed out the drain on resources that fulfilling extensive requests would cause.
Some, like Senator Will Brownsberger (D-Belmont) who is still mulling over the possibility of attorneys' fees, are cautious about the push on drastic changes in an atmosphere where public records reform may be a symptom of general distrust of the government–even as he admits the difficulty that he also faces in getting seemingly useful information.
"There are lots of questions that one could want the answer to and frame as a public records request that simply cannot be answered with the systems that people have in place without an enormous expenditure of resources," Senator Brownsberger says.
"There are lots of things that I'd like to know from agencies that I can't get, and it's not because they don't want to give it to me, it's just because it's really hard for them to do. What this really comes down to in many communities is making sure that the leadership of each community is for transparency, and making the effort to include people every step of the way."
MMA's concerns have yet to be assuaged, in part because advocates don't particularly see them as hurdles in the 21st century. MMA's concerns have yet to be assuaged, in part because advocates don't particularly see them as hurdles in the 21st century. That said, Congress has offered little in the way of clearing those jumps, even as the Commonwealth makes deep bows to innovation in the form of General Electric. The House bill grants an extended period of response to towns in lieu of confronting the technological barriers they continue to face.
"I think there's a case to be made that the state should provide some greater financial support, perhaps a grant program to help, say, the smaller towns that are behind in their technology," Senator James Eldridge (D-Acton) says. "But I generally feel that the Massachusetts Municipal Association is exaggerating the difficulties they feel the towns and cities will face in following the law. I think, furthermore, that the public records law is now forty years old. This is nothing new, and respectfully, I do think that cities and towns do need to step up and provide the resources to provide information to residents in a timely fashion."
Open government advocates are planning a rally on Thursday to show their support, set as the prelude to Governor Charlie Baker's State of the Commonwealth speech. Massachusetts has repeatedly been cited this year as having one of the weakest public records laws in the nation.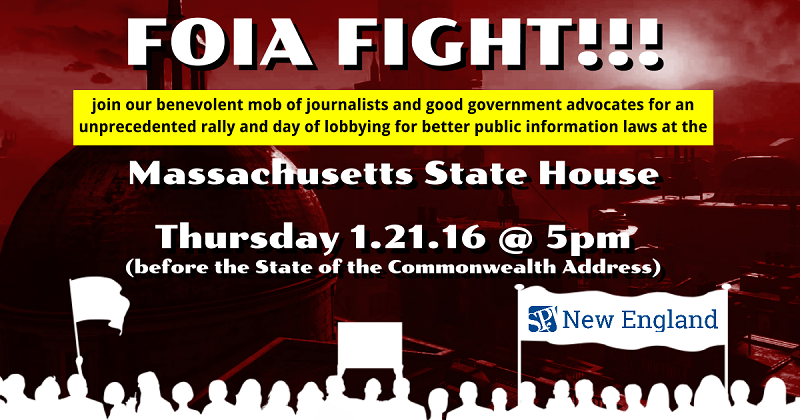 "Systems that are automatically transparent are an aspirational goal. Transparency is something we're heading to, but it's not a smooth movement," Senator Brownsberger cautions. "There are a lot of very practical barriers to giving all issues the visibility we like to give them."
---
Image by Kevin Rutherford via Wikimedia Commons and is licensed under CC BY-SA 4.0