To the delight of Gary-Busey-doing-the-Cha-Cha fans everywhere, Dancing With The Stars will return for its 22nd season next month. And as FCC complaints released to Courtney Spencer reveal, there are at least a few viewers hoping the show's cleaned up its act by then.
Although according to the cover letter, the FCC searched their database all the way back to 2012, only a handful of complaints were located, all regarding last season. One viewer urged the FCC to please, think of the children, while bemoaning that DWTS would ever resort to such tawdry gimmicks …

while another urged the FCC to please, continue to think of the children, while taking on the nemesis of the nebbish viewing public - sexy commercials.

So far, pretty standard issue FCC fodder. But this next one, you can tell by the title alone that this going to be something special.

Take us away, ████████ in Appleton, WI …

As a bonus, also included is the viewer's miffed rebuttal to the FCC's canned auto-response, with a wonderfully specific use of the "Problem" field.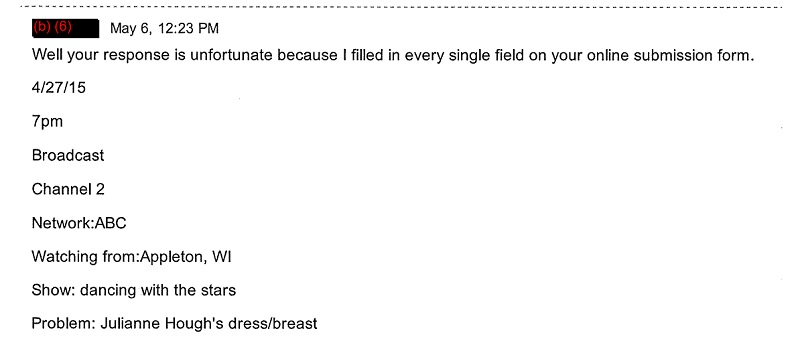 And to think, she filled out every field on the form and everything. Read the full complaints embedded below, or on the request page.
---
This piece is part of Must-Seethe TV: The FCC Complaints Project
Image via Wikimedia Commons