The 29th annual Burning Man festival kicks off this week in Nevada's Black Rock Desert. Among those paying close attention to the festivities will be the FBI's Special Events Management unit, who have kept files on "burners" since at least 2010.
In response to a 2012 Freedom of Information Act request by Inkoo Kang, the FBI released a 16-page file regarding the 2010 festival - which it erroneously identifies as the 14th, rather than 24th, iteration.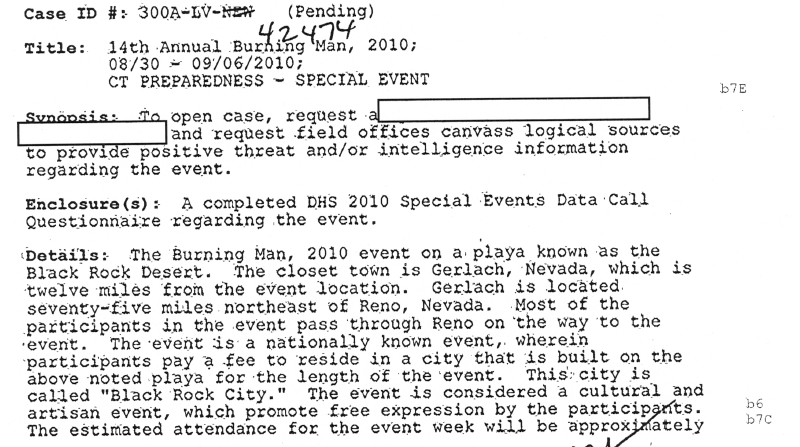 The file repeatedly states that Burning Man is considered "a cultural and artisan event, which promotes free expression by the participants," and notes that the biggest safety concerns are crowd control and illegal drug use.


As is often the case, the most interesting parts of the file are the most heavily redacted.
First is this note early on that due to mysterious "past events," the festival would be used as a sort of "test case" scenario …

Which may or may not be related to this tantalizingly redacted piece of equipment or personnel which the SEMU is going to be providing.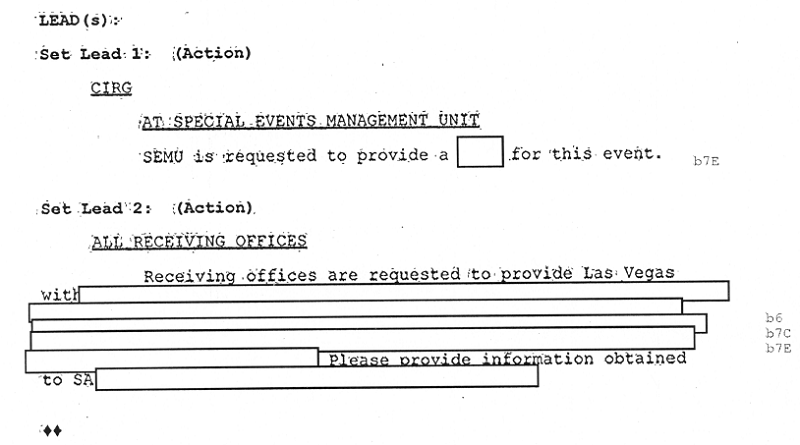 Who or what was provided is a matter of conjecture, but personally, I'd be curious to see how the FBI's cell phone tracking technology would fare up against Black Rock City's notoriously bad cellular reception.
Second item of interest is this paragraph, which could potentially imply that some burners were actually undercover police - sparking the debate over whether the term "plainclothes" applies in this situation.

In addition to the FBI files, requests were made for arrest reports and fines. Either surprisingly or unsurprisingly, there's not a lot in them - but if you were wondering just what it is you'd have to do to get arrested at Burning Man, the answer is physically assaulting a police officer.

Read the full file on the request page, or embedded below:
---
Image by Geoff Stearns via Flickr and is licensed under CC BY-SA 2.0