Last week, the Federal Communication Commission released complaints lodged against college radio stations around Boston. Harvard University's station WHRB, which broadcasts at 95.3 FM, elicited the most criticism.
The FCC released only nine complaints to MuckRock. Its FOIA staff indicated that these were the only complaints files since Jan. 1, 2011, when FCC records were last purged.
Three complaints filed against Harvard's WHRB chastised the station for offensive language broadcast over the airwaves in hip hop songs.
One complaint filed in March 2012 alleged that WHRB's music included "lots of profanity." The grievance went on to describe a skit in a Notorious B.I.G. song where two burglars were shot.

"I've never heard the F word this much on the radio," the Brighton resident wrote.
Another complaint against Harvard's station from July 2011 claimed "gratuitous" uncensored lyrics were being broadcast.
The last complaint against WHRB, from December 2013, consisted only of lyrics to an Xzibit song called "Paparazzi".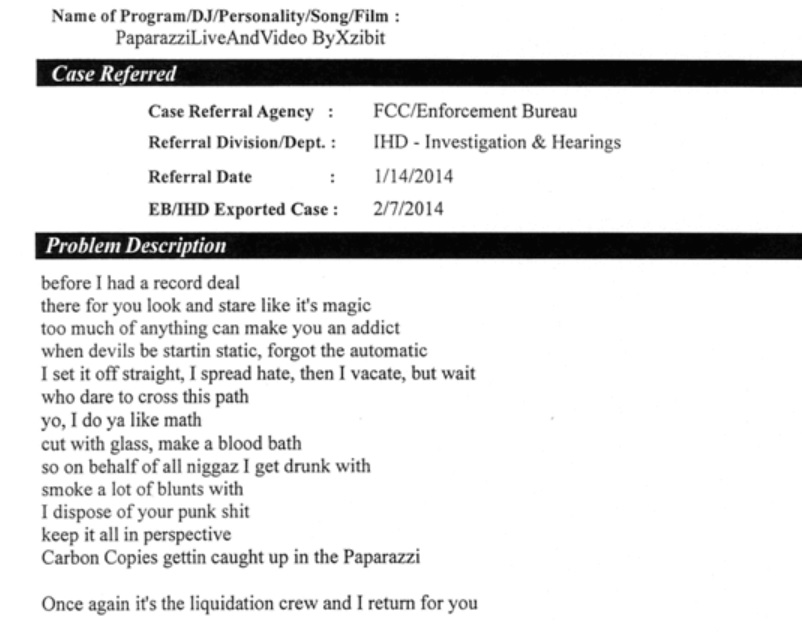 The only other college radio station included in the FCC complaints was Boston University's WTBU, which broadcasts at 89.3 FM. Two Brockton residents wrote to the FCC to request an investigation into pirate radio stations "over-washing" WTBU's broadcast frequency.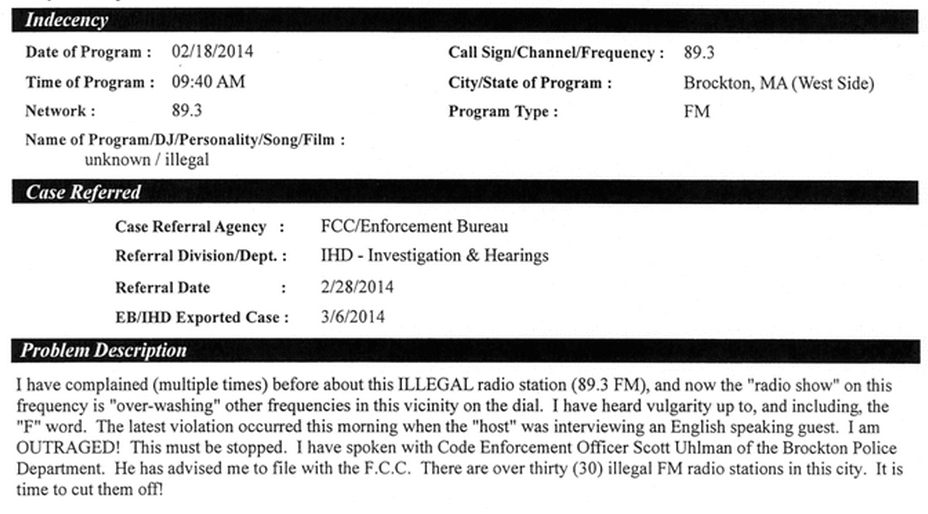 The first Brockton resident filed a complaint in February 2014, which exclaimed, "I AM OUTRAGED! This must be stopped."
"I have complained (multiple times) before about this ILLEGAL radio station (89.3 FM), and now the 'radio show' on this frequency is 'over-washing' other frequencies in this vicinity on the dial. I have heard vulgarity up to, and including, the 'F' word."
A second perennial critic of Boston pirate radio stations — another Brockton resident named Christopher — claimed, in turn, that a pirate broadcast "is bleeding into the [BU] college station."

Per FCC records, there were no complaints filed since 2011 for the following college radio stations: WERS 88.9 (Emerson College), WZBZ 90.3 (Boston College), or WRBB 104.9 (Northeastern University).
Read the full complaints embedded below, or on the request page:
---
Image via Wikimedia Commons and is licensed under CC BY-SA 2.0