In a world where drugs can be produced in homemade labs and purchased anonymously online, it can sometimes take the Drug Enforcement Administration years to track and evaluate the latest chemicals on the market.
A DEA report recently released to MuckRock user Robert Delaware details the two years of research and data gathering the agency completed before determining that three psychedelic compounds should be classified as Schedule I drugs, the most dangerous category.
The drugs – 25I-NBOMe, 25C-NBOMe and 25B-NBOMe — first surfaced in police busts in summer 2011, and have been connected to dozens of hospitalizations and several deaths since then, according to the documents. The potent synthetic compounds have effects similar to LSD, and similarly come in blotter paper tabs or powder form.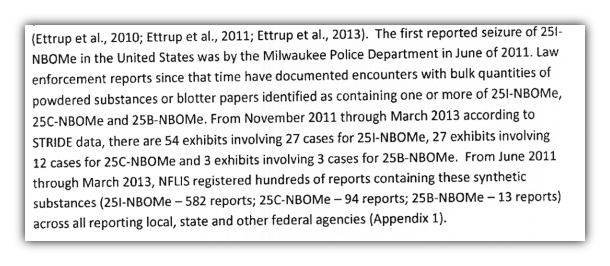 Since 2011, there has been a dramatic rise in law enforcement cases involving the trio of compounds, and particularly for 25I-NBOMe. Per National Forensic Laboratory Information System (NFLIS) reports, there were only 10 recorded cases of 25I-NBOMe in all of 2011, but 169 in the first four months of 2013.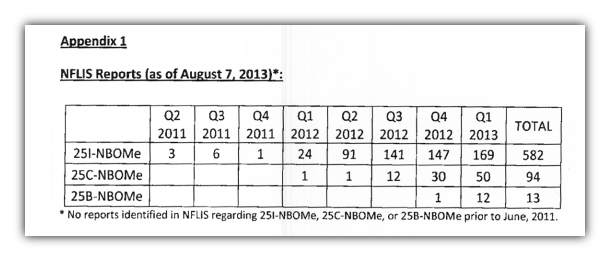 Much of the DEA report is devoted to analysis of the drugs' chemical properties, such as the rate at which they bind in rat and human brains to receptors associated with hallucinations.
But mixed in with the chemistry are anecdotal reports of teenagers who had seizures, hemorrhages in their brains or died after taking the drugs.
"Youth appear to be the primary abusers of these synthetic substances," according to the report. "Individuals, including minors, are purchasing synthetic substances through traditional illicit channels and from internet websites. There is at least one law enforcement encounter with 25B-NBOMe in the United States that described prepared dosage units on blotter paper with a printed disclaimer of 'not for human consumption.'"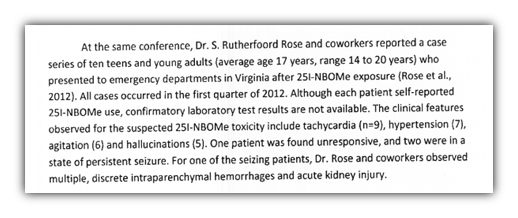 In "one of the most striking cases of recorded survival," a 29-year-old man in England was hospitalized for 43 days, including 38 in the intensive care unit, after injecting himself with 25I-NBMOe.
As of July 2013, the DEA had linked at least 14 deaths to the three drugs. By the time the DEA classified the compounds as Schedule I in November 2013, at least seven states and three countries – Arkansas, Florida, Louisiana, Nebraska, Ohio, Utah and Virginia, plus Russia, Israel and the United Kingdom – had passed laws to control at least one of the three substances.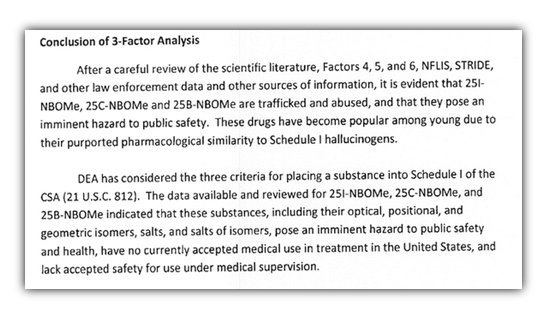 Read the full release embedded below, or on the request page.
---
Image via Wikimedia Commons