When Halloween approaches each year, alerts to warning of drugged and weaponized candy circulate on social media and news publications.
This is especially true now, after a five-year-old tested positive for methamphetamine Sunday after trick-or-treating in an Ohio town, the Washington Post reported. No other child in the town has experienced similar symptoms, and investigators have not identified a suspect, Galion Police Chief Brian Saterfield told the Post. Still, the police department issued a social media warning.
Nationwide news platforms and public notices warn parents to check their children's candy before they eat it, and to be particularly suspicious of homemade or off-brand goods. Marijuana candy, in particular, increasingly dominates fearful headlines ahead of the holiday as more states legalize recreational use of the drug.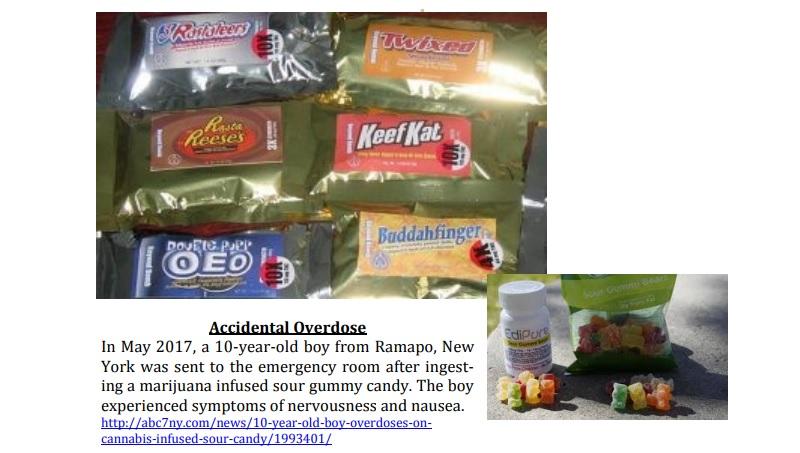 But what motivates these releases, outside general caution and paranoia? We filed requests with 16 agencies in states that recently legalized marijuana and a couple of their neighbors. Requests inquired whether there had been reported incidents of drug-infused or weapon-infused Halloween candy to incite the warnings. We also asked for internal communications on the topic and related press releases, documents, videos, and informational content produced by the agency. Agencies included state police, city police, and departments of health, human services, and public safety.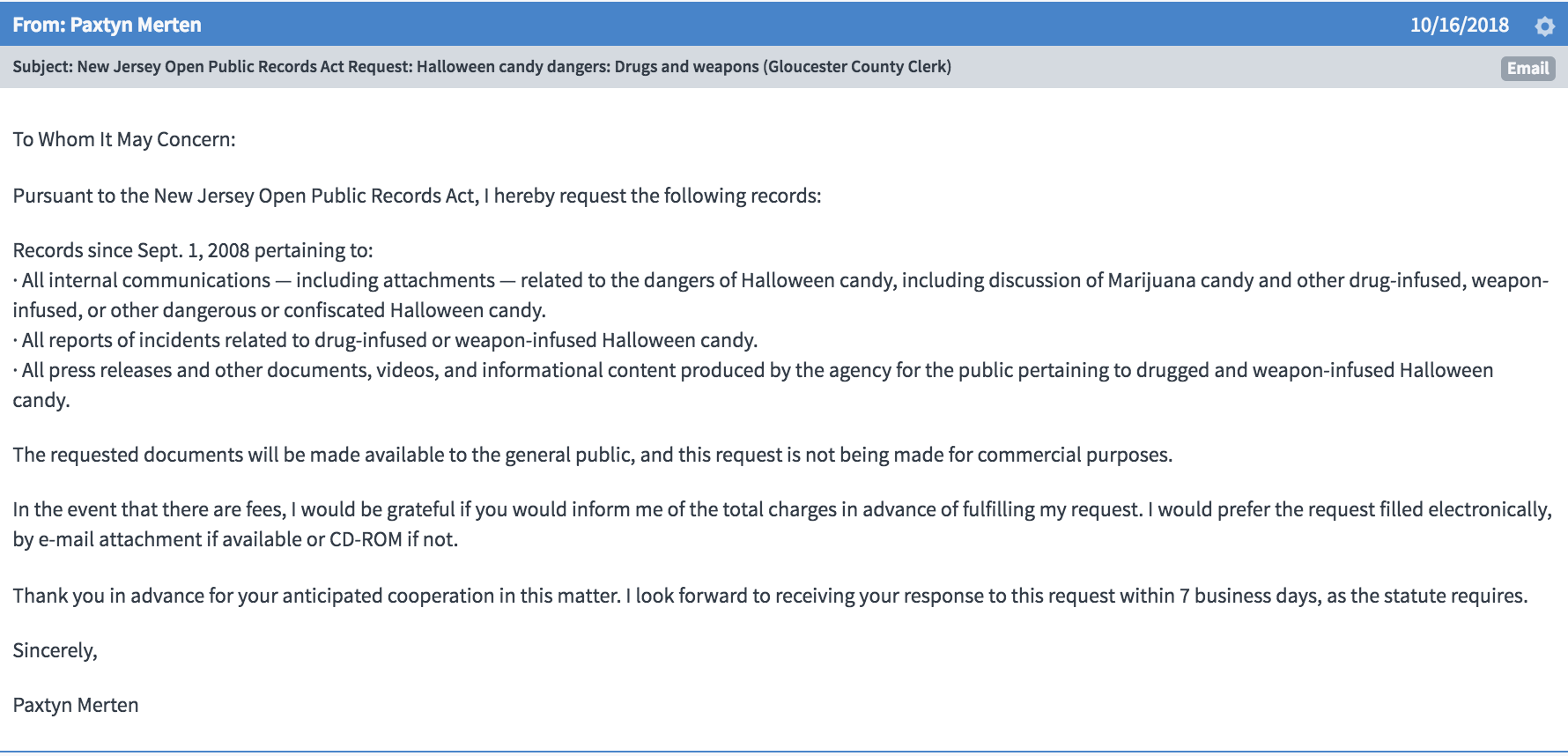 Of the 16 agencies, only two provided documents: New Jersey's Gloucester County Clerk of the Board's Office and the Denver Police Department. One agency's candy fears were a lot more realistic — if not a little underwhelming. The Oregon Department of Human Services Health Authority had no responsive records related to drug-infused or weapon-infused Halloween candy, but did provide a health advisory about tooth decay. In an email newsletter from October 17th with the subject line "Scary times," the Health Authority send out videos on how to protect against tooth decay, what processed sugar is, and how their residents could get a flu shot — more pressing means to protect themselves this Halloween.
Five agencies said they had no responsive documents, and one agency rejected the request, claiming it was overbroad. Two have yet to be acknowledged by the agencies they were filed with.
New Jersey's Gloucester County Clerk of the Board's Office provided their 2017 and 2018 news releases and public awareness flyers warning trick-or-treaters to "beware of marijuana candy."
The 2018 press release indicates that the state's Department of Health said there is "a significant presence of marijuana and other edible forms in New Jersey and nearby states. The presence of these edible forms of marijuana poses a great risk to users, especially for children, who may accidentally receive marijuana candy during Halloween." Despite this, New Jersey's Department of Health indicated they have no responsive documents to our request.
Gloucester County's provided records didn't mention any incidents of drugged or weaponized Halloween candy, but did mention a 10-year-old New York boy who ate cannabis-infused gummy candy in 2017 and had to go to the emergency room. That case was not related to Halloween, rather the boy found the candy in his own family's car. What's more, the link the story provides to an abc7NY story is broken, and the site no longer seems to have coverage of the incident.
The Denver Police Department said they identified no reports of drug or weapon-infused Halloween candy in the time period the request covers, beginning Sept. 1, 2008. But in 2014 — 10 months after Colorado's retail marijuana stores began sales — the department released a video warning the community to watch their kids' candy for marijuana edibles.
DPD press releases from 2014 and 2015 also warn parents to inspect all their children's candy before eating it and to "throw away any suspicious treats." The releases also advise citizens drinking alcohol or consuming marijuana to "do so responsibly."
Vox reported last year that there is no comprehensive data available for this topic, but that its reporter's own review of Halloween news and outreach to police departments, hospital networks, and poison centers within marijuana legalization pioneer states Colorado and Washington came up with no cases of someone giving the drug to trick-or-treaters, on accident or otherwise.
The Post reported Tuesday that the "urban legend" of drugged, poisoned, and weaponized Halloween candy originates from a 1974 father — the 'Candy Man' — who killed his son for insurance money by planting cyanide in one of his Pixy Sticks. He handed out poisoned candy to other children, too, to hide his motive, but no other children died. It had a substantial impact on how Americans celebrate the holiday. A 2017 case in which a trick-or-treater was given a bag of meth also intensified fears.
But really, as Post analyst Christopher Ingraham argues "the alleged threat of pot candy in kids' Halloween baskets" is unfounded. This case study of just two agencies in two different states supports that inasmuch as it can.
We are still corresponding with agencies on these requests, and the story will continue to be updated as they respond and provide relevant documents. In the meantime, watch the OHA's "Healthier Things 2: The Legend of Danny Decay" embedded below.
---
Image via Bill Charbonnet via Flickr