Last November, the Justice Department's inspector general released a report condemning a division of the US Marshals Service for spending nearly $800,000 on promotional items for the agency—otherwise known as "swag." The report made its way through the news cycle, with bloggers and established news outlets alike jumping on to decry yet another example of government wastefulness … and was then promptly forgotten.
While the final report was made available to the public, most of the data compiled in the investigation wasn't. So around the time of the report's release, Special Projects Editor Shawn Musgrave decided to file a request for the invoices compiled to complete the study, and just the other week received 173 pages of documents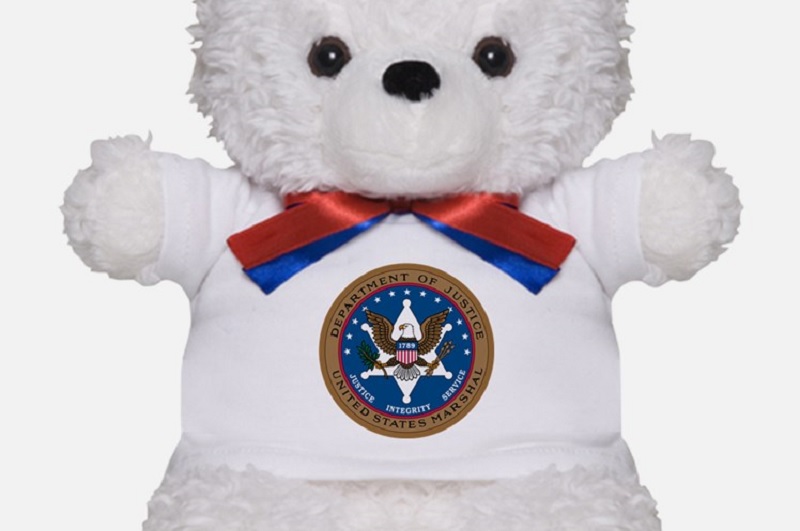 We now have a (nearly) full, itemized list of the USMS' "swag" expenditures for the final years before initial reforms were enacted in the agency around 2011-12. This includes nearly $2 million in purchases made both by the IOD, other departments in the USMS' national office, and 90 out of 94 district offices across the U.S. and its territories.
We're not sure why four offices were left out of the agency's FOIA response, or why they provided us with financial data from years not mentioned in the original OIG report. Regardless, the documents they have given us don't exactly paint a much prettier picture.
Before diving into the documents themselves, it's important to understand just why the OIG had to issue this report in the first place (and why we cared about getting this list).
After the Attorney General asked sub-agencies within the DOJ to reduce spending to "only mission-essential" activities in early 2011, the USMS suspended its swag program and began to develop guidelines around the use of promotional "goodwill" gifts. That didn't stop the Inspector General from getting involved, however, leading to an investigation comprised of 30 interviews with current and former DOJ/USMS employees and a review of over 127,000 documents.
Federal agency spending is governed by what's known as the "necessary expense doctrine," which stems from 31 U.S. Code Section 1301(a). After Congress decides to appropriate money for a federal agency, this doctrine comes into play as a three-pronged test for whether an expense can be logically connected to an agency's overall mission.
So while self-promotion of the sort that the USMS engaged in is generally considered kosher, the OIG report was clear that the agency's gross overspending on swag and lack of internal controls for it ultimately crossed a couple of bright red lines:
"A large majority of witnesses told us that when promotional items were received they were … distributed to IOD employees on an as-needed basis without identifying or tracking who took the promotional items, the number of promotional items taken, the purpose for which the promotional items would be used, or to whom they would be given.
… The former chief of IOD's Policy and Programs Division told us that there was no policy limiting the amount of money that IOD could spend on promotional items and the agency was not required to keep track of the promotional items it was purchasing and distributing."
Moreover, Congress had actually appropriated a specific sum for such promotional purchases, known as Representation and Reception (R&R) funds. The size of this pot has fluctuated with the political whims of the Legislature, but as of 2011 it sat at about $6,000 for the entire USMS—a fraction of what the agency actually spent: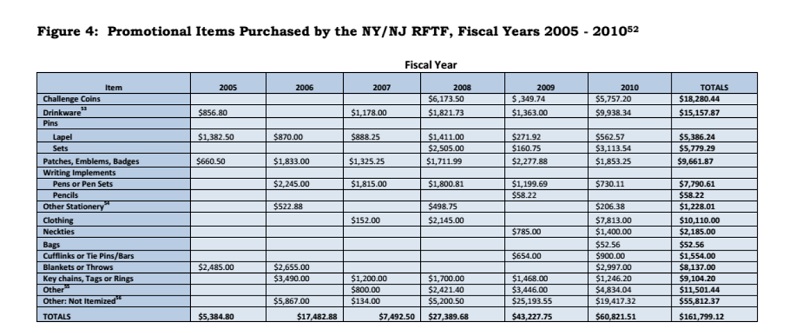 "Had the USMS applied these 'goodwill' purchases to the R & R fund, it would have exceeded Congress's legislated cap."
The agency was essentially circumventing Congress' purse-holding authority by spending outside of its authority, and lavishly at that. Then again, if the materials they spent money on were demonstrably within its mission guidelines it would be less of a big deal.
So the question remains: what the heck did they spend all of that money on, and how much?
In total the FOIA documents we received list nearly $2 million in swag that was purchased by the USMS between 2009 and early 2012, when the agency began to slowly reform its spending policies.
The documents show that largest spender on the state-district level by far was Texas, whose three branches of the USMS spent a combined $133,000 on t-shirts, ties, pillows, and even Christmas ornaments between 2009 and 2012. In addition, the South District of Texas was the biggest single spender for a district office during that period, with just under $60,000 going to USMS-branded leather coasters and silk ties.
Yet none of the individual offices held a candle to the national office's IOD. Although the Inspector General's report measured spending from FY2005 to 2010—as opposed to the three-year window they provided us with—it's easy to see from the FOIA records why the OIG was especially mad with the USMS' main investigative arm.
Of the $405,000 that IOD spent on novelty mementos, the division spent tens of thousands of taxpayer dollars on things like:
Quill Pens

Christmas Ornaments

Baseball bats

Scarves

Ties

Glass coasters

Marble coasters

Puzzle coasters

Tumblers

Rocks glasses

Stuffed bears
From looking at the documents, it's easy to see that many of the purchases amounted to little more than party favors—caps, t-shirts, mugs, pens and such. But a number of items pop out that don't seem to be "mission-related" at all, either for being too costly or outright silly. They include:
Apparently some USMS offices had the gift-giving habits of a 10 year old.
The District of Massachusetts spent over $3,000 on light-up yoyos, mini footballs, mini soccer balls, and stress balls in the shape of a police car; the District of Northern Illinois spent nearly two grand on 350 "laser wristbands" and 500 "flashing superballs" in 2011; and dozens of other districts spent thousands on baseball bats, pencil cases, and stuffed animals. Teddy bears (possibly one of these?) were a particularly popular item, with the IOD alone spending well over $2,000 on plush toys in just a few years.
Guess it's good to do something for the kids if you're using federal tax dollars as kindling anyway.
A number of line-items on the list are for various kinds of coins: challenge coins, district coins, silver coins, gold coins, and sometimes just "coins." These commemorative trinkets are often emblazoned with the USMS logo—an eagle in front of a six-pointed star—or a symbol related to the district office's state, and are often given out to agents and visiting law enforcement officers to help 'promote goodwill.'

These coins were one of several points of annoyance in the Inspector General's report, and with good reason. Our FOIA documents show that the national and district offices spent over $450,000 on them in just a few years, adding up to roughly a quarter of all swag purchases made by the USMS. The national office alone spent just over $180,000, with the IOD making a sizeable contribution to the overall figure.
In at least six cases, district offices were spending more on coins than any other type of promotional item, with places like Northern Iowa and Western Pennsylvania spending over half of their swag money on them.
A few offices appear to have wanted dearly to "promote" the Service during their off-hours, whether it was seated around a smoky table or on the links. The districts of Northern Alabama, Arizona, Southern Indiana, Minnesota Nevada, New Mexico, West Virginia, and Eastern Wisconsin spent thousands of dollars on poker chips; meanwhile, Eastern California, Northern Georgia, Southern Iowa, and at least half a dozen other offices around the country spent thousands on golf balls and golf towels.
Nebraska's office was the only district office with the need (or gall, depending on your point of view) to assemble a full golf accessory swag set, spending over $1,200 in three years on balls, towels, and divot tools.
Feel free take a look through these documents yourself, see what other gems you can find, and stay tuned. We'll have an update on this incomplete list as soon as we hear back from the USMS. You can read the request and find the full list here.
---
Image via US Marshals Flickr