Miley Cyrus was doing something with a foam finger and her lower body, and the viewer from Black Hawk, S.D. was not happy.
"The FCC should investigate the MTV VMA Awards show for indecency," the viewer lamented to the FCC. "Miley Cyrus's performance was pornographic in nature. She was gyrating all over others and using a foam finger in her crotch as well as other sexual innuendos."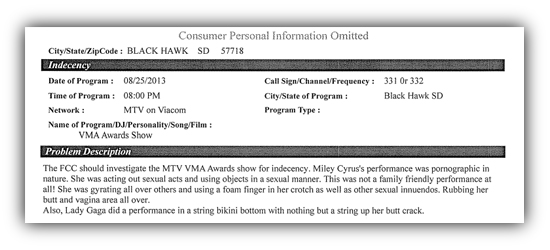 This was just one of about 160 complaints that the Federal Communications Commission received after the Video Music Awards last month. The FCC released the full outpouring of outrage to MuckRock on Friday. Dozens of viewers across the nation were so appalled by Cyrus twerking on their TV sets that they formally aired their grievances.
People fumed that they had to pay for MTV in their cable packages, and yet they still tuned in. Many worried about the broadcast's effect on the nation's youth.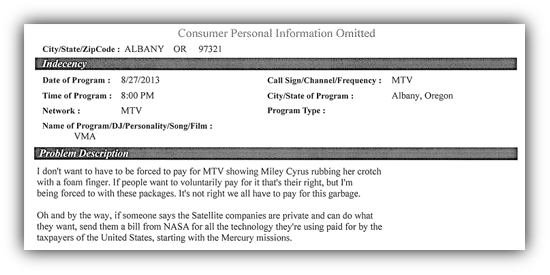 "Don't you have children and don't you worry what they are exposed to?" asked one viewer from Little Rock, Ark.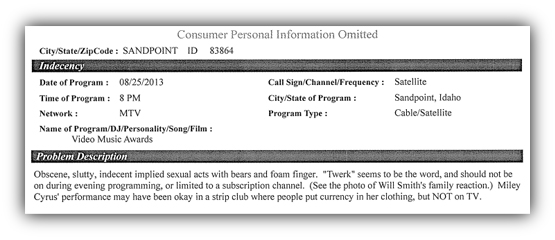 "If I want to watch porn I buy a DVD," a concerned citizen from Clinton Township, Mich. wrote.
A viewer from Tewksbury, Mass. demanded more censorship after seeing Cyrus.
"Her gyrating and bending over in front of the singer's crotch with her tongue sticking out is obscene and her manipulation of a foam finger was also unacceptable," the viewer wrote. "TV has gone from being too censored to the other extreme. There needs to be a clamp down on this type of programming."
One person invoked the story of Janet Jackson, who accidentally flashed a nipple during a Super Bowl performance.
"How is it possible that you threw a conniption fit over Janet Jackson's accidental nipple slip and yet I was subjugated to four minutes of Miley Cyrus last night?"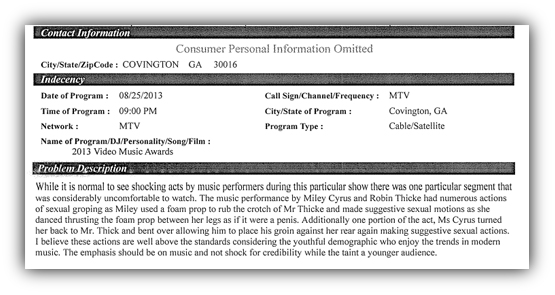 A viewer from Jeanette, Penn. longed for Katy Perry.
"I had middle school nieces who wanted to see the show and didn't think I was going to have to be concerned about milie [sic] Cyrus performance! I left the room to get drinks and about dropped them as I walked in to that on my TV!!" Unreal!!" the person wrote. "MTV should have stopped that before it was aired and the FCC should have pulled the plug on that performance!! A shame they chose to put Katy perry on last, the girls would have loved seeing her!"
See more FCC complaints here and below:
Photo courtesy Wikimedia Commons.
Curious about FCC complaints for other broadcasts? Register for a MuckRock account today and we'll help you write, file, track and share your requests, or help you get your FOIA questions answered free. Stay in touch via our mailing list, on Twitter or on Facebook.