Miley Cyrus was doing something with a foam finger and her lower body, and the viewer from Black Hawk, S.D. was not happy.
"The FCC should investigate the MTV VMA Awards show for indecency," the viewer lamented to the FCC. "Miley Cyrus's performance was pornographic in nature. She was gyrating all over others and using a foam finger in her crotch as well as other sexual innuendos."

This was just one of about 160 complaints that the Federal Communications Commission received after the Video Music Awards last month. The FCC released the full outpouring of outrage to MuckRock on Friday. Dozens of viewers across the nation were so appalled by Cyrus twerking on their TV sets that they formally aired their grievances.

People fumed that they had to pay for MTV in their cable packages, and yet they still tuned in. Many worried about the broadcast's effect on the nation's youth.

"Don't you have children and don't you worry what they are exposed to?" asked one viewer from Little Rock, Ark.

"If I want to watch porn I buy a DVD," a concerned citizen from Clinton Township, Mich. wrote.
A viewer from Tewksbury, Mass. demanded more censorship after seeing Cyrus.

Amid the tough competition, however, one viewer from Lexington Park, Maryland, stands out as the most righteously indignant.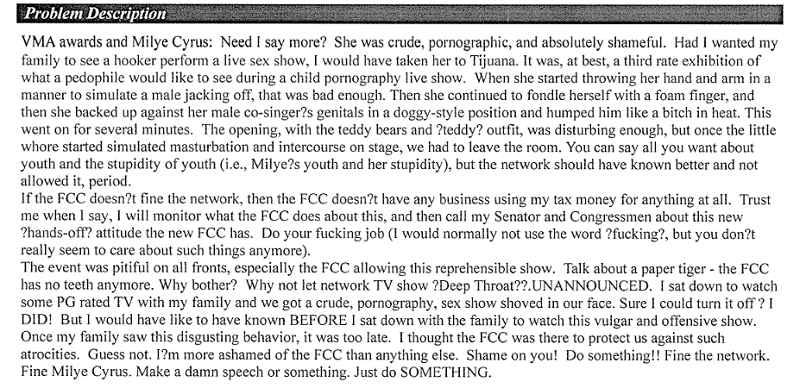 The first set of complaints is embedded belwo, and the rest can be found on the request page.
---
This piece is part of Must-Seethe TV: The FCC Complaints Project
Photo courtesy Wikimedia Commons.