On August 9th, 1990, two U.S. Embassy employees trying to enjoy a beer at the Mezhdunarodnaya Hotel in Moscow were interrupted by a stranger. One of the employees said the stranger was wearing a blazer and slacks and had untrimmed collar-length hair, according to an FBI report. Speaking perfect English, he bought a bottle of wine for them, paying with a $100 bill. The stranger inquired about their roles at the embassy. Neither divulged any information. He then claimed to know specifics about their employment — saying that he had worked at the embassy years before — and produced an official U.S. passport with the name "Edward Lee Howard."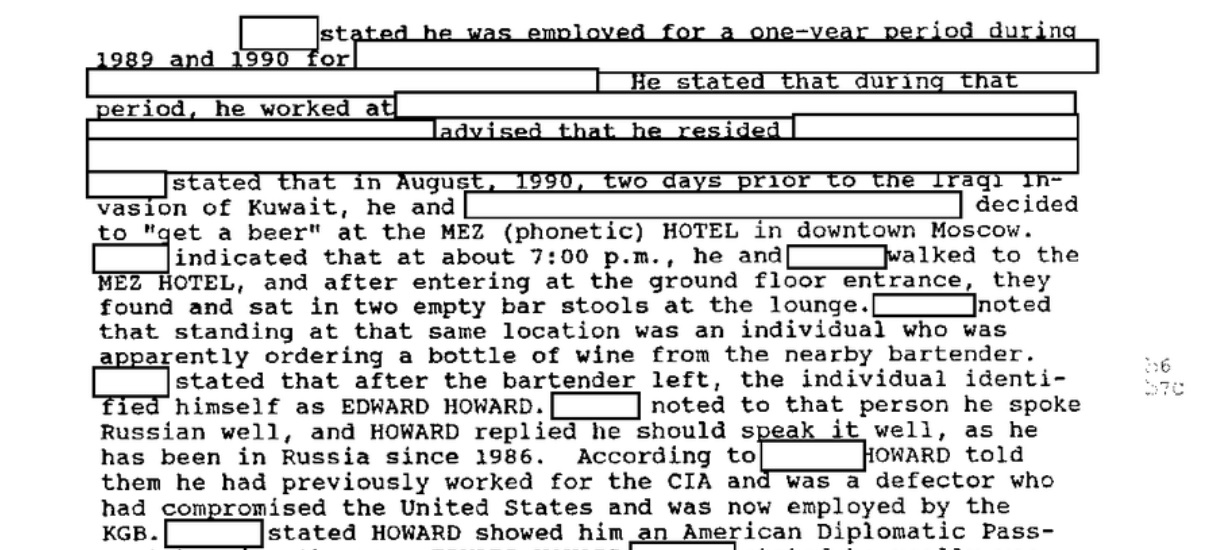 He told the embassy employees he had information about a threat to 5,000 American lives in Iran and that he needed to speak with the head Marine guard at the U.S. Embassy. The two workers reported that they became became suspicious that another person at the bar was listening in and that they were being set up. The FBI file documenting the encounter details how the situation escalated:

The embassy workers would later learn they had come face-to-face with one of the FBI's most wanted, an ex-CIA officer trained in counter-surveillance and suspected of turning over critical information to the Soviets. Under watch by the FBI in September 1985, Edward Lee Howard escaped to the Soviet Union. Number 4998 on the FBI's wanted list, his encounter with the embassy workers is the last physical contact with U.S. authorities revealed in his FBI file.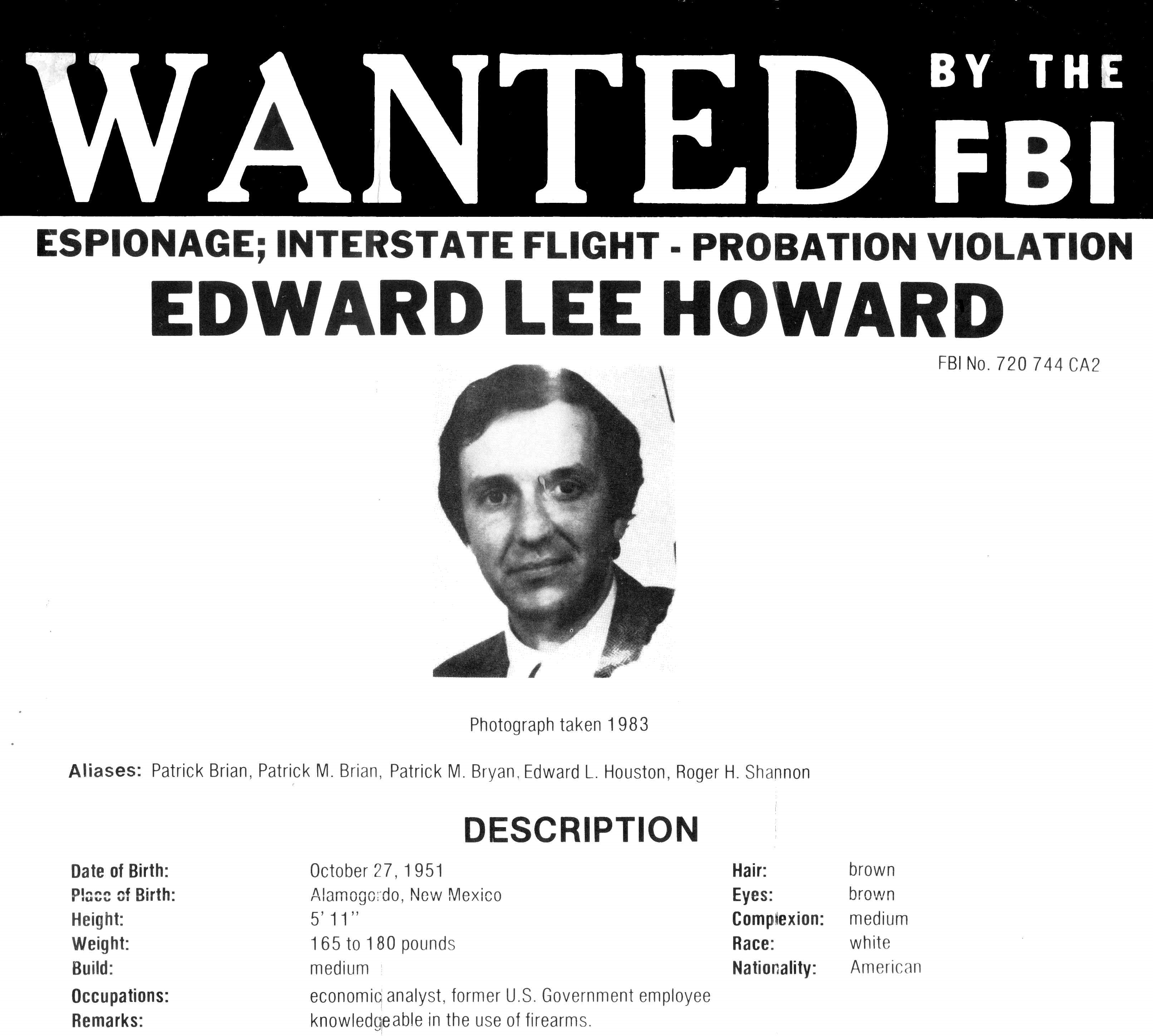 The 1,400 page file — with more than 500 redacted pages — shows that his troubled story began in June 1983 when he failed a CIA polygraph that revealed he had lied about past drug use and petty theft. Howard's FBI file is sprinkled with information about his struggle with alcohol and mental health issues. He drank heavily when the in-laws were around because he hated his mother in-law, according to report generated from an interview with Howard's wife.

The drinking became especially heavy after the failed polygraph led to Howard's separation from the CIA, at which time he sought counseling for his struggles. According to interviews and investigations conducted by the FBI, Howard was involved in an inebriated altercation in February of 1984 where he drew a .44 Magnum on three individuals. He was sentenced to five years of supervised probation, mandatory psychiatric treatment and a penalty of $7500 to be awarded the victims. At the time Howard lived at 108 Verano Loop in Santa Fe, NM with his wife and son. He worked at New Mexico's Legislative Finance Committee. He was an avid gun collector.

Reports from a smattering of redacted sources show Howard may have been selling U.S. intelligence secrets to the Soviets after he departed from the CIA. In October 1983, Howard sat outside the Russian Embassy in Washington and "contemplated going in" but did not, said one source. Another source indicated that In July, 1984 Howard may have met with Soviets in Juarez, Mexico. Still another source said Howard received two calls from Soviet representatives in October and November of 1984. The first call set him up. The Soviets threatened to reveal that he intended to defect if he did not meet with them. The second established a meeting in Vienna, Austria for January of 1985. The source who reported this believed Howard mailed a postcard signed "Alex" to the Russian consulate in San Francisco before the second call, confirming a meeting.

In April 1985, Howard made contact with Soviets in Vienna, according to an FBI source. He received money from the Soviets — the purpose of which is unclear — and made a deposit into a Swiss bank account then set up a meeting in Mexico City for August. The FBI was unaware of Howard's actions until sometime around August 1, 1985 when a KGB defector walked into the U.S. Embassy in London and implicated Howard.
It's unclear how long the FBI had been watching Howard, perhaps as early as September 10, 1985. But it would not last much longer.
On September 19, the Bureau made contact and arranged an interview 30 minutes from Howard's house, in room 327 at the Hilton Hotel in Santa Fe. The FBI revealed to Howard he was under investigation regarding his cooperation with KGB intelligence.

After telling him about the defected KGB agent's allegations, the FBI asked Howard if he would take a polygraph. He became hostile. The FBI began overt surveillance after the interview.
The following day, Howard made contact with the FBI and indicated a possible willingness to take a polygraph but expressed the need to speak with an attorney first. After consulting the Department of Justice and FBI headquarters in Washington, the Bureau's Albuquerque branch switched from overt to discrete surveillance in order to avoid antagonizing Howard's newly cooperative demeanor. The FBI had also gleaned enough information from an eight-hour interview with a source to acquire probable cause for Howard's arrest.

On September 21, Howard left for dinner with his wife Mary Cedarleaf. (also a former CIA agent, her name is redacted from the documents) They planned for an early dinner because the babysitter had a prior engagement at 6:30pm. The FBI knew about the dinner plans. Desert terrain around the Howard's residence made covert surveillance difficult. Agents feared neighbors would become suspicious of any unusual activity, and so relied on an unmanned van transmitting CCTV signals via microwave to an RV, codenamed the Bell Tower, parked in the desert.

According to subsequent reports, the agent working the Bell Tower that night had never held the position before and was briefed for only 45 minutes before taking the post. The agent recalled between 6 and 7 p.m. units were dispatched to drive around Santa Fe looking for the Howard's car. Agents became alarmed when there was no report of movement after 6:30pm when the babysitter was supposed to be gone.

The agent in the Bell Tower never saw the Howards leave. Later that evening, according to the narrative summary in the FBI's Prosecutive Report, the agent saw the couple's Oldsmobile return as expected. What was not expected, and wasn't noticed, was that Howard was not in the car. Howard had exited the car after they left the restaurant and drove around attempting to "clean themselves." In his place, next to Mary, was a dummy wearing a hat.

Posing as J. Preston — one of five aliases listed in the file — Howard, was on his way to Europe via the ShuttleJack airport bus from Santa Fe to Albuquerque. Upon her return, Mary placed a phone call to Howard's counselor and played a recording of Howard's voice leaving a message about a scheduled session.
By the early morning of September 22, Howard was flying around the United States with TWA airlines, leaving a paper trail of purchased tickets that did not correspond with the flights he actually took.

Information gleaned from FBI interviews revealed that TWA load capacity practices made possible for Howard to purchase a ticket from Tucson, AZ to New York JFK to Copenhagen, Denmark but actually fly from Tucson to St. Louis to JFK and on to London, Heathrow. The FBI traced Howard to a hotel in Helsinki. Then the trail ended. Howard was gone.

Cedarleaf later admitted to helping her husband disappear but was not charged. Soviets granted Howard asylum in Russia where his family occasionally visited. After Howard's disappearance, an internal investigation ensued trying to determine how the FBI lost Howard and where he went. They interviewed relatives, co-workers, friends, flight attendants and employees of TWA, the operators of ShuttleJack, members of an R/C planes club. They looked through flight records, toll receipts, hotel stays and subscription records. They dug up an ammunition box in his backyard filled with gold allegedly from the Soviets. They went deeper into his past — looking at colleagues from the Peace Corps. They issued 17 subpoenas and gathered records of phone calls, postcards and letters.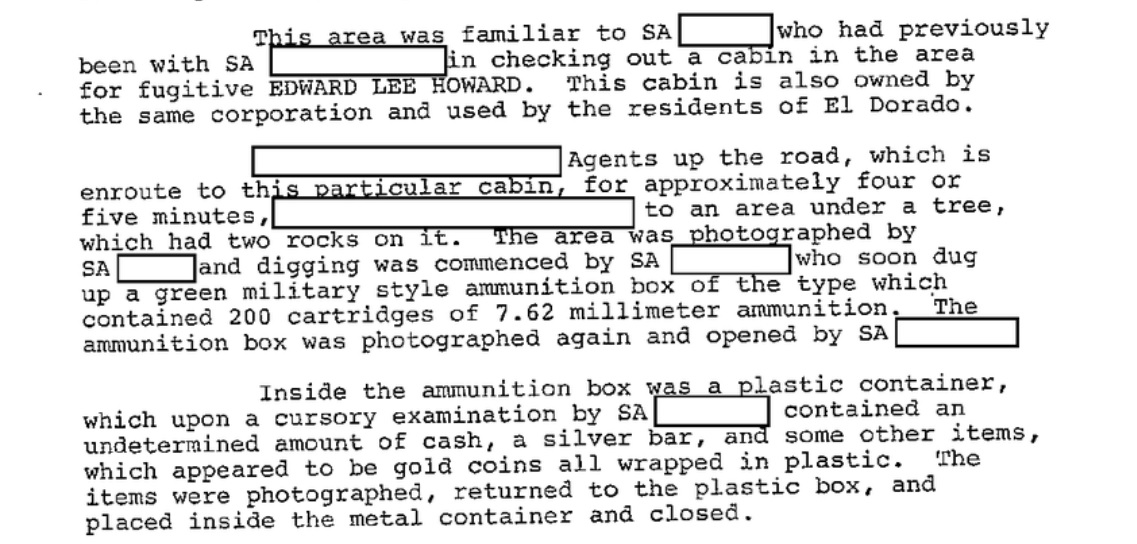 But nothing in the declassified portion of Howard's FBI file reveals any indication that they were able to pin him down until 1990, when he approached two U.S. Embassy workers at the Mezhdunarodnaya Hotel in Moscow. But then, once again, his trail seemed to taper off.
The most recent document in the file — like a singular strand of spider web waiting, hoping for a fly — is from 2000 noting that prosecutors were still updating the arrest warrant for espionage filed the day after his disappearance, just in case he should return to the United States.

Howard's FBI file never clarified his urgent message to the U.S. Embassy, whether he ever got to the embassy or whether there really were 5,000 endangered lives. It also never mentions Howard's death.
A July 2002 report from the New York Times said that one account of his death resulting from a broken neck in an accident at his dacha was refuted by a Russian intelligence officer, who gave no further details.
Howard was 50 years old.
Read the full file embedded below, or on the request page:
---
Image via Wikimedia Commons