Boston's WFNX recently went from being among the last alternative radio stations in the United States to the latest acquisition of media giant Clear Channel, spurring complaints to the Federal Communications Commission that the station should keep its rock format.
In its nearly 30-year history, WFNX had acquired a reputation for giving local acts like The Pixies a chance and its listeners a haven from corporate radio. It was sold off without warning in May by parent company Phoenix Media for $14.5 million, pending FCC approval.
Its listeners weren't happy. A Change.org petition sent to Clear Channel and the FCC has gained more than 3,000 signatures so far. The FCC released 19 statements from petition signers that were forwarded to the agency.
Most of the emails express severe anger at Clear Channel for buying the spot on the dial while hinting the format of the station will change.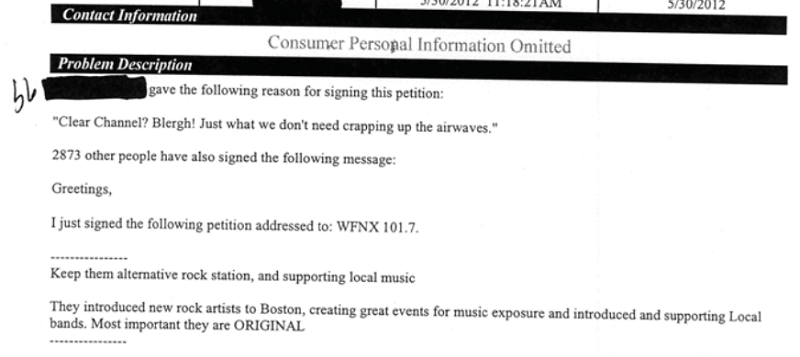 Others took pride in Boston's history as supporting the independent station as Texas-based Clear Channel continued its march into local markets throughout the '90s.


One petitioner expressed the hope that Clear Channel would keep the alternative rock format as a chance to change direction.
Read the full complaints on the request page, or embedded below: