The "Mob Cops" Case
Seeking out government records of Stephen Caracappa and Louis Eppolito, two NYPD detectives who moonlighted for the mafia.
In 2005, agents from the DEA and FBI raided an Italian restaurant just off the Las Vegas Strip. They arrested two middle-aged men on evidence of a drug deal gathered by a wired up witness. While one suspect was carrying a handgun in his waistband, both men were taken in peacefully.
The indictment against the two men unsealed afterward, however, would shake the confidence of New Yorkers and disgrace the nation's largest police force. It centered on an accusation so sensational that 60 Minutes kept it off the air for 8 years: Detectives Louis Eppolito and Stephen Caracappa of the NYPD's Organized Crime Homicide Unit were, in fact, hit men for the mafia. They would go on to be dubbed "the Mob Cops."
The Witnesses
The first witness to describe two rogue NYPD detectives working for the mafia emerged as early as 1994. He was the mobster who took credit for purchasing their services: imprisoned Lucchese underboss Anthony "Gaspipe" Casso. Captured in 1993 after living as a fugitive, Casso attempted to cut a plea deal by naming names and told interrogators that Caracappa and Eppolito were his "crystal ball" for dealing with informants, rivals and potential arrests.
Casso also lacked credibility —he lied in his FBI debriefings and attempted to bribe guards during his imprisonment. He was also a prolific murderer (with 36 acknowledged victims) and, by his own admissions, a sadistic one: in his authorized biography by Philip Carlo, Casso himself would describe burying one victim alive and torturing another. Prosecutors ruled out any cooperation as a result.
Seeking any hope of getting out of his multiple life-sentences in the Supermax prison ADX Florence, Casso went to 60 Minutes. He spoke about two detectives in his employ. However, this portion of his interview would be omitted from airing as it had no corroboration.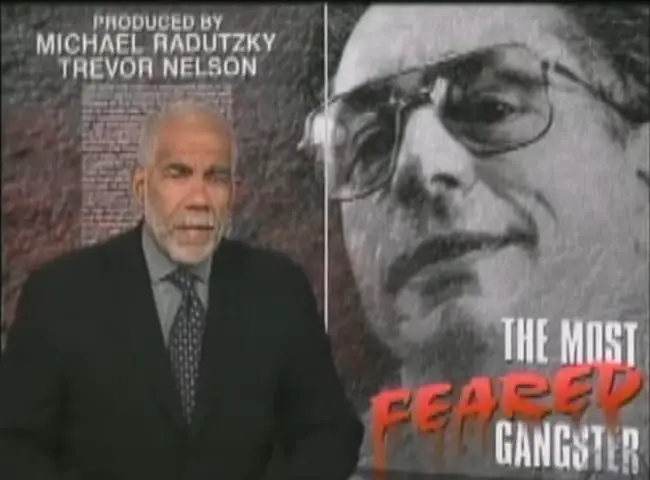 Screen Capture, 60 Minutes
A multi-agency team was later tasked with ways to turn the tantalizing lead into an indictable offense while bypassing any need for Casso's testimony. They ultimately got the testimony of two other cooperators:
Alphonse D'Arco) briefly served as acting boss for the Lucchese family as Casso and boss Vittorio "Vic" Amuso went into hiding. Until the higher-profile turning of Salvatore "Sammy the Bull" Gravano, D'Arco was the highest ranking cooperator from La Cosa Nostra, surrendering to the FBI after being marked for death. He became a prolific and reliable cooperator. He corroborated that Casso had told him about the "Crystal Ball."

"Downtown" Burt Kaplan would be the star witness in the trial of the Mob Cops. A Jewish associate of the Lucchese family, he would describe in detail his brokering the deal to bring Eppolito and Caracappa into the mob fold —including retaining their services by delivering an ongoing "pad" of bribe payments.
At trial, Kaplan would also provide testimony to the most shocking moments of the Mob Cops crossing the line: arranging for Eppolito and Caracappa to personally murder or hand over for murder targets of the Lucchese family using phony arrests and traffic stops.
(Both D'Arco and Kaplan are now deceased; this project is seeking their FBI records).
The Trial and the Trail
The Mob Cops were not just done in by the testimony of wiseguys, but also by their own arrogance and sloppiness.
Kaplan would describe how he gave orders in October 1986 to the Mob Cops to help Casso Casso avenge his shooting in an attempted hit by a Gambino team —itself a revenge attack on Casso for a car bomb detonated outside a Gambino social club that intended to kill John Gotti (not present) but killed underboss Frank DeCicco.
The Mob Cops managed to locate one member of the hit team, Jimmy Heidel, who was abducted and delivered to Casso. After torturing him, Heidel gave up the name of his co-conspirator: Nicky Guido.
At trial, Caracappa would be confronted by internal logs of the NYPD showing he searched the records of the Organized Crime Homicide Unit for information on Nicholas Guido. In a horrific turn of fate, Caracappa an address and photograph to a Lucchese hit team for a different and unrelated innocent person by the same name leading to a gangland-style slaying of an innocent man.
(After the criminal trial and civil litigation, New York City settled a wrongful death suit in the case of the innocent Nicholas Guido for $5 million) in 2015. This project is seeking records from the Mayor and Comptroller of New York for records pertinent to that decision.)
Internal Affairs and the Blue Wall of Silence
A sensational federal RICO trial in Eastern District of New York put away the Mob Cops for good in 2005. While a few technicalities needed to be squared away, appeals exhausted themselves and both Louis Eppolito and Stephen Caracappa went to prison for the rest of their natural lives. Both men attempted to gain compassionate release and were denied. Caracappa died in 2017; Eppolito in 2019.
(This project is seeking both Bureau of Prisons and U.S. Marshals Service records of their time in the federal prison system.)
There remain outstanding issues of what was known about the two Mob Cops' during their police careers, before their arrest in Las Vegas. Several books authored or co-authored by the Mob Cops investigators noted that Caracappa and Eppolito failed to disclose ties to organized crime on required NYPD forms —failures that should have been followed up by the NYPD's Internal Affairs Bureau.
To date, there is no publicly accessible record of Internal Affairs' investigation. This project hopes to have a the NYPD recognize that the expansive protections given to Caracappa and Eppolito's personnel files under Civil Rights Law 50-A are now void and that they should be opened up.
The most severe accusation to stick to Louis Eppolito, brought up in several civil cases before their settlement, pre-dated the 2005 RICO prosecution by twenty years. In 1985, Eppolito was brought up on charges of providing NYPD intelligence files to Sicilian-born heroin dealer Rosario Gambino. Eppolito was the last person to see the file before it turned up in a federal warrant search of Rosario Gambino's house.
Eppolito was cleared in an administrative trial under questionable circumstances. Afterward, Eppolito wrote a self-serving autobiography where he recounted that his fundraiser for legal expenses was well attended —including by ranking members of the NYPD. Later, Eppolito gave the deputy commissioner who cleared him a signed copy of his book. It was called Mafia Cop.
(For his part, Rosario Gambino was found guilty of heroin trafficking. He would attempt to bribe Bill Clinton for a pardon before being deported back to Italy. Rosario Gambino was arrested most recently in 2019 by Italian police in coordination with U.S. counterparts).