Police Surveillance: Facial Recognition Use in Your Backyard
The use of facial recognition technology by police departments, both small and large, has quietly proliferated throughout the country. MuckRock and Open the Government sent over 112 Freedom of Information Act (FOIA) requests to the largest police agencies to answer a number of questions about their use of facial recognition technology. We've launched this project to help the public investigate their local police agencies' use of facial recognition technology.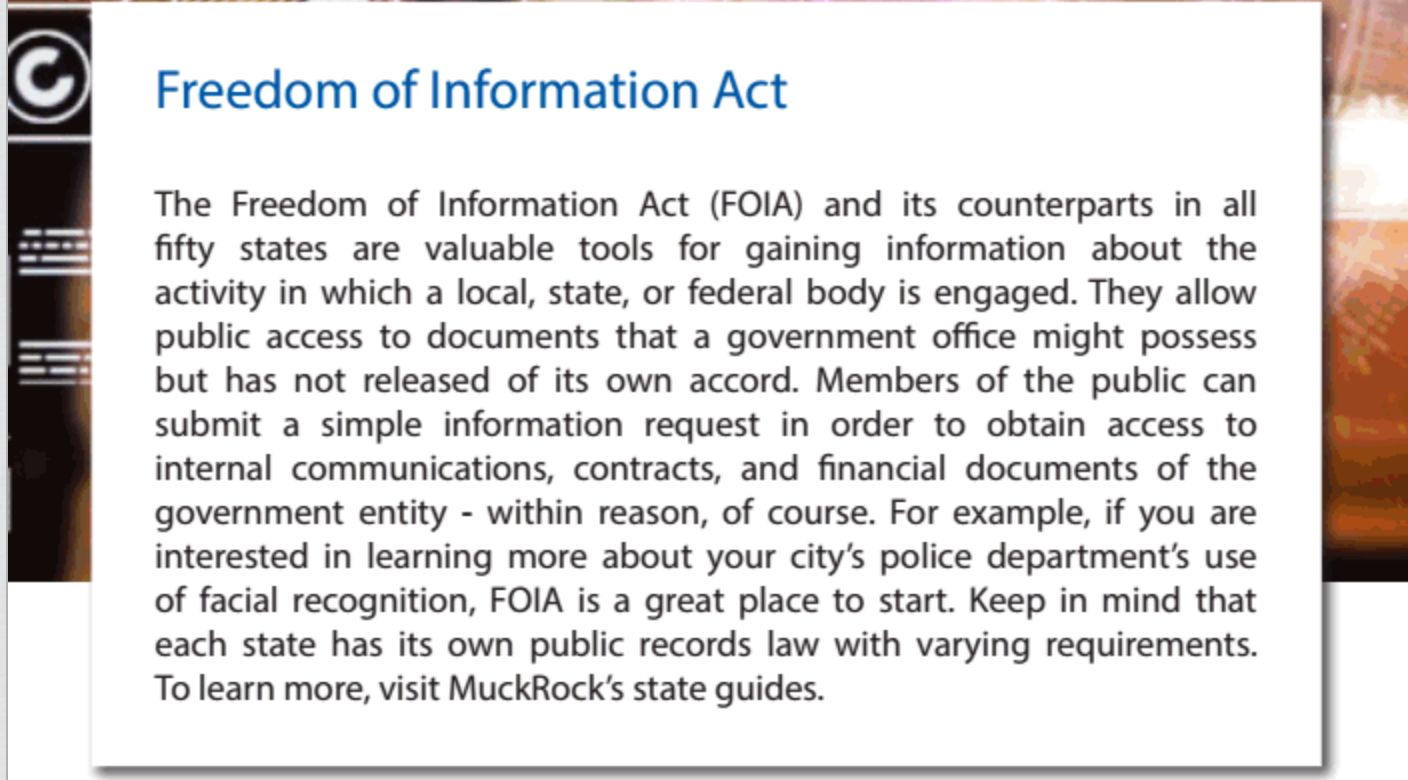 You can find our guide here.
These algorithms are far from perfect, susceptible to human bias, and can flout expectations of privacy and due process, resulting in serious implications for and violations of the First and Fourth Amendments. There are few laws restricting the use of facial recognition technology, allowing police agencies to implement it however and wherever they see fit. As law enforcement gains new capabilities, it is important to ensure that their acquisition and use are transparent and regulated. Facial recognition has already been used at protests to identify and arrest people, creating a chilling effect on freedom of assembly and speech. Furthermore, if an algorithm were to misidentify a suspect, the justice system could investigate, arrest, and even convict the wrong person, violating individuals' right to be free from unreasonable search and seizures. Currently, there is no consensus from the scientific community on how accurate facial recognition needs to be for it to be admissible in court, potentially depriving defendants of a fair trial.
In our search for records we did not focus solely on which police departments purchased the technology. Instead we also sought records related to training materials, MOUs and information about the level of access other police departments have to these agencies' data. We endeavored to learn more about the public's informed consent about the purchase of this technology as well as data retention policies.
Once these requests were sent and responded to, we examined the data to answer ten questions pertaining to these agencies use of facial recognition and facial detection as well as the current scope of its program. You can explore our data here.
As we noted in our guide, often times police agencies claim to not have facial recognition technology but still have access to it through a separate agency. Just because a police department does not own its own software license, that does not necessarily mean it is not accessing or using the technology. Many police departments do not purchase their own facial recognition systems and instead will gain access to a larger agency's system, effectively allowing the police department to use facial recognition as it likes. Therefore, it is imperative to push back on any agencies who claim to have no records but don't complete a full search for records. If you sent a request to a local police department, we would love to hear from you.