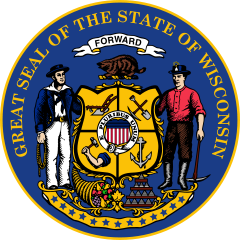 Wisconsin, USA
Wisconsin Public Records Guide
Wisconsin Open Records Act
(ORA)
Enacted in 1981
Overview
Wisconsin's Supreme Court said in Schill v. Wisconsin Rapids School Dist., 2010 WI 86, ¶ 1, 327 Wis. 2d 572, 786 N.W.2d 177, that "If Wisconsin were not known as the Dairy State it could be known, and rightfully so, as the Sunshine State." Whether you agree with that lofty assessment is up to you. Wisconsin does have a coherent, well thought out public records law at the very least, while like all state's (admittedly some more than others) has some work to do in certain areas. In Wisconsin all branches of government are open for requests. Requests are mandated by the law to be handled as quickly as possible, although more specific language does not exist in the law. The state Attorney General is in charge of hearing complaints and disputes about requests, and can issue opinions to agencies that are generally heeded. If a request was improperly or maliciously dealt with by a public records officer, he or she could face up to a $1,000 fine. This includes fee disputes, as fees are to be kept to direct actual cost of labor or copying. Fee waivers are available.
Exemptions are kept fairly general and there is an attempt to keep them to a minimal number. This is to ensure the state's balancing test method of dealing with exemptions, can work. These exemptions deal with privacy issues, trade secrets, and laws that have already been passed barring the disclosure of certain records. Wisconsin case law regarding the balancing test can be found in the resource section. Appeals are either directed to the AG for an opinion, or in circuit court, but must be filed within 45 days after the final decision. Attorney's fees can be won.
The Law
All branches open for requests
Appeal to AG or circuit court
No citizenship requirement
No specific response time
Fees must be kept to actual cost
Supplemental
Wisconsin Record Retention Schedule
The Details
Can you submit a request if you're not a resident?
Yes.
To whom does this apply?
Executive?
Yes.
Legislative?
Yes.
Judicial?
Yes.
Is there a designated records custodian?
While no ombudsman or records custodian was created by the law, the Attorney General can give advice and issues opinions concerning public records disputes and questions. Generally agencies comply with AG opinions.
How long do they have to respond?
The law states that "as soon as practicable and without delay." Wis. Stat. § 19.35(4)(a). Delays can form the basis of a suit if the requester feels that the delay has not been properly explained and is not in good faith.
Does the agency have to give you a tracking number or estimated date of completion?
No.
Can they ask why you ask?
No.
What enforcement?
If a records custodian "arbitrarily or capriciously" denies or delays a request, or charges exorbitant and unnecessary fees, a court may fine them up to $1,000.
Fees?
The language in the law mandates fees be kept to "actual, necessary and direct costs of reproduction." Wis. Stat. § 19.35(3)(a); Osborn, 2002 WI 83 ¶46, 254 Wis. 2d at 303-04, 647 N.W.2d at 176. This includes cases where contractors are brought in to do the work by the requested agency.
On August 8, 2018, the Wisconsin Attorney General issued an advisory, in which it reiterated "An authority may not charge for the time it takes to redact records, and an authority may not make a profit on its response to a public records request." It also noted that, though municipalities are free to set their own copy charges, there is an expectation that these will only cover the necessary costs, highlighting that their own copies costs amounted to $0.0135 for a black-and-white copy (including paper) and $0.0632 for a color copy.
Are there fee waivers for media requests or those made in the public interest?
Yes.
Attorney's fees - Can you win them?
Yes.
Exemptions and Appeals
What exemptions exist?
There are eight total general exemptions in the Wisconsin Open Records Act. These are kept fairly general in order for the courts of Wisconsin to apply a balancing test in determining which records are open or not, as it is the stated purpose of the law that all records be presumed open. In the resources section a link with the RCFP's rundown of important case law in Wisconsin stemming from the courts deliberations through the balancing test.
The eight general exemptions deal with law enforcement records closed by federal law, identities of law enforcement informants, trade secrets as defined by the Uniform Trade Secrets Act, financially identifying information, and identity of applicants for government positions who request confidentiality, although this is waived if they become one of the final candidates. More on Wisconsin exemptions can be found in the resource section.
Do they have to tell you why a portion or pages were redacted or withheld?
Yes.
How much time do you have to appeal?
45 days from the time the final response was given.
Can you appeal the courts?
Yes, appeals can be filed with the circuit court that the agency in question resides in.
Resources
Organizations
Wisconsin Freedom of Information Council
Attorneys and Law Firms
The following attorneys and law firms have practiced public records law. Names marked with an asterisk have indicated a willingness to offer pro bono services on a case by case basis.
Successful appeals
News Stories on Public Records Laws in the State
Blogs and feeds primarily focused on public records in Wisconsin
Public Records Guide and Advice
RCFP Wisconsin exemption discussions
Newsletters
Big FOIA wins
Have a public records success story? Let us know!
Stats
| | |
| --- | --- |
| Filed | 967 |
| Completed | 413 |
| Rejected | 70 |
| No Responsive Documents | 233 |
| Awaiting Acknowledgement | 38 |
| Awaiting Response | 42 |
| Requiring Action | 93 |
| Overdue | 4 |
| | |
| --- | --- |
| Appeals awaiting response | 2 |
Allowed Response Time

No limit

Average Response Time

101 days

Success Rate

38.47%

Average Fee

$417.37
5.38% of requests have a fee
Top Localities See All
| Jurisdiction | Requests |
| --- | --- |
| Milwaukee, WI | 145 |
| Madison, WI | 121 |
| Milwaukee County, WI | 27 |
| Kenosha, WI | 25 |
| Dane County, WI | 21 |
| Green Bay, WI | 17 |
| Racine, WI | 16 |
| City of Appleton, WI | 12 |
| Outagamie County, WI | 8 |
| Kenosha County, WI | 8 |