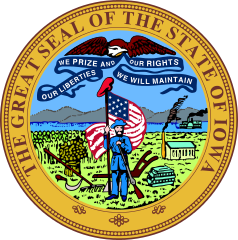 Iowa, USA
Iowa Public Records Guide
Iowa Open Records Law
Established 1967
Overview
In Iowa there are no restrictions based on citizenship or who one can request documents from. There is a 20 day response time but not one that is strictly enforced, nor is it mandated they tell you if your record search will take more time than allocated. There is no designated public records custodian or ombudsman to facilitate in the appeals process, only the state's Citizen's Aide who deals with complaints and questions, but has no authority over public records. The Citizen's Aide can only advocate. Due to this, appeals must be filed in District Court through a judicial review. This must be done by 30 days after the denial is handed down. Enforcement was knocked down from a misdemeanor to a series of fines in 2011, with the harshest penalty a removal of position for custodians of records that have violated FOIA protocol twice. Fees are to be kept to the actual cost of the work the agency did to search for records and their copying. Disappointingly, there is no mandate in Iowa that requests for the public interest or for media purposes be waived.
Exemptions in Iowa number over 50 and are highly specific. While the majority of them are similar to exemptions found federally and in many other states, there are a couple exceptions. For one, Government personnel records are very difficult to obtain in Iowa, and police departments have a broad degree of autonomy in deciding whether or not to release information regarding investigations. It is more or less entirely up to them whether they feel they should or not.
The Law
Loosely enforced response time of 20 days
All branches of government requestable
No limitations on who can request
Can request a rehearing by agency which denied a request or can file for judicial review in the District Court
No specific position in charge of handling FOIA appeals and complaints
Supplemental
Iowa records retention schedule
The Details
Can you submit a request if you're not a resident?
Yes.
To whom does this apply?
Executive?
Yes.
Legislative?
Yes.
Judicial?
Yes, it is the nature of the document in custody of the court that determines whether it can be released. Simply being held by the court system does not preclude it from disclosure.
Is there a designated records custodian?
Not specifically. However the Citizen's Aide/Ombudsman is an agency tasked with handling questions and complaints from civilians. This includes public records complaints and questions. The Citizen's Aide does not have any authority to issue appeals decisions, compel agencies to disclose information, or penalize an agency for failing to do so.
Who is exempted?
No agency is exempted from the law. "It is the nature and purpose of the document, not the place where it is kept, which determines its status." 79 Op. Att'y Gen. 19, 20 (Oct. 9, 1979). Des Moines Independent Community School District Public Records v. Des Moines Register & Open Government Guide Iowa The Reporters Committee for Freedom of the Press Page 3 Tribune Company, 487 N.W.2d 666, 670 (Iowa 1992)
How can requests be submitted?
In-person?
Yes.
Verbally?
Yes.
By mail?
Yes.
By email?
Yes.
How long do they have to respond?
The language is vague here, saying that agency response time "should not exceed twenty calendar days and ordinarily should not exceed ten business days." Iowa Code § 22.8(4)(d). There is no set expiration date by which a request is considered denied.
Does the agency have to give you a tracking number or estimated date of completion?
No.
Can they ask why you ask?
No.
What enforcement?
Language making denying or refusing a request knowingly a misdemeanor was repealed in 2011. Currently if an agency or other custodian of records is found by judicial review to be guilty of improperly denying a request they can expect to be forced to release the denied documents, and can expect a fine of not more than $500 and not less than $100. If they knowingly denied the request improperly then a maximum fine of $2,500 or a minimum of $1,000 can be levied. Furthermore, the agency or custodian found to be guilty must also pay the plaintiff's attorney fees. If an agency employee is found to have violated the chapter previously, then an order for removal of office or post will be given.
Fees?
Fee practices in Iowa tend to be vague. Reproduction fees must be charged at a "reasonable" amount, and each agency is in charge with coming up with its own procedures. Furthermore search fees do not exist in Iowa, instead using supervisory fees, again at reasonable cost.
A list of example fees charged by Iowa agencies can be found here
Are there fee waivers for media requests or those made in the public interest?
There is no language mandating fee waivers for media requests or those made in the public interest. It is entirely up to the agency to decide whether to charge a fee.
Attorney's fees - Can you win them?
Yes, if one is able to prevail in court then attorney's fees can be rewarded.
Exemptions and Appeals
What exemptions exist?
There are over 50 exemptions in the Iowa Public Records Law. Most deal with subjects found in other FOIA laws. Medical reports dealing with personal information, documents dealing with students, trade secrets, procedure to deal with prison riots, certain financial information, and prospective real estate deals or appraisals. Many exemptions are meant to prevent the disclosure of confidential information of individuals or of agencies that need that information to be tightly controlled in order to best execute their jobs. Government personnel records are unusually restricted in Iowa, as are police investigative reports. Even after a case is closed Police Departments in Iowa do not have to specify the date, time, place or manner of a crime unless they see fit.
Do they have to tell you why a portion or pages were redacted or withheld?
Yes.
How much time do you have to appeal?
You have 30 days after a denial is issued to file for judicial review in District Court.
Can you appeal the courts?
Yes.
Resources
Organizations
Iowa Freedom of Information Council Iowa Institute for Public Accountability
Attorneys and Law Firms
The following attorneys and law firms have practiced public records law. Names marked with an asterisk have indicated a willingness to offer pro bono services on a case by case basis.
There are currently no experienced public records law attorneys that we know of in Iowa. Write to us at info@MuckRock.com if you know of any and want to help us out!
Successful appeals
News Stories on Public Records Laws in the State
Blogs and feeds primarily focused on public records in Iowa
Public Records Guide and Advice
Newsletters
Big FOIA wins
Have a public records success story? Let us know!
Stats
Request Record

142

Filed

72

Completed

5

Rejected

24

No Responsive Documents

11

Awaiting Acknowledgement

5

Awaiting Response

12

Requiring Action

13

Overdue
Appeals

None
Allowed Response Time

10 days

Average Response Time

47 days

Success Rate

43.66%

Average Fee

$501.64
11.27% of requests have a fee
Top Localities See All
| Jurisdiction | Requests | Pages Released |
| --- | --- | --- |
| Lee County, IA | 89 | 16 |
| Iowa City, IA | 76 | 39 |
| Des Moines, IA | 31 | 4 |
| West Union, IA | 26 | 0 |
| Cedar Rapids, IA | 23 | 1 |
| Waterloo, IA | 20 | 2 |
| Davenport, IA | 14 | 166 |
| Ames, IA | 12 | 63 |
| Dubuque, IA | 8 | 60 |
| Boone, IA | 8 | 0 |