Over the past year the DocumentCloud team has been working hard to create better solutions for journalists and the public at large to share, analyze, annotate and, ultimately, publish source documents to the web. In the past six months we have seen great growth in DocumentCloud's capabilities including the ability to de-index documents, some API changes, new translations of the DocumentCloud website, several new Add-Ons and new paid features.
For previous site improvements, check out all of MuckRock's release notes, and if you'd like updates emailed to you — along with ways to help contribute to the site's development yourself — subscribe to our developer newsletter here.
General feature updates
DocumentCloud internationalization
The DocumentCloud interface is now available in German, Russian and Ukranian, in addition to the previously available French, English and Spanish. Select the language by clicking on the "Language" drop down menu in the top navigation bar of DocumentCloud.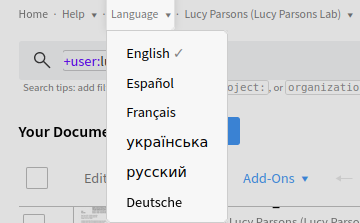 New Add-Ons
New Professional and Org features
These features are available for paid MuckRock and DocumentCloud users — upgrade today to use them.

API updates
---
Image via Wikimedia Commons