Tennessee's Montgomery Bell State Park is usually a tranquil place, but that changes when white nationalist groups rent its conference center.
That was the case back in May, when American Renaissance held its annual conference at the state park, a leafy refuge about 30 miles west of Nashville. The group, which promotes "European heritage, culture and interests," rented out all of the park's guest rooms and meeting space, closing the conference center and inn to the general public. Protesters, who consider American Renaissance a hate group, held a rally at the park's entrance and marched toward the center before they were stopped by barricades.
Dozens of law enforcement officers were on hand to prevent violence - not only park rangers, but also officers from other state agencies, including the Tennessee Department of Correction, which brought a prison bus in case it was needed.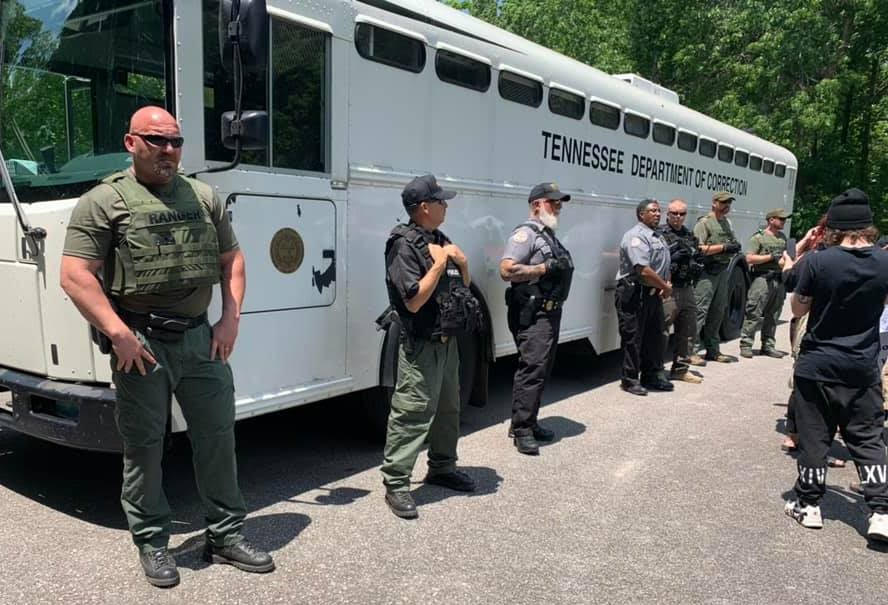 Image via Anarchist Black Cross Nashville Facebook
Violence is not a hypothetical concern - in 2015, fights broke out between protesters and conference attendees when only the park's five rangers were on hand to police the event. This year, four protesters were arrested on disorderly conduct charges, and one also was charged with aggravated assault.
The protests will be repeated - perhaps on a larger scale - this weekend, when the American Freedom Party and the Council of Conservative Citizens hold its Nationalist Solutions Conference at the park. Speakers for this event include former Ku Klux Klan leader David Duke.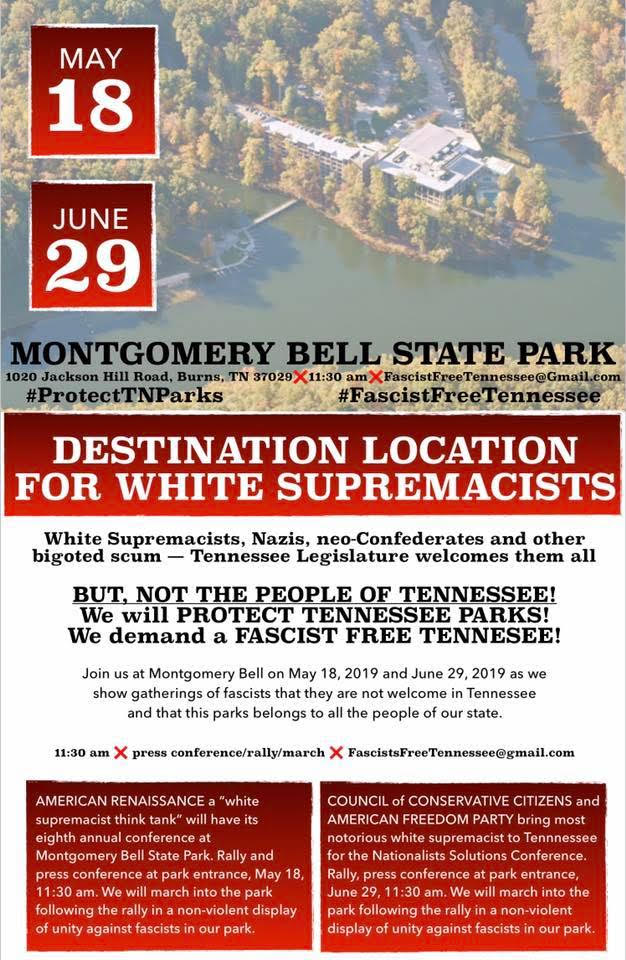 The extra security needed to prevent Montgomery Bell from becoming another Charlottesville costs money, and the state of Tennessee wants white nationalist groups that rent the conference center to pick up the tab. For this year's conference, the state demanded that American Renaissance agree to pay for any extra security costs related to the protests and cover the costs of any damages to the park caused by protesters. American Renaissance sued the state over this contract clause, contending these additional costs were an unconstitutional financial burden on their First Amendment rights. They shouldn't be forced to pay a cost-prohibitive "speech tax" just because their speech is controversial and prompts protests, they argue.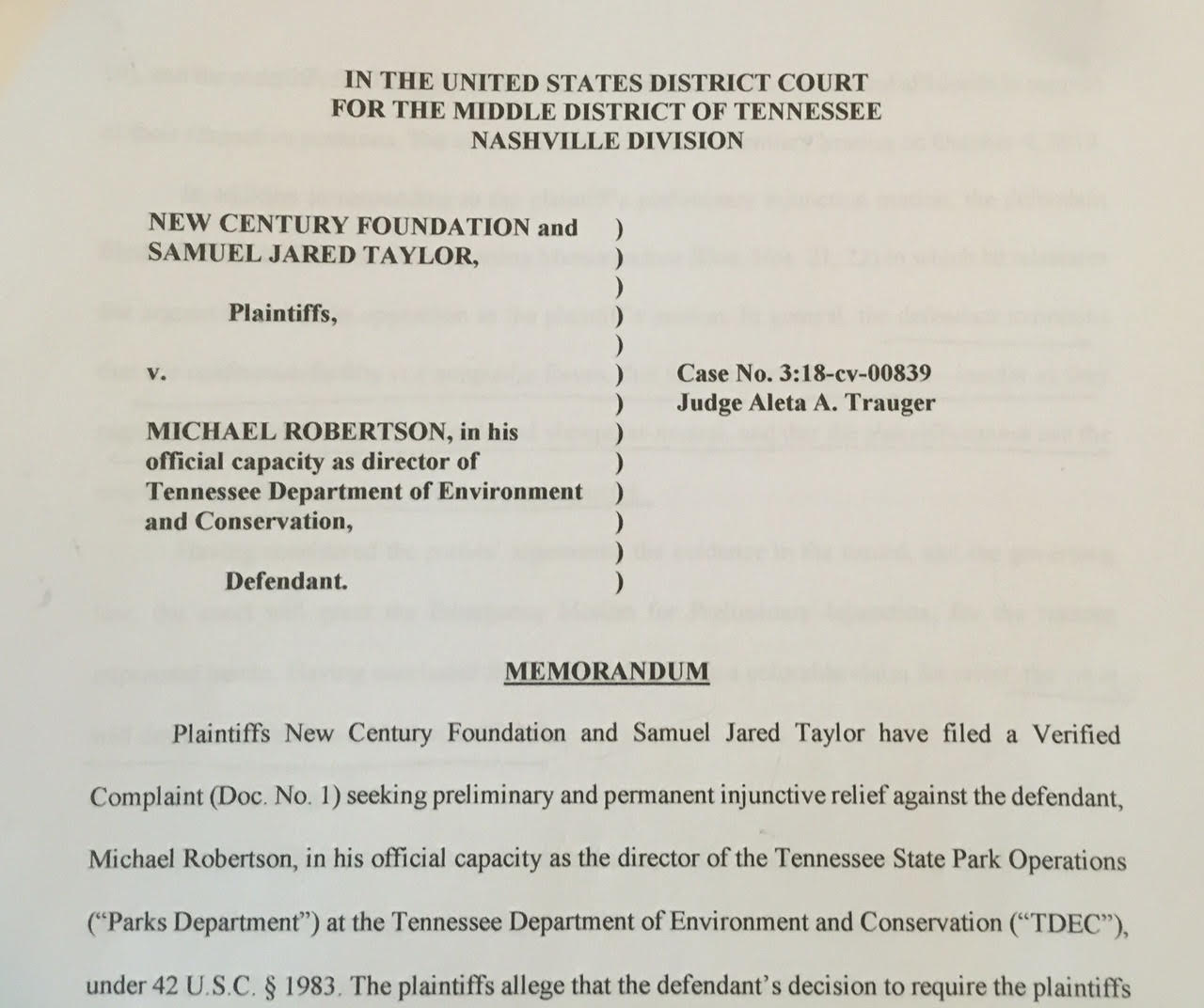 American Renaissance won a preliminary injunction last November. A federal judge agreed that requiring the group to agree in advance to cover these extra security costs "amounts to an unreasonable prior restraint on the plaintiff's speech." That was just the first round, however, and the litigation continues.
Information about guests' use of state parks, including groups that rent meeting space, is exempt from Tennessee's open records law.

But the filings in American Renaissance's lawsuit against the state shine some light on what the state is getting - and what it's paying - for renting conference facilities and guest rooms to white nationalist organizations.
The original contract for May's conference called for American Renaissance to pay around $26,000 for renting 104 guest rooms, two suites and eights cabins for two nights, as well as the conference center's meeting rooms. This amount didn't include another $10,000 in anticipated food and beverage costs.
New language in the contract also made American Renaissance liable for "damage-repair costs … due to issues related to the use of the park" and "reasonably required state staff expenses that exceed typical staffing expenses for the facility, including event monitoring, set-up, take-down, or security to ensure public safety." There was no limit in the contract on how high these charges could go - the park "may assess reasonable fees or charges above the security deposit should the security deposit be insufficient to cover the expenses listed above."
Last summer, after its June conference, the American Freedom Party received an invoice for $21,058 to cover the costs of deploying additional park rangers to Montgomery Bell State Park during its conference. In an affidavit submitted with American Renaissance's lawsuit, American Freedom Party representative Rick Tyler, who plans to run for president in 2020, said this sum "is not insignificant and will have a chilling effect" on the organization's ability to hold future conferences at the park.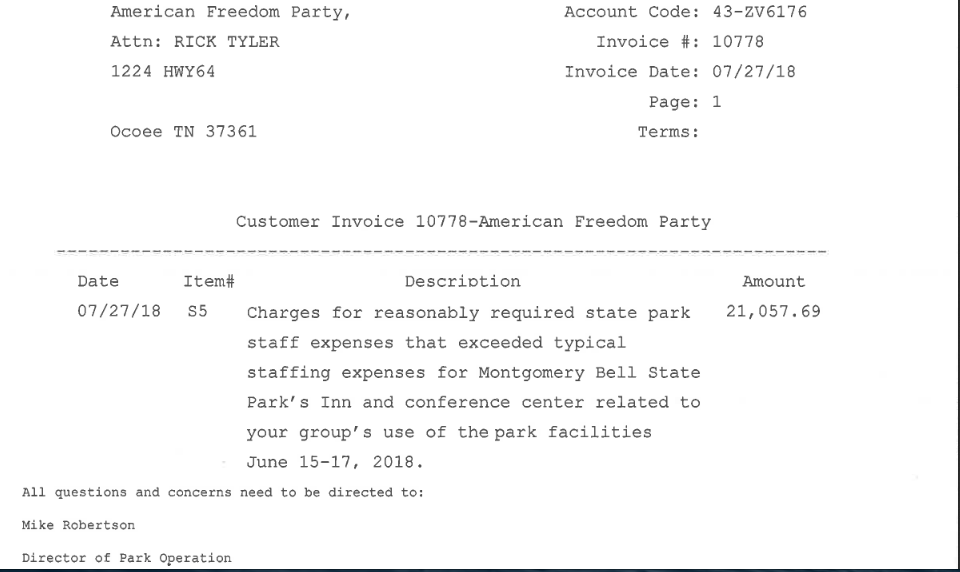 But if white nationalist groups don't pick up these extra security costs, then the state of Tennessee will have to eat them. It's worth noting that the $21,058 only covers the costs incurred by Tennessee State Parks. The cost of deploying officers from the Tennessee Highway Patrol, the Tennessee Bureau of Investigation, and the Tennessee Department of Corrections is absorbed by those agencies. So the total cost of providing extra security for these white nationalist conferences is far greater than $21,058.
Plus, the American Freedom Party hasn't paid this invoice, at least in full. When asked about it, a Tennessee State Parks spokesperson said the organization "has an outstanding invoice from the state, but I'm not in a position to discuss specifics or any ongoing litigation." Despite this outstanding invoice, the American Freedom Party's conference is still scheduled at the park in June.
Tennessee officials say the use of its conference centers is available to anyone, regardless of their ideological beliefs.
The state can't be in the business of making political judgments about its customers, they say.
"Tennessee State Parks does not endorse hateful ideology in any form," said spokesperson Kim Schofinski. "Tennessee State Parks has an obligation to act in accordance with the law and to make its facilities available for public use as long as the individuals and groups follow the law and park policies while visiting."
Protesters, however, accused the state of using "a militarized police force" to protect "Nazis and klansmen."
"Fellow Tennesseans, this is where your tax dollars are going: bringing a full force of fear-mongers to a state park to protect white supremacists," one protester wrote on Facebook.
Tennessee officials don't appear to be happy about being put in this position either. Michael Robertson, director of the Tennessee Department of Environment and Conservation, wrote in an February 2018 email to colleagues that there is "a growing concern around White Supremacy groups utilizing our Tennessee State Parks and their facilities to hold meetings." This was before his department tried to require American Renaissance to pay for extra security at its conference.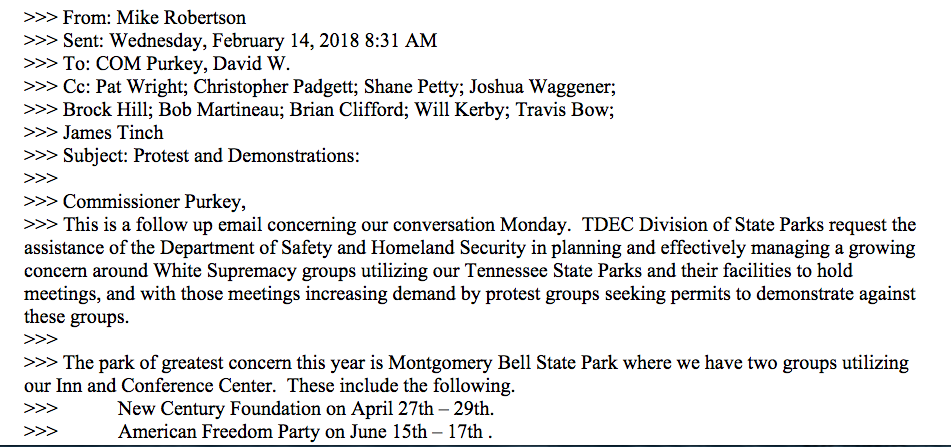 White nationalist groups are hosting events at Tennessee state parks because they're increasingly unwelcome at private-sector hotels and conference centers. This year, Airbnb banned people tied to American Renaissance from booking rooms on its platform.
The question is who should pay for keeping the peace at these white nationalist conferences. Unless Tennessee is successful at getting these groups to pay for extra security, they're likely to keep coming to Montgomery Bell State Park. As long as they keep coming, so will protesters - and so will extra law enforcement officers, paid for with taxpayer dollars.
The lawsuit is embedded below.
Image via Montgomery Bell State Park Facebook