New documents released by Amtrak in response to a FOIA request shed more light on the 2017 panic and stampede at New York's Penn Station that injured at least 16 people.
On April 14th, 2017, the Friday before Easter weekend, Pennsylvania Station was even more crowded than usual. That afternoon at 3:25pm, a New Jersey Transit train travelling to Penn Station became disabled and stuck in a tunnel under the Hudson River causing massive delays in the Tri-state area. With the anxious passengers of dozens of delayed trains waiting in the main concourse, the station was packed. That's when an Amtrak police officer, in an attempt to subdue an allegedly confrontational and mentally ill man, discharged his Taser, causing people to drop their bags, and run over each other in an attempt to flee the station.
After multiple FOIA rejections claiming that an investigation was still ongoing, Amtrak has finally released the after incident report. The report appears to have been filed over a year after the stampede, with the dates on all of the reports reading 9/17/2018.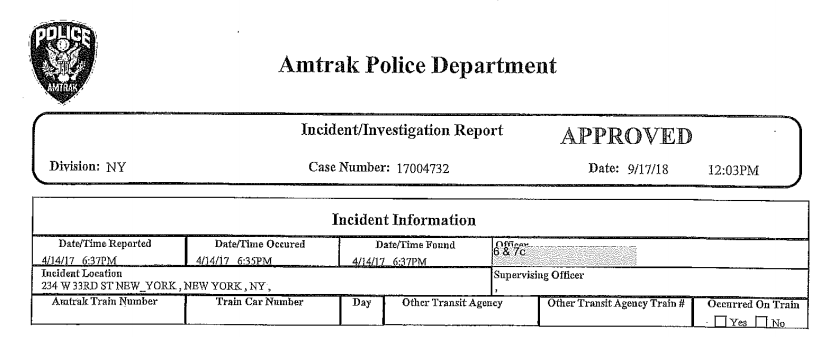 In it, the officer who discharged the Taser claims that he had done so responsibly shouting "taster, taster, taser" before he fired at the man in an attempt to warn the crowded mass of onlookers. It is not until the final paragraph of the report's narrative that he skirts blame for the resulting stampede, "During the apprehension attempt and Taser deployment a bystander yelled "ISIS ATTACK." This appeared to cause the patrons to panic and flee in a mass rush of people in all directions."

In the next report, an officer claimed he was close enough to hear the exchange, "get back or I am going to tase you," and heard the loud sound that "I believed to be a taser," but heard none of the shouting that the first officer had claimed triggered the stampede. Similarly, eye witness accounts given to the press and 911 calls all described hearing what they thought were gunshots, which presumably was the pop made by the discharge of taser prongs.

The final report shows that two officers went to Bellevue Hospital six days later upon the release of the Tased man in order to arrest him. He was charged with Assault 2, Resisting Arrest, Reckless Endangerment, Harassment 2, Disorderly Conduct, and Trespass.

Read the full document embedded below, or on the request page.
---
Image by m01229 via Wikimedia Commons and is licensed under CC BY 2.0