When you use the "Get Help" button, you can now give us additional information about the type of issue, helping us route and resolve your questions more efficiently.
For past site updates, check out all of MuckRock's release notes, and to learn how to contribute - whether with code of your own, feature ideas, or bug reports - read below.
What's new on MuckRock
An updated "Get Help: tool
One of our biggest goals this quarter was to reduce the time it takes for us to resolve and handle support requests, whether they came through our "Get Help" button, email, or other channels We've made a lot of progress: our average response time is down 75 percent.
But we still want to do better, so we've updated our "Get Help" tool to optionally allow you to classify what you need help with. This allows us to batch similar support queries for faster responses, while also being better able to measure where problems are popping up most frequently.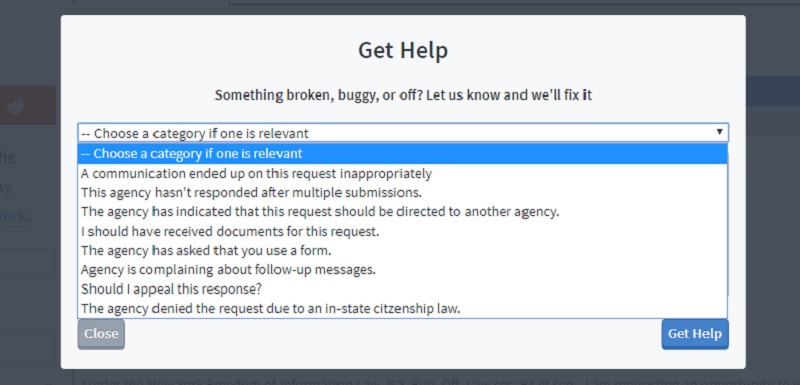 Come hack on MuckRock
There are lots of ways to help MuckRock keep getting better. The simplest is to let us know if something is broken: If you find a bug you can email us directly or open an issue.
If you do the latter, please search open issues first to make sure it hasn't already been reported. If it has been reported previously, please leave an additional comment letting us know it's an issue for you, particularly if you can provide more details about when it crops up or what you think is causing the problem.
For those who want to contribute design, code, or otherwise more directly to the site, we have a developer channel on the MuckRock Slack. We're also part of Code for Boston's weekly hack nights, which take place Tuesday evenings in Kendall Square. We might not make it to every one of them, so if you want to meet up there it's a good idea to check in on Slack first. We will be at tomorrow's event, barring any last-minute emergencies.
In particular, we're looking for designers who are interested in helping us find ways to make all of our tools and data more accessible and more fun to use. We've got a relatively simple front end stack, so if you're interested in helping hundreds of thousands of people better understand public records and the importance of transparency, please get in touch!
---
Image via Wikimedia Commons