Last week lead developer Mitch Kotler was on vacation so there were not any major features pushed out. We did, however, have some discussions about standardizing how we note and store agency data. We'd love your feedback.
For previous site improvements, check out all of MuckRock's release notes, and if you'd like to get a list of site improvements every Tuesday - along with ways to help contribute to the site's development yourself - subscribe to our developer newsletter at the top or bottom of this page.
Cleaning up dirty agency data
Did you know we have a public (if not well publicized) MuckRock style guide?
For the past few months, we've been talking about trying to update it to help keep our data on how we name agencies a little more consistent. For the most part, agencies are added organically to our database when a user needs them, which has meant that often the way one agency is named versus another is mostly dependent on who was the first person to file with that agency, rather than a standardized style convention.
Over the years, workarounds to site limitations (such as not consistently displaying jurisdiction) led to to further hacks: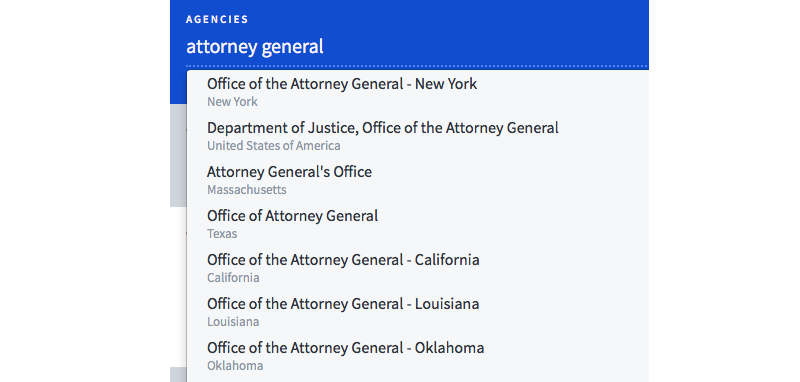 Right now, the key style rules we've decided on (but which aren't yet broadly corrected on the site):
Prefer the agency's official name as used on its mailing address, and only include jurisdiction data when it is part of the agency's name. Typically, "Office of the Attorney General" is used for state attorneys general, while "Boston Police Department" and "New York Police Department" would be used for local police.
Do not include state abbreviations or try to include other metadata in the name, i.e. "Administrative Office of Courts (AL)" is wrong.
We've also been considering adding additional fields to track on a per agency basis, as well as trying to figure out ways to better display this information on agency pages.
We'd love to get your thoughts; you can either leave feedback on the related GitHub issue, share thoughts on the MuckRock Slack or email us.
Come hack on MuckRock
And if you want to help out with better agency data more directly (or another aspect of MuckRock's open source transparency tools), there's ways to do that!
We have a growing group of volunteer hackers helping to make MuckRock better every day. We want to make it easier to contribute, so we're launching a new project and weekly newsletter, "Release Notes." Register to get a summary of site updates each week, a list of issues you can help with, and details about our Code for Boston meetups.
Check out some of our issues labeled "help wanted" for ideas on where's good to start, or just pop into our Slack's #Developers channel.
Subscribers to the weekly newsletter get exclusive data sets, FOIA-related scripts, and other transparency hacker tidbits exclusively for subscribers. You can subscribe to to the newsletter at the top or bottom of this page.
If you want to contribute better FOIA tools for thousands of requesters, there's a number of ways to help. If you find a bug you can email us directly or open an issue on GitHub.
If you do the latter, please search open issues first to make sure it hasn't already been reported. If it has been reported previously, please leave an additional comment letting us know it's an issue for you, particularly if you can provide more details about when it crops up or what you think is causing the problem.
In addition to the new newsletter, we have a developer channel on the MuckRock Slack. You can also join us at Code for Boston's weekly hack nights, which take place Tuesday evenings in Kendall Square. We might not make it to every one of them, so if you want to meet up there it's a good idea to check in on Slack first or check the newsletter. We will be at tomorrow's meetup.
---
Image via Wikimedia Commons