Looking to get records from your alma mater? Make sure you do your research - getting records from college campuses may not be as straightforward as you would think.
Despite their very public role in their communities, many private colleges and universities are exempt from public records law. Azusa Pacific University, Brigham Young University and Harvard University, and are just a few of the institutions given them a free pass to dodge public records laws.

With no actual mandate to abide by transparency, how are universities bringing accountability to their practices?
Media Relations Manager for the University of the Pacific, Keith Michaud says technology has provided them with the opportunity to communicate with members of the Pacific community and continue openness into university matters.
"We have regular newsletters to faculty, staff, and alumni. There is an intranet of sorts that provides additional information for students, faculty, and staff. We also share information via SharePoint, where documents are posted ahead of meetings and forums so they can be seen in advance. We also use town hall meetings, forums and more intimate meetings, student media, and email blasts to communicate to students, faculty, and staff. Depending on the type of meeting, it may be shown on Facebook or via webcast so that people who cannot make the meeting can tune in."
However, these efforts at voluntary disclosure are undercut by efforts to block involentary access - such as the standing battle between student newspapers and university police departments. While the Jeanne Clery Disclosure Act and some state's laws, such as Massachusetts, require campus police to disclose their police logs, regardless of whether they are private institutions or not, enforcement is another thing entirely.
The Massachusetts Institute of Technology Police Department posts unofficial logs on its website, seven days at a time. However, the official log can only be viewed in person and logs dating back seven years must be formally requested.
More drastically, in 2006, Harvard's student newspaper, The Harvard Crimson, filed a lawsuit against the University for records of Harvard University Police. The Massachusetts Supreme Judicial Court ruled that statute does not cover private university police.

While the Court also acknowledged that some officers in the department had been appointed as deputy sheriffs and even State police officers. Yet, their public status did not mean that HUP had to abide by public records law.
Even public institutions who are subject to public records law often pose barriers to requesters. This was the case with Buzzfeed Reporter Tyler King who requested information from Michigan State University and was quoted a fee of more than $1,000 to get his documents.
. @michiganstateu consistently charges more for FOIAs than any other entity I submit #FOIA requests to pic.twitter.com/kyQlme6sXG

— Tyler Kingkade (@tylerkingkade) November 28, 2018
Although King didn't specify what documents he requested, he noted that he submitted the same request to other public institutions and received the records, free of charge.
Additionally, other states, like Delaware, have mandates in their law exempting specific records at their state universities.

According to the law, only university documents that relate to the expenditure of public funds are considered public records in the state.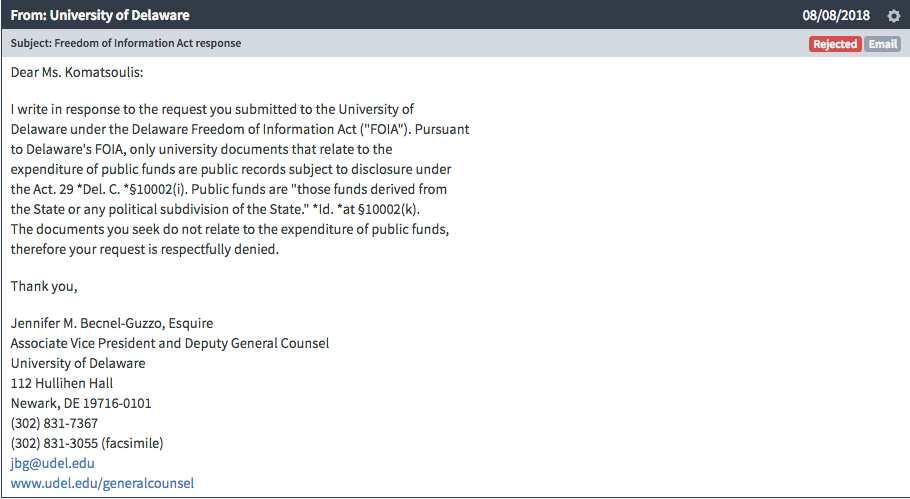 Regardless of the university you are seeking records from, it's important to brush up on state law and find out what institutions are legally obliged to abide by. Even if your institution is private, some universities might proactively publish annual data, strategic plans, and other documentation helpful for the everyday requester.
Have a college public records story to share? Let us know via the form below!
Image via Air Force Medical Service