In response to a recent public records request, MuckRock received healthcare and health insurance-related complaints from the Massachusetts Division of Insurance and Attorney General's Office. These complaints reveal that while gender-affirming treatment access in the state has progressed in recent years, policy barriers persist.
Previously, people covered by MassHealth - the Massachusetts Medicaid program - and private insurers in the state typically could not receive coverage for gender transition-related treatment, such as hormone therapy or gender reassignment surgery. Additionally, state employees and dependents covered by the Group Insurance Commission could not seek coverage for gender-affirming care.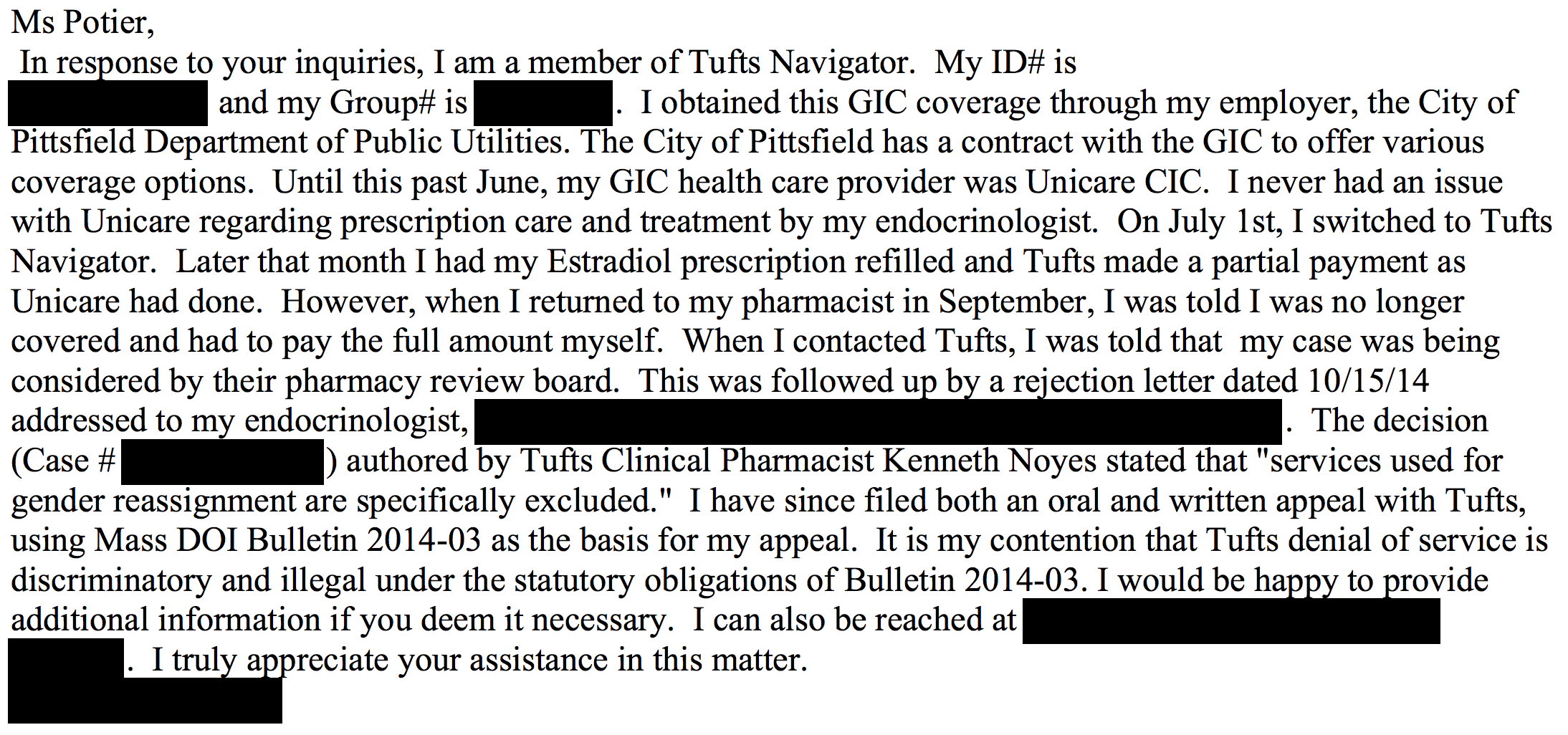 In 2014, Governor Deval Patrick announced medically necessary gender-affirming care must be covered by MassHealth and private insurance providers under the jurisdiction of the Division of Insurance. The Group Insurance Commission followed suit and eliminated its gender- affirming care exclusionary language in 2015.
However, every health insurance provider has different prerequisites a patient must fulfill for gender-affirming care to be deemed medically necessary.
"There are limits in coverage around insurance … that don't meet people's individual needs," Jennifer Levi, the Transgender Rights Project Director at GLBTQ Legal Advocates and Defenders, said. "It can also be frustrating for people because it is difficult sometimes for consumers to find what the eligibility criteria is and that can often be a barrier to navigating the system."
One complainant covered by the Blue Cross Blue Shield of Massachusetts in 2015 claimed that coverage for facial feminization surgery and electrolysis, a hair removal procedure, was unavailable due to the provider's eligibility requirements.

Strict eligibility requirements oftentimes ignore the individualized nature of a person's gender transition, Levi said. Some people may feel they require transition-related surgery prior to age 18. Others may prioritize surgery over hormone therapy.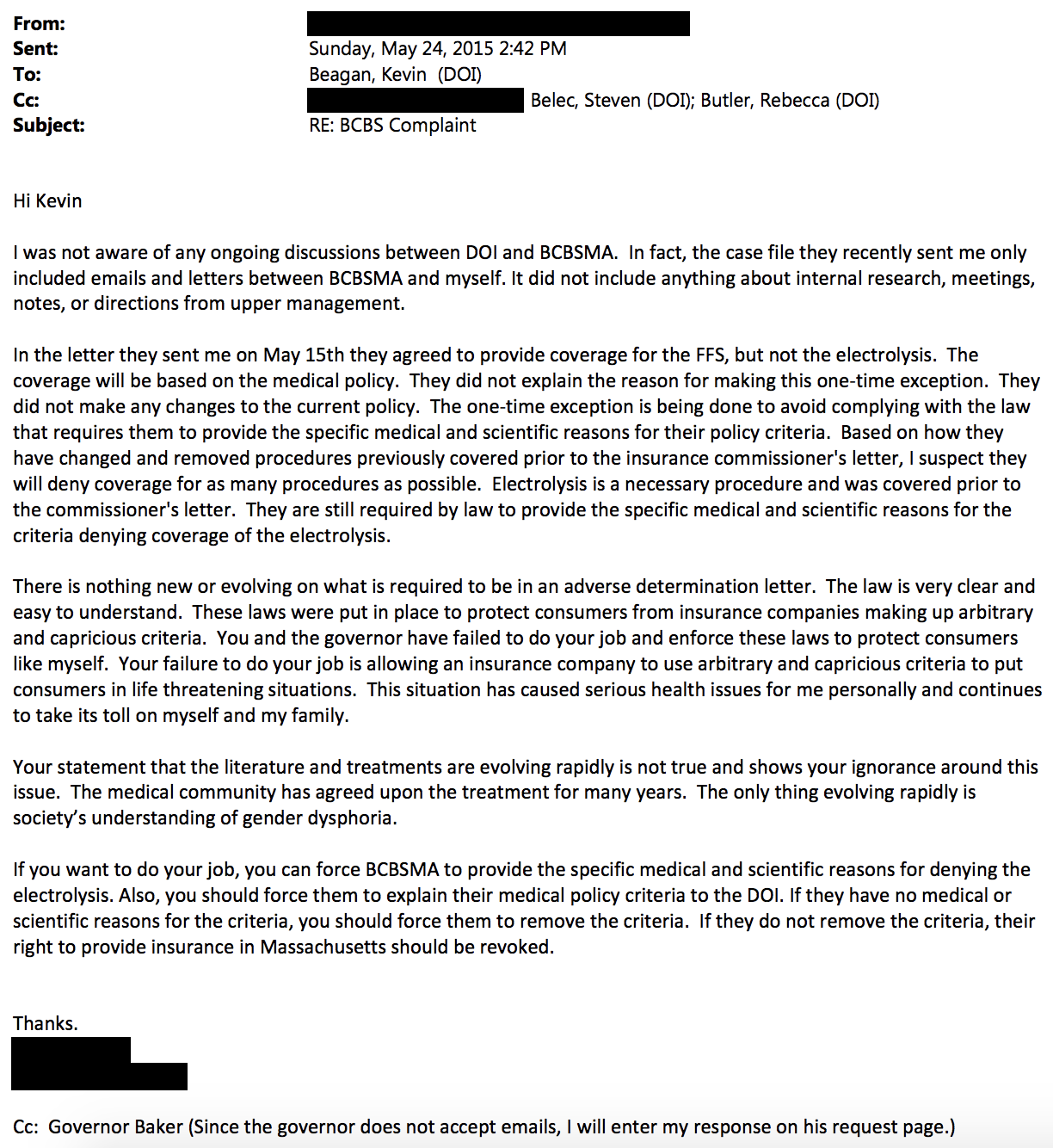 Norman Spack, a pediatric endocrinologist who works with transgender youth at Boston Children's Hospital, said insurance companies may not hold all the blame for coverage limitations, especially given the progress made in recent years. The World Professional Association for Transgender Health typically sets standards of care, Spack said, which insurance companies reference to determine eligibility requirements.
Alternatively, Levi said, providers should consult medical practitioners to determine the medical necessity of a procedure on an individual basis rather than adhere to rigid eligibility requirements.
"I think that insurance companies should look more to confirmation from individual-treating providers, whether it's surgeons or therapists or primary care providers, to determine what an individual's medical needs are and then provide coverage for services as long as they are determined to be medically necessary by a medical provider," Levi said.
For some transgender people, insurance coverage isn't an option. Some employers provide self-insured plans, in which the employer subsidizes claims and decides its own coverage scheme that can exclude gender transition-related care. In 2016, 40.7 percent of private sector employers offered at least one self-insured plan, according to a report from the Employment Benefit Research Institute.
Self-insured plans are not under the jurisdiction of the Division of Insurance and do not have to comply with the 2014 state mandate to offer gender-affirming care coverage. Coverage denials on the basis of transgender care exclusions can include procedures as standard as blood work used to check hormone levels.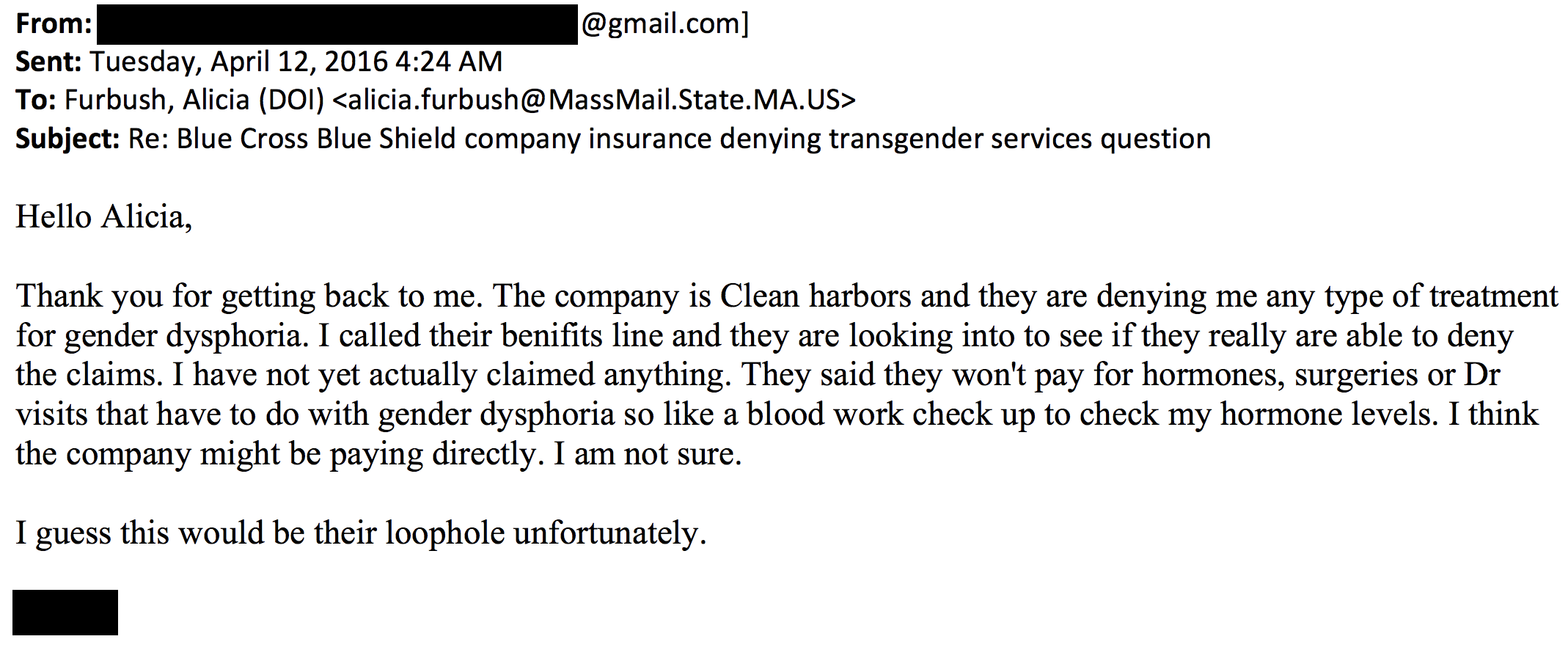 Gender-affirming treatment exclusions in self-insured plans can be considered discriminatory, Levi said, but pursuing a coverage appeal is oftentimes difficult because it involves approaching the employer.
"The challenge is that the claim is typically against the employer and not the insurance company if it's a self-insured plan," Levi said. "It makes it difficult for people to either negotiate or try to get alternative coverage because it means you have to take that on with your employer."
Recently, the Trump Administration announced its plan to roll back an Obama-era regulation that protected transgender people from discrimination by health insurers. There have not yet been steps taken to limit the scope of the protections.
Read the full complaints embedded below or on the request page.
Image via Air Combat Command