Mere months after the Department of Justice announced that it would be "phasing out" its use of private prisons, newly-confirmed Attorney General Jeff Sessions has reversed course on the department's intentions.
In a memorandum sent last week to Acting Director Thomas Kane, the former Alabama Senator rescinded the previous order to reevaluate and eliminate contracts with for-profit detention companies, citing the impairment such a reversal would cause to the Bureau's mission.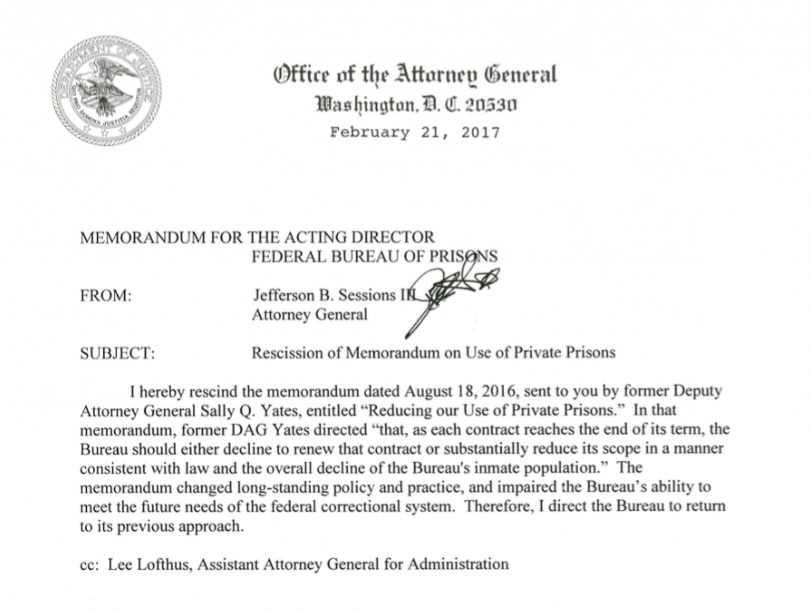 The private prison industry had been expecting a healthy future under the Trump administration, whose tough-on-immigration rhetoric and recent Executive Orders suggested that a consistent supply of undocumented detainees would continue to populate private facilities under contract with agencies like Immigration and Customs Enforcement (ICE) and Customs and Border Protection (CBP); private facilities now hold about a third of detained undocumented individuals. The future of their relationship with the Bureau of Prisons, which also holds those convicted of a crime while in the U.S. illegally, seemed less secure. But with this latest directive, business as usual - or better - appears to be on its way to CoreCivic and GEO Group.

For all the fanfare surrounding the August announcement from the DOJ, the almost immediate change-of-direction - so immediate that practically no alteration of the BOP's policy was actually implemented - is an example of how well-intentioned changes to government policy can be erased by the fickle flow of politics. The long-standing claims that private prison operators can get facilities up and running more quickly, efficiently, and cheaply than public ones continue to appeal to law-and-order officials, though they have yet to be proven even while the humane conditions of such facilities have been called into question again and again.
What remains to be seen is whether the federal flip-flopping will affect attitudes at the state and local levels, where the influence of the national government can help inform and fund approaches to criminal justice.
Want to learn more? Check out the Private Prison Project. Want to help? Reach out at info@muckrock.com.
---
Image via Department of Defense